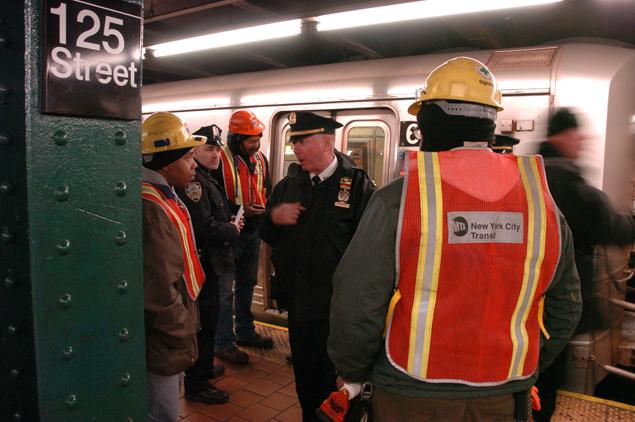 A blind man and his seeing eye dog fell in front of an arriving subway train in Harlem Tuesday — and miraculously survived.
The braking A-train rolled over the man and his pooch at the 125th St. station but somehow didn't cause serious injuries, authorities said.
"I heard him say, 'Oh no!' and I saw him fall into the train tracks with his dog," witness Danya Gutierrez, 19, said. "Everyone was screaming and running around to find an MTA employee."
Riders on the platform turned their heads as the train bore down on the man, Cecil Williams, 60, and his black Labrador retriever, Orlando, 11.
"I was in horror," Gutierrez said. "I screamed. Everyone in the station screamed."
But after a few moments, someone yelled with amazement and joy.
"He's fine! He's alive," someone yelled, Gutierrez said.
Williams suffered cuts and bruises. He was taken to St. Luke's Hospital along with Orlando.
"The dog looked like he had little or no injuries," Gutierrez said.
The man had a guide dog, which looked like the one pictured above.
The brush with death happened about 9:30 a.m. on the northbound tracks. Gutierrez was on the southbound platform across from Williams.
Authorities said the motorman saw the duo on the tracks in front of him and activated the emergency brakes to slow the train. About two cars passed over the man, witnesses said.
An MTA worker on the platform urged Williams to stay calm and not move as he was close to the electrified third rail, Gutierrez said.
---
---
Williams was definitely one of the lucky ones. So far this year, 144 riders have been hit by subway trains, and 52 have died. On average, 134 people have been hit and 49 killed each year since 2001, according to MTA data.
The Daily News reported exclusively Thursday that the MTA is about to start testing "intrusion detection" systems to alert train operators when someone is on the tracks. The four technologies being tested involve motion-detection sensors, radio frequencies, thermal-image cameras and an "intelligent video" computer program designed to recognize when someone has left the platform.
Transport Workers Union Local 100 contends the MTA can save lives immediately by telling motormen to reduce speeds when entering stations.
"The ability to stop is an important factor in saving people's lives, and that should be a priority for the MTA," Local 100 vice president Kevin Harrington said.
Related articles
Related Articles