---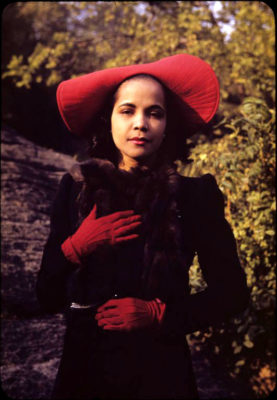 Blanche Dunn, lived the American dream, she was a glamorous Jamaican born actress, socialite, and Harlemite who traveled the world, here are a couple of photographs in Morningside Park by her friend Carl Van Vechten in Harlem, New York 1940.
Dunn born in 1911, arrived in Harlem around the mid-1920's, quickly meeting Wilda Gunn a young lady fashion designer from Cleveland, who took Dunn under her wing teaching her how to dress and impress. Dunn wasted little time, she was a chorus girl in the Broadway musical Blackbirds Of 1930, and had a small role in the film adaption of Eugene O'Niell's play, The Emperor Jones in 1933 starring Paul Robeson.
Soon afterward she quickly became the "It" girl of the Harlem Renaissance. She was a mainstay at Carl Van Vechten's legendary parties, she was guaranteed a table at the exclusive Harlem speakeasy Hot Cha, she dined at the haute downtown spots, shopped in Paris, attended the horse races and as noted by the legendary Harlem Renaissance writer and painter Richard Bruce Nugent:
…at all the Broadway first nights. A party was not a party, a place not a place, without Blanche".
In 1940 she moved to Whale Cay, purchased by Bahamian British oil Magnate and speed boat champion, Marion "Joe" Carstairs, they partied with Marlene Dietrich, the Duke and Duchess of Windsor and others before she moved back to Harlem, around the time these photographs were taken between 1940 and 1941.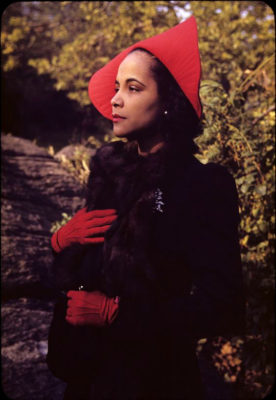 She was exceedingly stylish, considered, "one of the best dressed women in New York City" and as Langston Hughes put it:
…so Negro that they were reported as a matter of course in the colored society columns, just as though they occurred in Harlem instead of West 55th street.
In the early 1953 she went on a nine month vacation that included Paris and the Riviera. She ultimately married and relocated to a villa in Capri.
Photo credits: 1) Carl Van Vechten, 1941,Beinecke Rare Book and Manuscript Library. 2) Carl Van Vechten. 1941.
Related Articles
---