On March 27, Swann Galleries conducted their annual auction devoted to Printed & Manuscript African Americana, which attracted many institutional bidders and saw record results for rare books and other publications.
Wyatt Houston Day, Swann's African Americana specialist said, "We were very pleased to see so many of the top lots purchased by institutions, including a number of research-oriented lots. Among record-setting books were a Banneker Almanac (above), a rebound copy of Harriet Jacobs's Incidents in the Life of a Slave Girl and an inscribed copy of Anna Julia Cooper's A Voice from the South.It was an exceptional copy of Banneker's Almanack and Ephemeris for the Year of our Lord, 1793, which led the sale at $52,500*. The publication by self-taught astronomer, mathematician, surveyor and author Benjamin Banneker, Philadelphia, 1792, had not appeared at auction the past 25 years—it contained a portion of a poem by Phillis Wheatley.Other featured works by women writers were Jacobs's Incidents in the Life of Slave Girl, Written by Herself, first edition, Boston, 1861, $20,000 and Cooper's A Voice from the South by a Black Woman of the South, first edition, signed presentation copy, 1892, $15,000.
Also setting records were Frederick Douglass' Newspaper, Vol. VII, No. 32, July 28, 1854, $8,125 and several issues of Moslem World & the U.S.A., including Malcolm X's first published piece in Harlem, We Were a Dead People . . ., Brooklyn, 1956-57, $17,500.The archives mentioned above included a collection of manuscript and printed material from the Bourne Family, abolitionists and founders of the African Civilization Society, 1793-1919, $37,500; an archive of material related to John Charles Brownell's play Mississippi Rainbow, a comedy written for an all-black cast, 1927-61, $12,500; a collection of Pullman Porter memorabilia, circa 1920-60's, $17,500; and a personal archive of Eulace Peacock, track and field star and rival of Jesse Owens in the 1930s, $8,750.
Among desirable works of art were a contemporary oil copy of The Slave Trade by George Morland, circa 1791-1800, $35,000; a life-sized plaster bust of Frederick Douglass created by Dayton Morgan, Ohio, 1868, $12,500; and John Rogers's The Fugitive's Story, plaster sculpture, 1869, which brought a record price of $7,250.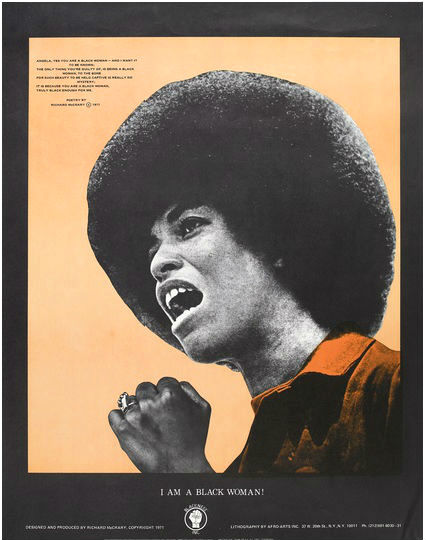 Posters of note ranged from a slave sale broadside with the headline Estate Sale! 229 Rice Field Negros, Charleston, 1859, $6,500 to Black Panthers images such as Richard McCrary's I Am A Black Woman! above featuring Angela Davis, New York, 1971, $7,500; The Racist Dog Policemen Must Withdraw Immediately from our Communities, depicting Huey Newton, 1968, and Black Theatre for The Black Panthers, New York, circa 1971, $6,500 each.
Rounding out the top lots were a group of 26 pieces of sheet music with minstrelsy themes, 1840s-80s, $9,375; a group of 37 photographs of the Hampton Institute, now Hampton University, Virginia, 1860s-80s, $8,125; and a very rare printing of Frederick Douglass's Lecture on Haiti, Chicago, 1893, $6,500.For complete results, an illustrated catalogue with prices realized (by request) is available for $35 from Swann Galleries, Inc., 104 East 25th Street, New York, NY 10010, or online at www.swanngalleries.com.
For further information, and to propose consignments to next year's auction of Printed & Manuscript African Americana, please contact Wyatt H. Day at (212) 254-4710, ext 300, or via e-mail at whday@swanngalleries.com.
*All prices include buyer's premium.
Photo credit: 1) Banneker's Almanack and Ephemeris for the Year of our Lord, 1793, Philadelphia, 1792. Sold for a record $52,500. 2) Richard McCrary, I Am A Black Woman!, poster featuring Angela Davis, New York, 1971. Sold for $7,500.
Related articles
Related Articles
---