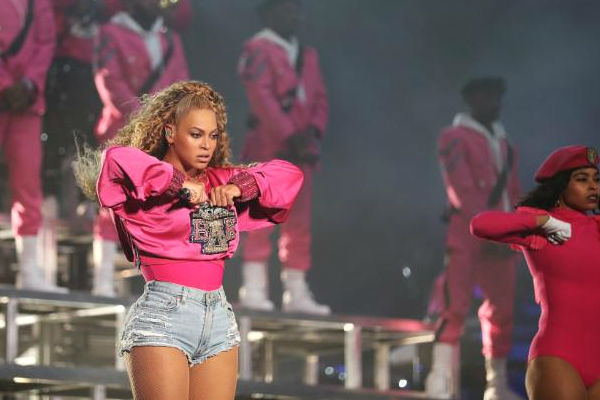 Beyoncé, through her BeyGOOD initiative, announces a partnership with Google.org, the charitable arm of tech giant Google, to award four new scholarships as part of her Homecoming Scholars Award Program. The iconic performer also issues a challenge to other businesses to join  Google.org in investing in excellence through education.
Google.org has matched the $100,000 grant Beyoncé announced last week, which will enable four additional HBCUs to receive $25,000 scholarships for the 2018-2019 academic year. The schools chosen are Texas Southern University, located in Beyoncé's home city, Houston, Fisk University in Nashville, Tennessee, the alma mater of her father, Mathew Knowles, Grambling State University in Grambling, Louisiana and Morehouse College in Atlanta, Georgia. HBCUs are institutions of higher education in the United States that were established before the Civil Rights Act of 1964 with the intention of primarily serving the African-American community.
"Google understands the vital role historically black colleges and universities play in delivering a high quality and culturally responsive education," states Maab Ibrahim, a Google.org program manager. "In the last several years, Google has launched innovative programs to close the distance between Silicon Valley and HBCUs; we are proud to continue that commitment by matching Beyoncé's generous donation."
"Partnering with organizations like Google.org in support of HBCUs is our way of elevating cultural touchstones that paint a clear picture of excellence and opportunity through diverse education," states Ivy McGregor, Director of Philanthropy and Corporate Relations at Parkwood Entertainment, which houses BeyGOOD. "We challenge other businesses across the country to join us in this commitment to higher education and investment in the future."
On Saturday, April 14, Beyoncé made history at the 2018 Coachella Valley Music and Arts Festival by becoming the first Black woman to headline in the festival's 19-year run. The jubilant set, housed on a pyramid stage with 150-plus cast members, dutifully in-sync, was the first time the icon returned to her home, the stage, in over one year.
The show, with its homage to excellence in education, was a celebration of the homecoming weekend experience, the highest display of college pride. The energy-filled production put the spotlight on art and culture, mixing the ancient and the modern, which resonated masterfully through the marching band, performance art, choir and dance. It was the impetus to mark her second scholarship program.
"As a Morehouse graduate myself, I can attest that HBCUs provide both an excellent educational opportunity, as well as a community of support that lasts a lifetime," says Steve Pamon, President and COO of Parkwood Entertainment, the company serving as the umbrella for Beyoncé's production and business ventures. "The lifeblood of that community is an annual pilgrimage to homecoming. This scholarship program can ensure that more students will enjoy the HBCU experience that continues to enrich my life."
A total of eight schools will now receive Homecoming Scholars awards for the 2018-2019 academic year, including awards previously-announced for Xavier University of Louisiana, Wilberforce University in Ohio, Tuskegee University in Alabama and Bethune-Cookman University in Florida.
One winner from each school will receive $25K for the 2018-2019 academic year for study in various fields. This is the second year of scholars programs created by Beyoncé.
The Formation Scholars Awards Program, also a merit scholarship program, was established in April 2017 in celebration of the one-year anniversary of LEMONADE, Beyoncé's critically-acclaimed and globally-lauded 2016 visual album. The Formation Scholars awards encouraged and supported young women who are bold, creative, conscious, confident and unafraid to think outside of the box.
The Homecoming Scholars Award Program for 2018-2019 will expand to qualifying students at the universities, regardless of gender. The disciplines will include literature, creative arts, African-American studies, science, education, business, communications, social sciences, computer science and engineering. All applicants must maintain a 3.5 GPA or above. All finalists and winners will be selected by the universities. Winners will be announced this summer.
Nestled upon a sprawling 150-acre campus, Texas Southern University is one of the nation's largest historically black universities. http://www.tsu.edu/home/
---
Fisk's world-famous Jubilee Singers originated as a group of traveling students who set out from Nashville on October 6, 1871, taking the entire contents of the University treasury with them for travel expenses, praying that through their music they could somehow raise enough money to keep open the doors of their school. https://www.fisk.edu/
The university is a member-school of the University of Louisiana System and Thurgood Marshall College Fund. http://www.gram.edu/
Morehouse currently has more than 17,000 alumni representing more than 40 states and 14 countries. http://www.morehouse.edu/
This preparation takes place in a diverse learning and teaching environment that incorporates all relevant educational means, including research and community service. http://www.xula.edu/
The university attracted the top professors of the day, including W.E.B. Du Bois.
http://wilberforce.edu
The university was home to scientist George Washington Carver and to World War II's Tuskegee Airmen. https://www.tuskegee.edu/
The institution boasts a diverse and international faculty and student body of nearly 4,000. http://www.cookman.edu/
Photo credit: Raven Varona. Via One/35 Agency
No related posts found...