---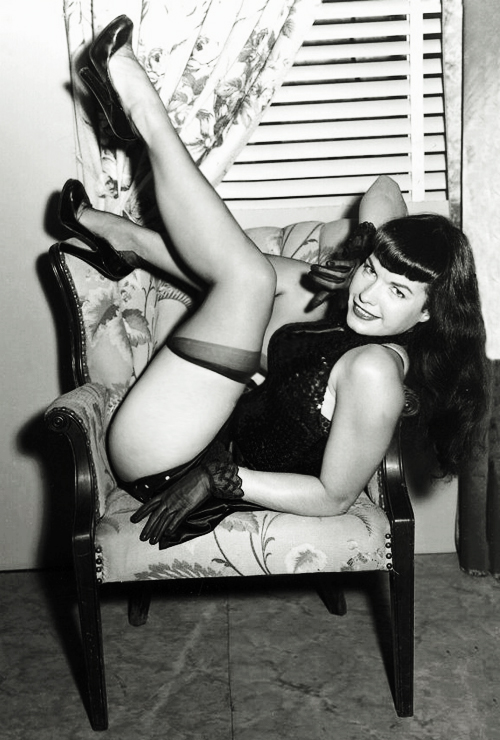 Long before there was Fifty Shades of Grey, there was Bettie Page. Bettie Mae Page was born in Nashville, Tennessee, on April 22, 1923. She gained a significant profile in the 1950s for her pin-up photos.
Often referred to as the "Queen of Pinups", with her jet black hair, blue eyes, and trademark bangs have influenced artists for generations.
Page was the hourglass figure brick house (36″ – 23″ – 36½"), known for her innocent looking bondage pics who helped federal agents probe the production of "flagellation and bondage pictures" in Harlem.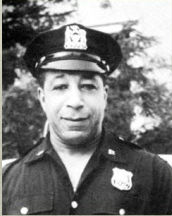 In 1949, Page moved to Harlem, New York, where she hoped to find work as an actress. In the meantime, she supported herself by working as a secretary overlooking Rockefeller Center. In 1950, while walking alone, walking along the Coney Island shore, Bettie met officer Jerry Tibbs, of the New York Police Department. Jerry was an avid photographer, and gave Bettie his card. He suggested she'd make a good pin-up model, and in exchange for allowing him to photograph her, he'd help make up her first pin-up portfolio, free of charge. It was Officer Tibbs who suggested to Bettie that she style her hair with bangs in front.
"[Jerry Tibbs was] the one who got me wearing bangs. For years I had my hair parted down the middle in a ponytail, tucked down around the sides. But he said to me, 'Bettie, you've got a very high forehead. I think you'd look good if you cut some bangs to cover it.' Well, I went and cut the bangs, and I've been wearing them ever since. They say it's my trademark."
Tibbs introduced Page to other Harlem photographers like the legendary Jamaican nude photographer and jazz musician Cass Carr. Carr hired her as a model in 1952 for his nude "Camera Club Outings" in which amateur and professional cameramen would pay her ten dollars to pose.
As a pin-up model, and posed for dozens of photographers throughout the 1950's. Page was "Miss January 1955", one of the earliest Playmates of the Month for Playboy magazine.
The NY Office of the FBI contacted Page in 1957 after NYPD operatives from the 32nd Precinct raided her Harlem, New York apartment which revealed a hidden hoard of pornographic mags, lurid B&W photos, wooden paddles, a riding crop, a whip and more.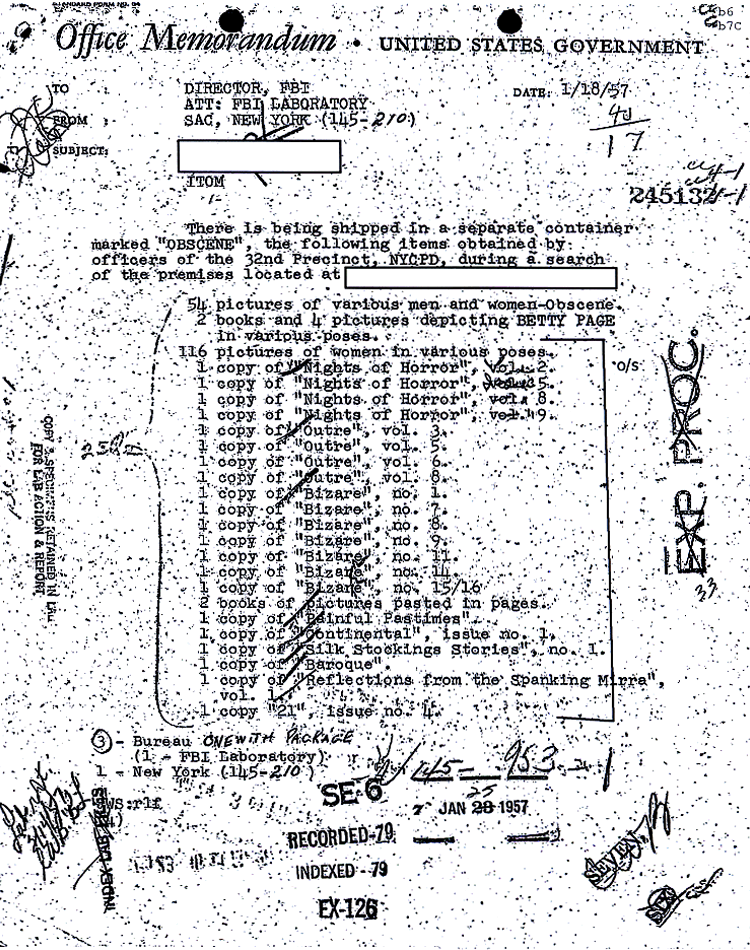 According to bureau files made public under a Freedom of Information request, the Feds wanted to know if the apartment had been used as the photo studio where the obscene material was produced.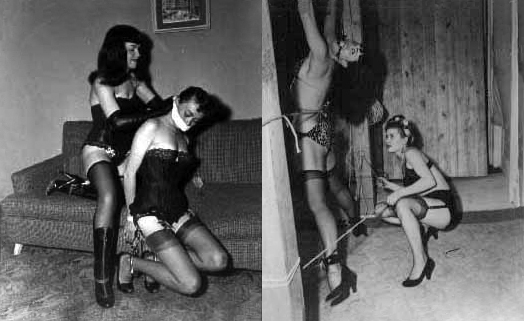 In a memo sent to then FBI chief J. Edgar Hoover, Page said she "had never heard of that type of photography being made in Harlem."
Page also confirmed, in the FBI memo that the "flagellation and bondage pictures that she had posed for" were shot "in photographic studios or photographers (Harlem) apartments" where her first cover was that of a Harlem newsprint magazine — similar to those she produced for Irving and Paula Klaw who built an empire from Bettie's provocative posing.
The FBI evidence including "two books and four pictures depicting Betty Page in various poses" was immediately shipped to Washington for (we're certain very close) "examination," and she was asked about "ping-pong paddles and a riding crop".
Bettie retired from modeling, moved from Harlem in 1959 to Key West, Florida and became born-again Christian.
Betty passed December 11, 2008.
Related Articles
---