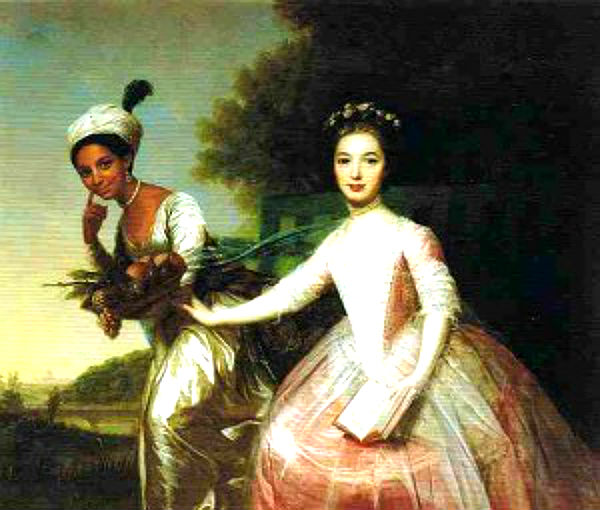 By Tod Roulette
After 235 years an intimate family heirloom painting has been exposed to the world showing not just layers of soot and dusty varnish but the secretive social customs, hierarchy and race prejudices of 18th century aristocratic English society.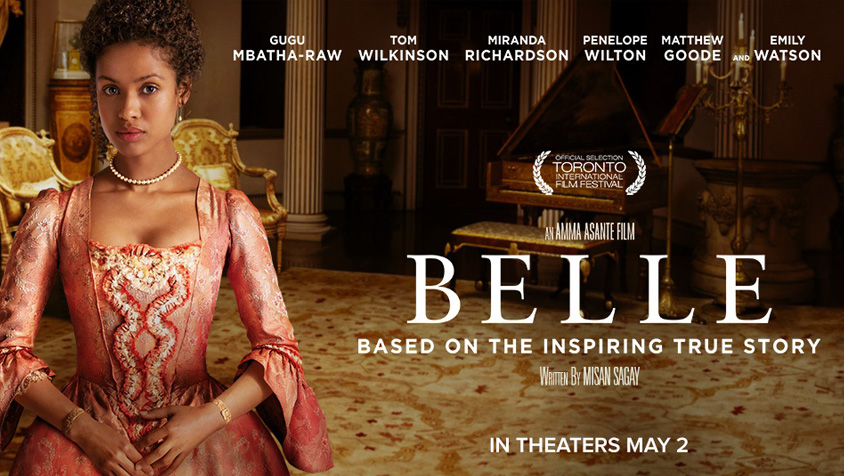 On the wall in a Scottish mansion has hung the picture of two young women, skipping through a country side (top photograph). One is darker hued than the other. Both look at the viewer and are clearly amused with each others company.The Caucasian woman tenderly puts her hand out towards her consort. This 1779 painting depicts Dido Elizabeth Belle beside her cousin Lady Elizabeth Murray. It was commissioned by their uncle, William Murray, 1st Earl of Mansfield.
Here's the video trailer from the movie:
The painting inspired an independent movie now showing titled, "Belle" based upon the true story of Dido Elizabeth Belle (Gugu Mbatha-Raw), the illegitimate mixed race daughter of Admiral Sir John Lindsay (Matthew Goode).  Raised by her aristocratic great-uncle Lord Mansfield (Tom Wilkinson) and his wife (Emily Watson), Belle's African lineage and illegitimate circumstance affords her certain privileges, yet her African blood line and illegitimate birth restrict her full realization of the traditions of those of similar noble social standing (and were white Anglo Protestants). Belle's cousin Elizabeth (Sarah Gadon) chases potential marriage partners, but Belle is on the outside of the courting and ritual of searching for a mate.  Finally, Belle meets an amazing vicar's son who wants to change the world. The two influence Belle's uncle, Lord Mansfield's decision in his landmark ruling in Somerset case of 1772 as Lord Chief Justice to end slavery in England. The Somerset case established that chattel slavery was unsupported by the common law in England and Wales.
Excerpt from the movie:
Lord Mansfield: "You would risk your position for a man without name?"
Dido Elizabeth Belle: "He speaks a voice for people who do not have one."
Lord Mansfield: "There are rules in place which dictate how we live."
Dido Elizabeth Belle: "You break every rule when it matters enough, papa. I am the evidence."
It is inspiring and refreshing to see a period romance movie like "Belle" because it puts the life of a woman of color at its center—no matter its mixed joy elements. The movie is fascinating because it portrays contemporary life in England in the late 1700's: the wealth, hypocrisy, severe class divisions and racialist views of Europeans about the inherent inferior value of peoples from the Dark Continent. In the movie there are a number of complex social maneuverings emotionally and morally. Belle is of color but the family expects her to marry a white man of means befitting their social status although they realize this will be a delicate matter. No one understands why Belle given every advantage of education, creature comfort and social opportunity is concerned with her mother's dispossessed people's, the legal fate of of cargo ship of blacks as well as James Somerset, a runaway slave.
---
---
The surroundings and amusing social strategizing of marriage and courting is sumptuous and indulgent in this movie. "Belle" is a "Downtown Abbey" (the BBC upper crust television series that swirls around the pampered lives of a titled family much like Belle's white relatives and the people who serve them, including the professional middle class). Only here the main leading lady is tawny and has a much more riveting interior life than any writer could imagine for the ladies of on Downtown Abbey.   And there are so many paintings and art objects that tell the presence of real life Africans in Europe of high born position. African peoples' history in the Western world is not simply one of no agency, bit actors who were told where to go, how to serve and never used their intelligence and full character to improve their position or change their disadvantaged lot.
If we look another 200 years prior to the 1779 depiction of Belle and her white cousin we learn from the traveling exhibit of 2013 entitled: "Revealing the African Presence in Renaissance Europe" presented by The Walters Art Museum, Baltimore Maryland in 2013 and traveled to Princeton University in 2014. I saw the exhibit in Princeton, New Jersey and was completely surprised by the amount of visual evidence of Africans of high status depicted on enameled gold jewelry, ivory, objet d'art as well as drawings and canvases.
Africans found themselves in similar situations as Belle centuries earlier. Circumstances of commerce and trade as Africans being sold as chattel as early as the 1400's. Two paintings in the exhibition mentioned give evidence to the grace, style, ingenuity and social acceptance of two people of African descent in Italy: Alessandro de Medici and his daughter Giulia Romola di Alessandro de' Medici (c. 1535 – c. 1588). 
… the ruler of Florence and the first black head of state in the modern Western world.
Viewing this portrait of Alessandro one might easily conjecture he is of high social standing, probably Spanish or Southern Italian origin. The accompanying cataloque states that Alessandro was rumored the illegitimate son of Pope Clement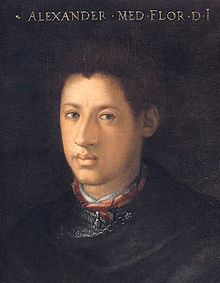 VII but officially he was recognized as the son of Pope Clement's brother Lorenzo de Medici Duke of Urbino (1492-1519). Florentine statues allowed the status of the slave followed that of his free father, thus Alessandro was educated and inherited the high status of his Italian family, not his Moorish mother. He went on to become the ruler of Florence and the first black head of state in the modern Western world.
In the stately dark portrait, Alessandro emerges as a comely reserved young man with kind brown eyes and large tightly coiled hair. His courtly dress belies his position with rose silk collar and probably white cotton tucked decorously under his metal linked vest. The portrait is oil on tin and distinguishes the sitter and the artist with the title atop. It reminds the viewers today that the vagaries and odd classifications of race and class are sadly not unique to our times today or even the time of Belle in 1779 as she sat for her portrait.
Alessandro was assassinated and his daughter Giulia was reared at the court of Cosimo I de' Medici. She went on to marry advantageously two times. She poses in stately dress and formal posture with a child who clearly has African features. During a cleaning of the portrait of Giulia in 1937, her child—a girl was discovered to have been painted over in the 19th century. Art critics note that the granddaughter bears a resemblance to her grandfather Alessandro in his child portraits complete with curly red hair.
What an amazing treasure that we can piece together the factual and social lives of these new peoples in Western Europe who were of African extraction centuries earlier. Having these fine art works centuries later allow us to view a society beyond the finite window we know of American slavery and the Caribbean and its very restrictive social norms and legal proscriptions against almost any person of color attaining status, wealth or even freedom. The works in "Revealing the African Presence in Renaissance Europe"and the portrait of Belle allow us to stare back into the subjects' eyes imagine what their dress felt like and how the rooms in which they were painted felt to breath in and move as well as the rare circumstances in which they lived the drama of their lives. The rare paintings and artworks that depict Africans in Europe and the Americas are important to see in themselves but having access these is incredibly limited. We can only hope that more of the stories of these Africans in centuries before may come to life by adventurous filmmakers, both independent and commercial. The stories teach us much about the mindset hundreds of years prior and cast a discerning eye on contemporary issues of social mores around race and classifications today. And hopefully it will inspire someone to look up the original artworks which inspired the big screen narrative.
Photo credit: 1). 1779 painting of Dido Elizabeth Belle posing with her cousin Lady Elizabeth Murray. Commissioned by William Murray, 1st Earl of Mansfield, william Murray,1ststst Earl of Mansfield. then Lord Chief Justice of England and Wales. the portrait of his two nieces hung in England's Kenwood, until 1922.2). banner-belle-belle_film 3). Portrait of Maria Salviate de' Medici and Giulia de' Medici by Jacopo da Pontormo (Jacopo Carucci), circa 1539, oil on panel.The Walters Art Museum, Baltimore, acquired by Henry Walters with the Massarenti Collection, 1902. 4). Portrait of Duke Alessandro de' Medici, after Jacopo da Pontormo, Florence, Italy, about 1550. Museum no. CAI.171. Ionides Bequest. 5). Painting of rich African Flemish German from the "Revealing the African Presence in Renaissance Europe" show.
Related Articles
---