---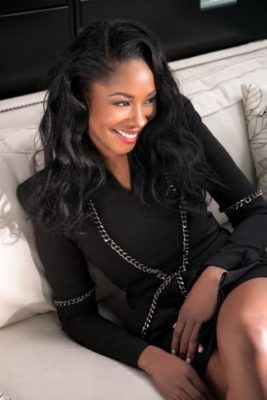 Ericka Pittman is Vice President of the Chairman's Office at Combs Enterprises. She was appointed by Mr. Combs to lead the company's Los Angeles Office.
Ericka joined Combs Enterprises in 2009 as VP of Strategy at the Blue Flame Agency, overseeing brand strategy for all agency campaigns. Prior to Combs Enterprises, Ericka had a successful 15 year run working in interactive and publishing media, holding positions at iVillage.com, Glamour Magazine, Vibe and Vixen Magazines, and Giant Magazine.
Ericka holds a Bachelor of Arts in Corporate Communication from Baruch College. Originally from Brooklyn, NY.
Ericka Pittman makes it her priority to both work hard and look good.Whether she's in business mode planning Diddy's infamous white party in St. Tropez, or out to dinner with friends, she's mastered which styles works best on her body and she knows how to expertly pair high and low-end pieces for outfits that are polished and put together.  Pittman's style mantra, "style is timeless and fashion is only now," comes from the Hall & Oates classic, "Method of Love."
Her fashion weakness? A great handbag.
The fashion maven shared with Essence Magazine how she puts her effortless look together and how she's turned her childhood obsession with Day to Night Barbie into her wardrobe motif.
In another interview, Create Leaders asked her:
How do you approach designing and building brands?
The first think you always have to ask yourself in any brand building exercise, is ' "Where is the hole, where is the white space, what's missing in what I'm trying to do?"
Whether it's creating another vodka or being a female empowerment speaker these things aren't new concepts – it's really about identifying what's missing in that space and figuring out whether or not you or the brand you're creating fills that void.
Identify a niche by backing into what is needed from the market place. Finding your white space in any scenario is the first step to creating a brand.
Honing in on where the area for opportunity is, figuring out how your brand fits that niche, and figuring out a solution for that particular space are the three components of successfully building out a brand.
You have an upcoming book titled, "What Mommy Never Told You: A Young Woman's Guide to the Next Phases of Life" What caused the desire to help young women in this way?
Often times, we've had very rigid rules and parameters around how to be as a young girl or woman. Advice like — use your inside voice, cross your legs, head up, shoulders back, legs crossed, graduate from college, get a good job, find a husband.
Then life happens – you become an adult, you've checked most if not all of the standard boxes, and there's no guidebook or rule on what to do next.
I thought it was important to create an easy going, easy to read guide for young women, based on my experience on what has and hasn't worked in my life.
It's everything from career to finances to relationships looking at, "what's next?"
I haven't gotten married at 26 or 30 years old, what does that mean for me? I've been a coordinator or a marketing manager at this job — how do I transition into the next role in my career.
I think we all can relate to wondering, what's next? What type of nuggets or personal advice would you give young women in creating their own path?
I think it's a couple of things.
Number one is to be a solutions-based employee. Identify the problems; it's fine to do that. More importantly work to identify a solution. Finding solutions often times are the things that get you the gold medal.
If people revere you as a problem solver or a solutions-based contributor they will seek your input and guidance in certain matters that don't have anything to do with your core skill-set. This will introduce you to new opportunities.
Another thing I would say is to always close the circle, if you're working on a project make sure that you're committed to the project — see it through. Make sure you do your work with excellence, at the same time make sure you're in tuned with other people that are involved with the project and figure out how you can help them to make sure that the entire project is a success.
The third thing I would say is, simply, be excellent. Do your best work, put your best foot forward, and the work will speak for itself.
In a MissBish interview she was asked:
If you could have lunch with any powerful woman alive today who would it be?
Cicely Tyson and Michelle Obama Cicely for a piece of her wisdom and Michelle Obama for deeper insight into the balancing act of who she really is vs who she is perceived to be and how she manages to present her best self in every arena.
Tell us about 3 of your favorite hidden gems in New York.
Brooklyn Bridge Park, Columbia University (in Harlem), and the view of New York City from Boulevard East in New Jersey. All beautiful, serene places to take in the beauty of New York.
Ericka Pittman can be followed by Instagram.
Photo via Huffington Post.
Related Articles
---