---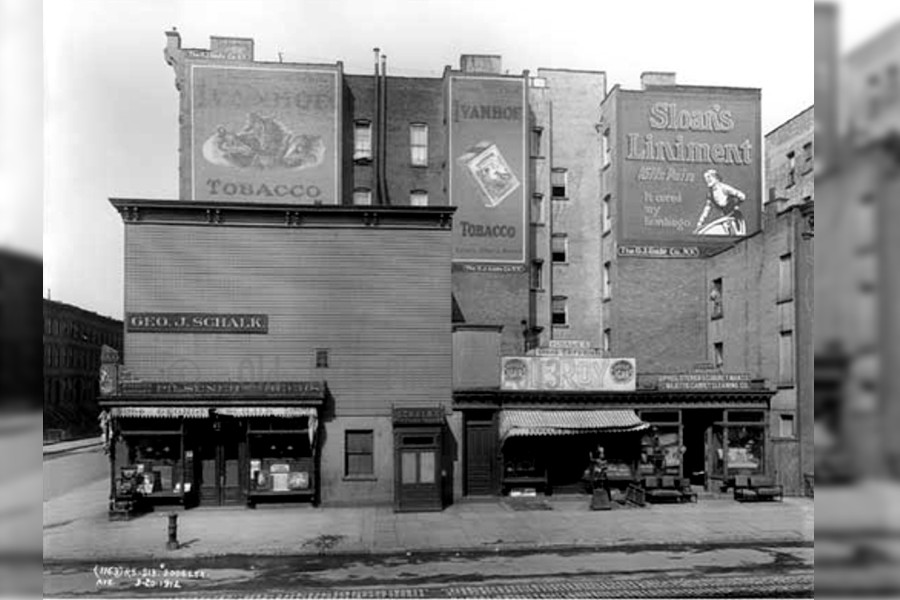 A great photograph looking west at Lexington Avenue and 122nd Street, Harlem, New York around 1912.
The photograph looks very directly in this photograph documenting this little patch of Harlem.
In the early 20th century, Lexington Avenue and 122nd Street were part of the vibrant company of Harlem. Harlem experienced significant social, cultural, and demographic changes during this time, making it a focal point of African American culture and the Harlem Renaissance.
Around 1912, Harlem was predominantly white but undergoing a demographic shift. African Americans began moving into the area in larger numbers, seeking better opportunities and escaping racial discrimination in the southern states. The Great Migration, which lasted from around 1910 to 1970, saw millions of African Americans move from the rural South to urban areas like Harlem.
Lexington Avenue, one of New York City's major thoroughfares, was an important commercial and residential street. It connected various neighborhoods and played a crucial role in the development of Harlem. The road was lined with rows of brownstone townhouses, many home to middle-class white families.
By the early 1910s, as African Americans continued to move into the neighborhood, white residents began to relocate, leading to the racial transformation of Harlem. As a result, Lexington Avenue and the surrounding area saw an influx of African American residents, along with new businesses, churches, and social institutions catering to their needs.
The cultural and intellectual movement known as the Harlem Renaissance emerged during this period, reaching its peak in the 1920s and 1930s. The movement celebrated African American arts, literature, music, and intellectual pursuits. It brought together notable figures such as Langston Hughes, Zora Neale Hurston, Duke Ellington, and many others who contributed to the flourishing cultural scene in Harlem.
122nd Street, a residential street intersecting Lexington Avenue, was a microcosm of the changes occurring in Harlem. It became home to a diverse population of African American residents, including professionals, artists, musicians, and writers. The area became known for its social clubs, rent parties, jazz venues, and other cultural gatherings.
During this time, the built environment of the neighborhood also transformed. New apartment buildings, theaters, and entertainment venues sprouted along Lexington Avenue, attracting both black and white audiences. The Lafayette Theatre, located at 132nd Street and Seventh Avenue, was a popular destination for African American performers and theatergoers.
Related: Read more Harlem History on our Facebook page.
The years around 1912 marked a pivotal period in the history of Lexington Avenue and 122nd Street in Harlem, as they witnessed the early stages of the neighborhood's transformation into an epicenter of African American culture. The cultural movements and social changes that emerged during this time laid the foundation for the rich artistic and intellectual legacy associated with Harlem.
Photograph: Source.
---