---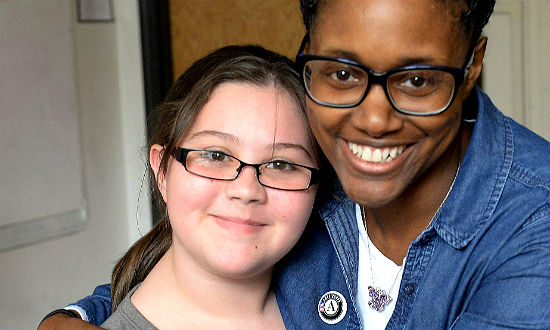 This is a minimum-time (300-hr year-long) position as an AmeriCorps member of Youth Action Programs and Homes, Inc.
We provide low-income young people with education, job skills, personal development opportunities, leadership skills, and a chance to get their lives headed in a positive direction. Our partnership with Youth Opportunity AmeriCorps, enables us to match adult mentors with student mentees for ongoing support regarding their continued educational, personal, and professional success. Mentors are a key part of the YouthBuild community, supporting the learning, development, and exploration of the students.
Description of a Youth Opportunity AmeriCorps Mentor Member A Youth Opportunity AmeriCorps Mentor Member is an individual who wants to have a positive impact on a young adult's life. He or she is a trusted person, who is caring and provides positive solutions and support. As a mentor, you will have the opportunity to provide access to people, places, and things outside the mentee's daily routine and environment. As a mentor you will use the Life Plan, a written statement of the goals of the young person, as an ongoing touch point for your mentoring relationship. Youth Opportunity AmeriCorps Mentor Members are officially enrolled as a National Service participant, serving their community by mentoring youth and eligible to earn an AmeriCorps Education Award, $1,195.00, upon the successful completion of 300 service hours within one calendar year.
A Youth Opportunity AmeriCorps Mentor Member has two main responsibilities: (1) To provide support to their mentees as they go through the YouthBuild experience, as well as ongoing support to students in order to ensure their continued educational, personal, and professional success.   (2) To participate in activities and community service projects alongside YouthBuild AmeriCorps mentees to role model what it means to be an active leader in our community.  At all times a Youth Opportunity AmeriCorps Mentor Member demonstrates a commitment to service, education, responsibility and community.
MENTOR QUALITIES
Caring
Active listener
Flexible, open, and approachable
Dependable and enthusiastic
Nonjudgmental attitude
Committed
Resourceful and able to support mentees as they strive toward their educational or career goals
MENTOR RESPONSIBILITIES/ ACTIVITIES  Attend mentor orientation and four hours of pre-match training sessions.
Provide support to mentees during their program membership, as well as ongoing support to graduates in order to ensure their continued educational, personal, and professional success. This position will be matched with a YouthBuild AmeriCorps mentee for a minimum of 12 months (approximately nine months during the program year and three months post-graduation, or equivalent, depending on the YouthBuild program cycle).
Mentor members should be prepared to serve an average of 6 hours per week (We ask that you do a minimum of one face to face visit per week. Contact can also be made via phone calls, emails or text messages) over the course of 12 months.
At least monthly, but preferably more frequently, participation in direct service projects (including construction) alongside the YouthBuild AmeriCorps mentee in program-approved service projects.
Assistance with the planning and/or implementation of a project on a designated national day of service such as September 11th National Day of Service & Remembrance, Make A Difference Day, Martin Luther King, Jr. Day; Global Youth Service Day and AmeriCorps Week.
Working closely with the mentee to create and manage their mentee's YouthBuild Life Plan.
Participation in service or group mentoring activities, in particular all ongoing mentoring training sessions.
Communication twice a month with mentor coordinator.
Attend program ceremonies, including a matching ceremony and a match celebration at the end of the program year.
Provide all needed data for program evaluation.
Focus attention on the student's YouthBuild Life Plan.
QUALIFICATIONS
 Be at least 21 years of age
Be a US citizen, US National, or lawful permanent resident of the United States, as well as pass the three-part National Service Criminal History check required for all AmeriCorps members
Must complete an application
Attend a face-to-face interview session
Satisfactory employment and personal reference checks
Demonstrate commitment to making positive changes in the life of their mentee, through active listening, non-judgmental attitude, flexibility, caring and modeling good values and judgment at all times.
Adhere to the policies related to the Drug-Free Workplace Act
BENEFITS
Upon satisfactory completion of the Youth Opportunity AmeriCorps Minimum Time (300 hours) service term, Youth Opportunity AmeriCorps Mentor Members will receive an education award that can be used at any Title IV Institution, seven years from the end of your service term.  The amount of the education award is currently valued at $1,195.   Completed, signed and dated time and attendance records of service member must be on file at the program.  Youth Opportunity AmeriCorps Mentor Members age 55 and older at the start of service can transfer their education award to their own child (including stepchild, grandchild, step-grandchild, or foster child)
SUPERVISION
During the term of service, Youth Opportunity AmeriCorps Mentor Member will receive direct supervision from: Gari Harvey
This position does not have recurring access to vulnerable populations
Please note: Vulnerable populations include service recipient's age 17 and younger and/or persons age 60 and older.  Recurring access means having access more than once.  YouthBuild AmeriCorps members who participate in various community service projects at schools, senior centers, or at community wide events, are likely to have recurring access to vulnerable populations.
POSITION STANDARDS No prior experience or knowledge of mentoring necessary.  Each Youth Opportunity AmeriCorps Mentor Member must have the ability to:
Accept supervision, follow instructions, and adhere to safety procedures
Demonstrate punctuality and dependability
Serve in a team environment with people of different ethnicity, gender, and backgrounds
Communicate effectively with staff and peers staff
If you  are interested in becoming a mentor or have any questions, please contact the Mentoring Coordinator, Gari Harvey:  gharvey@youthactionyouthbuild.org 
http://www.nationalservice.gov/programs/americorps
Mentors will be selected by May 2015
The mentoring program will begin June 1, 2015
---