---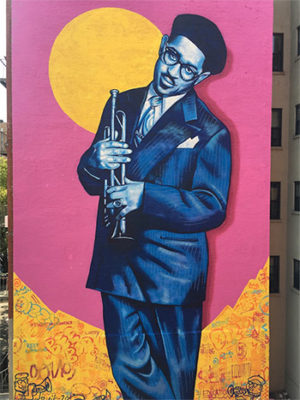 Global street art and human rights campaign, Education Is Not A Crime, is thrilled to announce the creation of the John Birks "Dizzy" Gillespie 100th Anniversary mural in Harlem at 229 W 135th Street. The mural is the project's 20th and largest in New York.
Dizzy frequently championed the Baha'i principle of the oneness of humanity. His life as an African-American man who overcame marginalization and discrimination through music and faith lends his story to the mission of Education Is Not A Crime. Dizzy Gillespie, born in South Carolina on October 21, 1917, was a celebrated African-American jazz musician and an outspoken member of the worldwide Baha'i community. This year would be his 100th birthday; he passed away in 1993 in New Jersey.
Gilman Contemporary, opened in 2007, has defined its artistic program by including both established and emerging artists who present an innovative process to traditional art forms. Now, Kontaxis joins this revered group to display his vibrant and complex work, a reality that a few years ago was only a dream for the young painter.
Maziar Bahari, the Iranian-Canadian journalist who was the subject of Jon Stewart's 2014 film Rosewater, and who was jailed for 118 days in Iran in 2009 because of his journalism, founded the campaign, Education Is Not A Crime.
"By producing this mural of Dizzy Gillespie in Harlem, we pay tribute to an African-American jazz genius, and a humanitarian," said Bahari. "Dizzy is exactly what our world needs. Today, we are surrounded by hatred, xenophobia and racism. Dizzy's belief in the oneness of humanity, inspired by his faith, shows us the way forward. We need to tell younger generations about the artistry and ideals of an African-American icon."
The new double mural painted by the artists Brandan "Bmike" Odums and Marthalicia Matarrita stands across the street from a plaque bearing Dizzy's name and likeness on the Harlem Walk of Fame. Odums rose to prominence in his native New Orleans for a monumental series of socially conscious murals painted on abandoned housing. Matarrita is a Harlem local whose own struggle to access education make her a natural collaborator for the project.
Education Is Not A Crime has produced murals in New York every summer since 2015, to raise awareness of the denial of higher education to the Baha'i religious minority in Iran. Of the 40 murals Education Is Not A Crime has created, 19 are located in Harlem. The murals are timed to appear as Iranian officials arrive in New York for the UN General Assembly. Iran's President Hassan Rouhani will speak at the UN on September 20. Nobel Peace Prize laureates Desmond Tutu and Shirin Ebadi, and the actors Mark Ruffalo and Rainn Wilson, have endorsed Education Is Not A Crime and spoken against the persecution of Iranian Baha'is.
The Iranian government has persecuted the Baha'is, the country's largest religious minority, since the 1979 Islamic Revolution. Hundreds of Baha'is were executed after the Revolution and official documents call for the Baha'is to be barred from university. In 1987, they established an underground university called the Baha'i Institute for Higher Education to overcome this discrimination. Ninety-five Baha'is are currently in jail.
In his 1979 autobiography "[easyazon_link identifier="0816665478″ locale="US" tag="harlemworld-20″]Dizzy Gillespie: To Be, or Not … to Bop[/easyazon_link]", written with Al Fraser, Dizzy said: "When I encountered the Baha'i faith … I believed in the oneness of mankind. I believed we all come from the same source, that no race of people is inherently superior to any other. And they teach unity, I latched onto that."
Street Art Anarchy, an organization that curates high-impact public art projects, produced the Dizzy mural and the 19 previous Harlem artworks. The Greater Harlem Chamber of Commerce donated the walls, at 229 W 135th Street, for this latest project.
The mural also comes as Baha'is prepare to celebrate the 200th anniversary of the birth of Baha'u'llah, the Faith's founder, which falls the day after Dizzy's birthday. If you would like to be a part of the Education Is Not A Crime Campaign and view the mural upon its completion, please email Danyelle@ballantinespr.com.
Related articles
---