---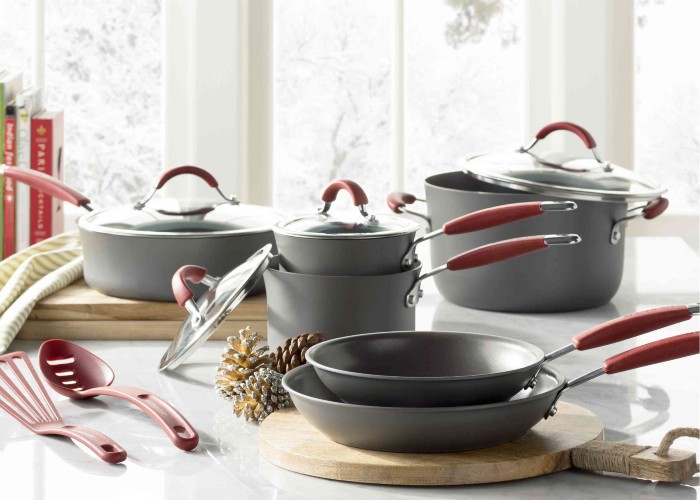 Nonstick pans are the perfect addition to any kitchen. They make clean-up easier and they save you a headache when you're cooking tricky things like eggs. But not all pans are created equal. When it comes to materials and manufacturing, some pans are safer, more effective and of better quality overall.
Ceramic nonstick cookware is some of the best on the market. Made from ceramic materials, these pots and pans have great thermal conductivity as well as heat retention capabilities. These features make this kind of cookware ideal for both cooking and baking purposes.
Ceramic non-stick cookware is a great alternative to traditional non-stick cookware. It has many advantages over other types of non-stick surfaces. If you are shopping for a good ceramic nonstick pan, there are a few things to consider. This article will examine the full scope of what ceramic nonstick cookware can offer. 
 What is Ceramic Nonstick Cookware?
Ceramic nonstick cookware has become a popular choice among many home cooks and professional chefs. This type of cookware is made from a composite material that includes ceramic, titanium and aluminum. The nonstick surface allows you to cook with less oil and makes cleanup much easier.
Ceramic cookware is also known as glass cookware and it is not actually cookware. It is a cooking surface that is fused to the inner side of a metal pan helping prevent the food from sticking to the pan. Ceramic nonstick pans are durable and relatively long-lasting before needing replacement.
What To Look For in a Good Ceramic Pan?
The best ceramic pans are made by companies that have been around for decades, like Caraway Cookware. Look for a product that has a thin layer of ceramic coating on the pan's interior surface. You also want to make sure that the cooking surface is even across the bottom and not just on one side or corner of the pan. The best pans will have a consistent distribution of color across their entire surface because this means they have been properly baked at high temperatures to get an even bond between the aluminum core and the outer layer of ceramic. 
Caraway Cookware is made from high-quality PTFE and PFOA-free nonstick coating. It has a unique design that makes it easy to cook with. This nonstick cookware is PFOA free, which means that it is safe for you and the environment. Caraway nonstick cookware is dishwasher safe, making for simple clean-up after a meal.
The best modern cookware and bakeware should look gorgeous on your kitchen counter. It's designed to catch your eye, and that's an important feature for anyone who spends a lot of time preparing meals. Nowadays, no one thinks twice about the beauty of their cooking utensils, but the benefits of modern nonstick cookware are much more than skin deep. A pot or pan that looks beautiful isn't just going to dry-store in your cabinets when you're finished using it—it's something you're likely to pull out and show off whenever you have guests over.
What Are the Benefits of Ceramic Cookware?
Ceramic nonstick cookware is great for those who want to reduce their use of oil when cooking because they allow you to brown food without having to use any oils or butter! You also don't need to worry about sticking because there's no residue left behind after most foods are cooked. Many people also find that they have fewer problems with sticking when using nonstick pans, which means that their food doesn't get ruined as easily as it does when using regular pots and pans.
The main benefits of ceramic nonstick pans are: 
Easier Cleaning – The nonstick coating helps prevent food from sticking to pans during cooking and makes cleanup a breeze.
Less Fat Used – Because less fat is used when cooking in nonstick pans and skillets, your meals will be healthier.
Increased Flavor – Nonstick utensils allow food to brown better, which means they also have more flavor.
Non-Stick Surface – With a non-stick surface, you can cook without oil or butter or even use less of it than you normally would!
If having a nonstick surface is important to you, then we would recommend investing in a good quality nonstick product. The benefits of nonstick cookware should give you plenty of confidence that the time and money spent on such a purchase will be worth it.
In the end, you don't need to overthink your choice of cookware. All you need is a basic knowledge of the type of products that are available to purchase, and a few questions to consider when making a decision on which cookware types to pick. By doing that, you can rest assured that you'll find nonstick cookware that not only meets your needs but exceeds expectations. 
---