---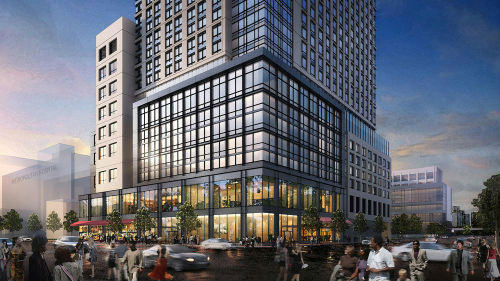 Bloomberg reports that Groucho Marx once said that politics is the art of looking for trouble. New York Mayor Bill de Blasio and City Council Speaker Melissa Mark-Viverito have found it in a playground named for the comedian and his brothers in their old neighborhood on Manhattan's Upper East Side.
The two officials support a developer's $1 billion plan to build a 760-foot-high tower — the tallest north of 60th Street — on 1.5 acres of land where kids have played ball for generations. The project would include as many as 1,200 apartment units in one building, as well as the first schools to be built in the neighborhood in almost 50 years.
The developer, AvalonBay Communities Inc., has spent more than $300,000 on lobbyists, filings with the city clerk show, and won state legislature approval to move forward in June. Then neighbors and open-space advocates got Governor Andrew Cuomo to slam the brakes after arguing that the parcel isn't just a school playground; it's parkland protected from development. That question awaits a determination by his state parks commissioner.
"The discontinuation of the Marx Brothers Playground as parkland circumvents a 100-year-old zoning principle," said Caroline Harris, an attorney representing Carnegie Hill Neighbors, a group that opposes the project. "The proposed actions unfairly favor a private development."
High Rises
The dispute has emerged in the context of a broader citizens' rebellion against the rise of luxury towers casting shadows on their neighbors. A lightning rod for public outrage stands almost 1,400 feet above 57th Street at 432 Park Avenue, with 104 condos that have attracted billionaire residents, including Saudi property developer Fawaz Al Hokair, who last year purchased the penthouse for a reported $87.7 million.
AvalonBay has said it is committed to bringing affordable housing to East Harlem. In exchange for the ballfield, it agreed to make about 300 of the 1,200 units "affordable," with rents for a two-bedroom at about $800 to $2,400 a month. Median rent on a two-bedroom Upper East Side apartment is about $6,700 a month, according to the real-estate website Trulia.com.
No related posts found...
---