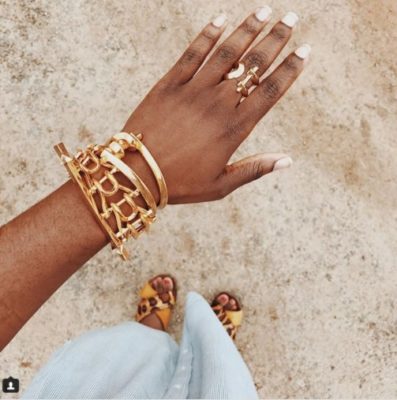 Kristin and Kofi Essel are a power couple and the two design creatives behind Third Crown, a jewelry brand that has found fans in Beyoncé, Solange, and Cardi B.Third Crown is known for its bold, geometric pieces, crafted exclusively from gold, silver, and gunmetal. A signature component of the pair's designs is finding unique ways to incorporate linking, which is fitting for a couple that describes themselves as "one entity."
The way they met sounds straight from a rom-com: "We were both in college, I was at FSU in Florida and Kofi was at FIT. We met at a mutual friend's birthday party, then we were all going to a club and we ended up in the same cab together. We kept in touch, I graduated, moved to New York, and we've been together ever since," Kristin said. And ever since, they've traveled the world, gained inspiration, and built a bomb-ass brand.
Over the phone, we spoke with the couple about boundaries, the process of jewelry-making, and what's to come for Third Crown.
Related Articles