---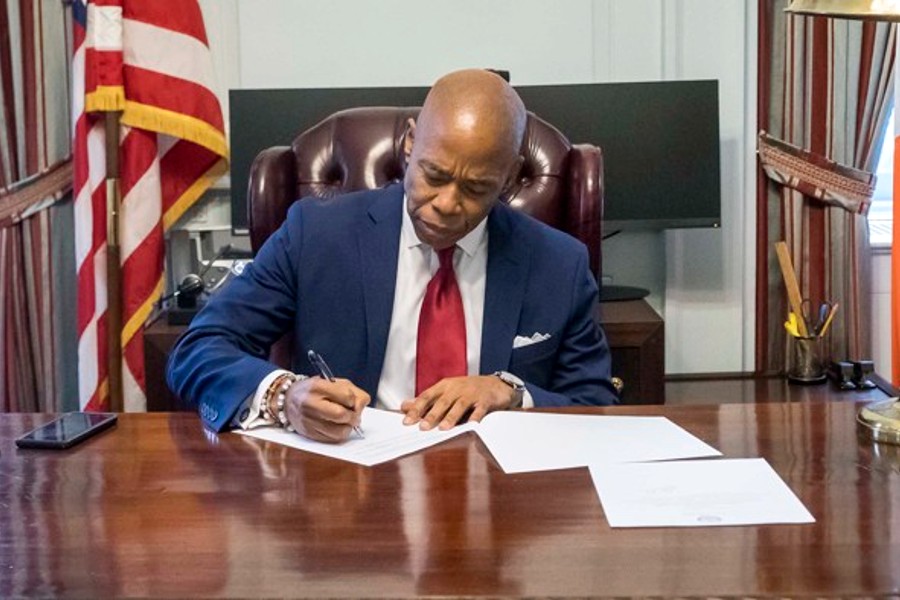 New York City Mayor Eric Adams and New York City Corporation Counsel Judge Sylvia O. Hinds-Radix today to stop e-cigarettes.
They took steps to immediately prevent three companies from distributing and selling flavored e-cigarettes (vapes) in violation of federal, state, and city laws.
The City of New York today filed a motion for a preliminary injunction against Magellan Technology, Demand Vape (Magellan's sister company), and Empire Vape as part of a lawsuit initiated in July by the Adams administration. The motion includes new evidence of how the companies continue to flagrantly violate the law in spite of the city's ongoing lawsuit.  
"Our administration will not sit by while companies break our laws, sell illegal products, and poison our children," said Mayor Adams. "We will use every tool in our toolbox to protect young people from the corruptive influence of illegal flavored nicotine products and hold bad actors responsible for endangering the health of our children. And to any company continuing to sell and distribute these products: You are on notice that we will not hesitate to hold you accountable if you put profits over people."
"The city is seeking a preliminary injunction against vape distributors that continue to fuel an epidemic of e-cigarette use among the youth in our communities," said Corporation Counsel Hinds-Radix. "Based upon the detailed evidence in the city's motion, we are asking the court to immediately enjoin these defendants from their illegal activity while the case is litigated. Protecting the health of our youngest New Yorkers is vitally important to the city."
"We will always protect our young people, and when companies put children in danger and violate the law, we will hold those companies accountable," said Deputy Mayor for Health and Human Services Anne Williams-Isom. "This lawsuit will help keep our city and its residents safe from dangerous, illegal flavored e-cigarettes."
"These laws protect public health, and they have teeth," said New York City Department of Health and Mental Hygiene Commissioner Dr. Ashwin Vasan. "New York City has been a leader in sensible tobacco and vaping regulations and this administration is ensuring that these groundbreaking laws are followed. Reducing tobacco and vaping use is key to health, and especially when corporate practices are targeting our kids. Thank you to Mayor Adams for your support of public health."
"It is crucial that we hold distributors accountable for their involvement in enabling, promoting, and selling these harmful products that jeopardize the well-being of our children and communities," said New York City Sheriff Anthony Miranda. "The Sheriff's Interagency Task Force will continue to work with all of our partners to tackle the alarming health and safety risks posed by illegal and unregulated products."
"Flavor ban? No worries. We got you."
The city's motion for a preliminary injunction lays out a wealth of evidence that the three companies have flagrantly broken laws against selling flavored vapes — publicly advertising on their website, for example, that the Hyde brand of products they sell and distribute have "so many flavors," and that they "boast an impressive range of flavored products" that is "constantly growing." Empire Vape's website banner states specifically, "Flavor ban? No worries. We got you."
E-cigarettes may not be placed on the market without U.S. Food and Drug Administration (FDA) authorization. The FDA affirmatively rejected Magellan Technology's application for pre-market authorization for these products, yet Magellan, Demand Vape, and Empire Vape continued to distribute and sell them. Additionally, an investigation into flavored vape availability at a small sample of retail outlets conducted as part of the Adams administration's ongoing lawsuit revealed that flavored vapes distributed by the defendants were available at no fewer than 200 stores throughout New York City.
Most e-liquids provide nicotine levels far exceeding those of conventional cigarettes — some with as much nicotine as 175 to 350 cigarettes. Additionally, federal health authorities, including the U.S. surgeon general and the FDA, say youth-friendly flavors in e-cigarettes — such as "strawberry milkshake," "cola," and "pina colada" — are among the flavors that tempt kids to "vape" high levels of nicotine. Child-friendly, cartoon character packaging on e-cigarettes targeted at young people has also contributed to the epidemic of nicotine addiction among young people in middle and high school.
The U.S. Centers for Disease Control and Prevention's 2019 Youth Risk Behavior Survey revealed that 15.2 percent of New York City high school students and 7 percent of New York City middle school students surveyed reported current use of electronic vapor products. The FDA has not authorized the sale of any flavored vape (except tobacco-flavored), and every sale of a flavored vape in the U.S. is illegal under the federal Family Smoking and Protection Act. Outright flavor bans have also been enacted in New York City and across New York state, as well as in many other cities and states nationwide.
Additionally, the federal Prevent All Cigarette Trafficking Act prohibits anything other than face-to-face sales of disposable e-cigarettes, unless the sales comply with all state and local laws of the jurisdiction in which the sale occurs. This scenario cannot occur in New York City and New York state, where the New York Public Health Code and the New York City Administrative Code prohibit the sale of flavored disposable e-cigarettes altogether.
Photo credit: Source.
---