---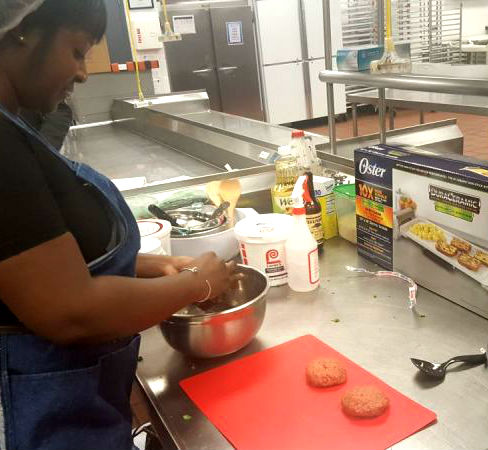 Jet Toomer was chopping up some collard greens when she had a realization."I should be making some burgers," Toomer said. "I don't want people to think that I make salads."
Four years ago Bad Gurls Burgers was just a "passion project" for Toomer. She and her friends would set up a pop-up stand at bars on weekends and dish out burgers and other sandwiches to patrons. But since graduating from a city program called Food Business Pathways, the catering business has become her full-time job.
Food Business Pathways, is a private-public collaboration between the New York City Housing Authority, the Small Business Services Department and community-based organizations such as East Harlem's Hot Bread Kitchen. The program offers business classes for residents of public housing to help develop plans to launch food-based companies.
When Toomer graduated from Food Business Pathways her's was one of four business plans selected to get a free-year of commercial kitchen space at Hot Bread Kitchen's East Harlem incubator.
Toomer has since quit her job as a community organizer, moved out of public housing and dedicated 100 percent of her energy into her business. And Bad Gurls Burgers has moved on from bars to catering private events and vending at concerts such as SummerStage.
Food Business Pathwats helped Toomer understand the more complex aspects of the food business such as food protection and licensing regulations and the importance of sticking to exact measurements, she told source.
Since going full-time with her business Toomer has been in her East Harlem cooking space once a week, she told our
source
. And since 60 different businesses have access to Hot Bread Kitchen's incubator, it can get a little hectic, she said.
"It's way more work than I romanticized," Toomer told source.
Toomer's menu for Bad Gurls Burgers revolves around the signature item — The Bad Gurl, a burger topped with a sheet of baked macaroni and cheese. Toomer decided to go with Burgers because they are "all american and no frills," she said.
Toomer said her cooking inspirations are her sister, who has always wanted to own a restaurant, her mother, her grandmothers and her aunts from the south.
The Food Business Pathways program is set to graduate its fifth class on Tuesday, Oct. 18, a spokeswoman for NYCHA told a source. The program graduates two 35-member classes per year and often receives up to 100 applications for each class, the spokeswoman said.
Related Articles
---