---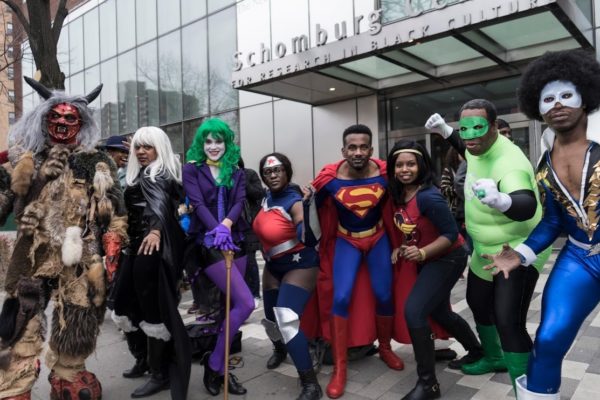 The Schomburg Center for Research in Black Culture invites comic book fans of all ages to participate in its 7th Annual Black Comic Book Festival that will be held on January 18 -19, 2019. Registration is free and open to the public at schomburgcenter.eventbrite.com.
Each year, the Schomburg Center's Black Comic Book Festival brings creators, illustrators, writers, and independent publishers together with thousands of collectors, blerds and nerds for two days of programming and activities. The highly-anticipated community event includes interactive panel discussions, a vendor marketplace featuring exclusive titles by Black creators, a cosplay show, and more.
"This is a special time for Black comix creators, writers, and characters," said Kevin Young, director of the Schomburg Center. "With Black Panther, Black Lightning, Octavia Butler's Kindred, and many others, there's a resurgence in using this medium to tell our stories, to engage existing comix fans, and to cultivate new ones. We're excited to be the premier platform where comix creators of color convene to discuss the industry, its future, and to personally interact with their fans and each other. Plus, as a longtime comic collector since I was a teenager, it's quite special to find my fellow fans!"
"The Schomburg Center's Black Comic Book Festival is not only the place where participants can find the comics and characters they love, but it's also the place where new connections, relationships, and ideas are made," said Brian Jones, education director at the Schomburg Center. "There's no better place than Harlem to be the home for Black comix culture. We're looking forward to the conversations that will happen at the coming annual event, and to the ways in which we'll continue supporting the Black comix community and nurture its growth."
Black Comic Book Festival participants are encouraged to wear their favorite cosplay costumes and to register on-site for the annual cosplay show. Participants are also invited to contribute to the Schomburg Center's growing collection of Black independent comic books by bringing single copies of old or new titles from their home collection. All donations will become a part of the Schomburg Center's unique and growing archive documenting Black comix and the Black speculative arts movement.
The Schomburg Center's 7th Annual Black Comic Book Festival art was created by Edgardo Miranda-Rodriguez (@mredgardonyc), writer & creator of La Borinquena Comics.
For more information on the Schomburg Center's Annual Black Comic Book Festival program, please email SchomburgEd@nypl.org.
For festival updates, follow the Schomburg Center on Twitter and Instagram @SchomburgCenter, #BlackComicBookFest.
---