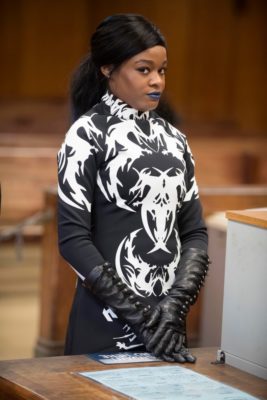 A Manhattan judge scolded Harlem rapper Azealia Banks for failing to turn up for court Monday and then trying to dismiss her absence as mere tardiness.
"Where was your client?" demanded Justice Kathryn Paek, who had issued a bench warrant for Banks' arrest Monday when she failed to show up to a hearing for allegedly biting the boob of a female bouncer who tossed her from a West Village club.
The Harlem native was at Paris Fashion Week partying in denim thong shorts at the time, according to media reports.
Defense lawyer Jess Berkowitz said that Harlem rapper Banks was out of the country and that she thought her court date was later in the week.
The rapstress, wearing a black dress with a skeleton design, knee-high vinyl boots and a Chanel purse, chimed in: "I just wanted to apologize for being tardy."
"Not tardy!" Paek stated. "You missed your court date, your case is on for hearing and trial, and you did not appear. Do you understand the difference?"
"Yes," she answered.
Assistant District Attorney Andrea Kimmel told the judge that the "defendant has failed to appear in this case multiple times, including the first trial date" and asked for $2,000 bail.
It wasn't the first time Paek had issued a bench warrant for Banks, 25, after she skipped out on a court date.
Despite the stern dressing-down, Paek vacated the warrant and released Banks without bail. The diva flashed a smile of relief as she and a pal strolled out of Manhattan Criminal Court.
The Harlem rapper faces assault and harassment charges for allegedly chomping on the breast of a security guard who threw her out of club Up&Down on Dec. 16, 2015.
She's due back in court March 10, 2017.

Related Articles
---
VIDEO
---
"We re-imagine, recreate, and redeem cultural omissions and misrepresentations of Blackness, for the culture. ...." This post is made in partnership with British Pathé.