---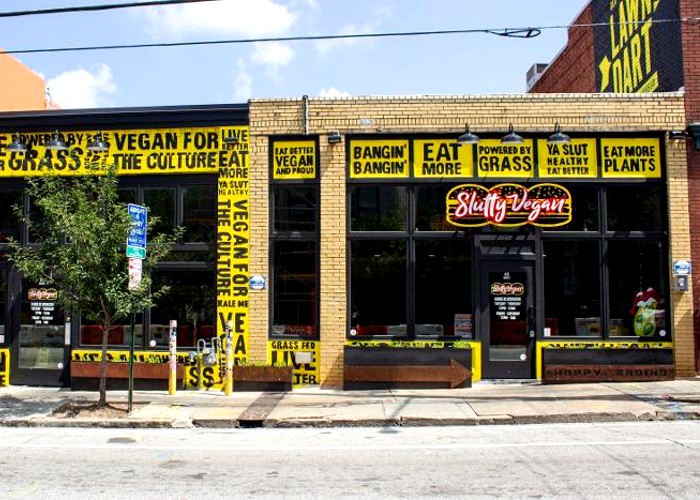 Slutty Vegan, the Atlanta-based plant-based burger concept, received a $25 million investment from restaurateur Danny Meyer's Enlightened Hospitality Investments and Essence Ventures CEO Richelieu Dennis' New Voice Fund, the chain announced Monday.
With Dennis, she has the expertise of the person responsible for creating Sundial Brands, known for products like SheaMoisture and Nubian Heritage.
The money will be used to beef up Slutty Vegan's C-suite, while also fueling unit growth, CEO and founder Pinky Cole said.
Slutty Vegan currently has five restaurants, with five more in the works in Brooklyn, Harlem, Birmingham, Ala., Columbus, Ga., and Athens, Ga., which is scheduled to open this weekend.
"To have the New Voices Venture Fund and the GOAT of the restaurant industry, Danny Meyer himself, to have them a part of this team is a recipe for success," Cole said. "I'm excited about the people I'm involved with."
Cole partnered with Shake Shack last August to sell a one-day "SluttyShack" burger in Harlem.
Shake Shack CEO Randy Garutti introduced Meyer to the brand. He saw the long lines for Cole's burger.
"I had never seen vegan food presented in such a fun way," Meyer told Forbes. "Leaders are often defined by the degree to which people want to follow them, and I saw people following the leader."
During the pandemic, Cole took all of the seating out of the restaurants and turned that real estate into retail areas selling shirts and hats and "anything you can think of," she said.
"We do extremely well in our retail department, and we don't even fully advertise it yet," she said. "People want to wear the brand."
Slutty Vegan doesn't operate any drive-thrus currently, but the chain plans to try one soon, she said.
Cole said about 97% of the customers coming in for vegan burgers like the One Night Stand (a plant-based patty topped with vegan bacon, vegan cheese, caramelized onions, lettuce, tomato and Slut Sauce on a vegan Hawaiian bun) are meat-eaters.
The quick-service brand plans to add a salad and a kids' meal in the near future, she said.
Dennis launched his New Voices Fund at the end of 2020 to support Black women entrepreneurs in many industries.
Meyer started his EHI fund more than four years ago and has since invested in growth chains and tech companies such as Dig, Goldbelly, Salt & Straw, Joe Coffee and Bentobox.
In January, Meyer's group closed on its second fund, which raised $332 million in capital commitments.
The investment, which Cole said brings the chain's valuation to $100 million, is helpful for the concept's growth, of course.
With the latest investment, Cole reportedly has plans to open up 10 additional Slutty Vegan restaurants by the end of the year. The goal is also to add another 10 locations in the near future.
But Cole, who opened the first Slutty Vegan in 2018, said mentorship from industry veterans is even more important.
Read the entire article on Restaurant Business Online.
Photo credit: Slutty Vegan.
---