---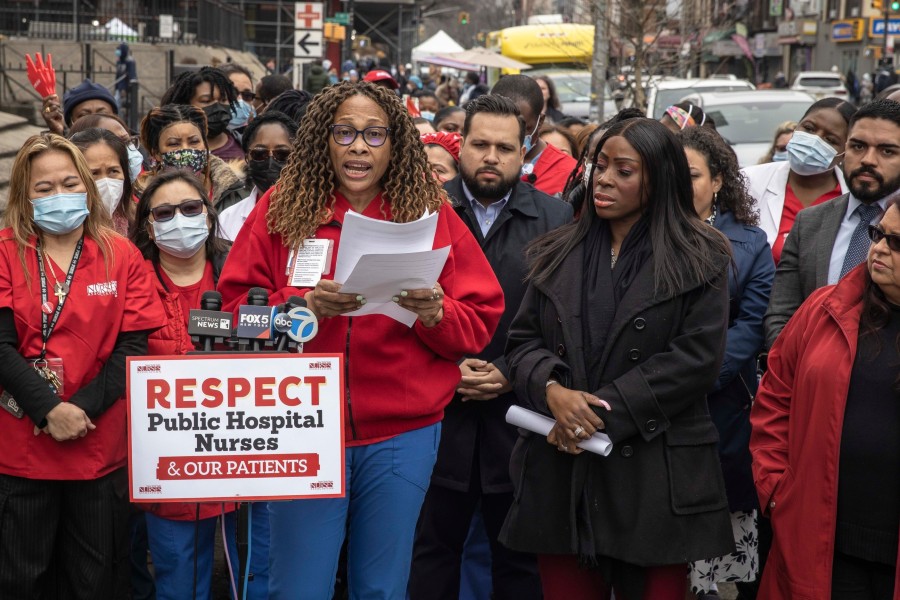 On Thursday, March 2, 2023, NYSNA members held actions at public hospitals from Harlem to Hollis on the day that their union contract expired.
Public sector nurses, who staff New York City's public hospitals and mayorals agencies, are demanding that the city live up to its agreement on pay parity with the private sector to stop the bleed of nurses from public hospitals that has created a crisis of understaffing harming NYC's most vulnerable patients. 
Click here for photos and video from the day of action. All members of the media have permission to use photos and videos with credit to NYSNA. 
The day of action kicked off with a noon rally and speakout at Lincoln Hospital and followed with evening vigils at Lincoln, Bellevue, Harlem, Metropolitan, Jacobi, Coney Island, Kings County, Queens, and Elmhurst. Nurses were joined by labor, community and elected allies, including Sen. Nathalia Fernandez,  Assembly Members  John Zaccaro and Kenny Burgos, The Bronx Borough President Vanessa Gibson, Committee of Interns and Residents (CIR/SEIU), and Doctors Council SEIU. 
28-year veteran Lincoln Hospital nurse and President of NYSNA's NYC Health+Hospitals/ Mayorals Executive Council, Sonia Lawrence, RN said: "So many of our experienced nurses are exhausted, burned out, and giving up. They retired or left our public hospitals for better pay and working conditions in the private sector. I see firsthand how many units are understaffed without enough registered nurses or other frontline caregivers needed for quality care. I see how patients are suffering, and waiting hours for care because there are not enough nurses and other essential caregivers to treat our patients in a timely manner. We cannot have health equity for our public hospital patients without pay equity to keep nurses at the bedside."
NYC's public sector nurses are mobilizing on the heels of a striking victory for private sector nurses, who won groundbreaking contracts that improved staffing and included 19.9 percent pay increases. With new raises for private sector nurses, the pay disparity for newly graduated nurses in the public sector will be over $19,000 per year. NYC's public health facilities serve mostly Black and brown and immigrant New Yorkers and are staffed by mostly Black and brown and immigrant nurses. Pay parity is an issue of health and racial equity for New York City. 
"New York City's public hospitals provide high quality, compassionate care without discrimination. Elmhurst Hospital, in my district, was the national epicenter of the pandemic. And how are we thanking public sector nurses? With a crisis in understaffing at our public hospitals, driven by the enormous pay disparity between private- and public-sector nurses. A $19,000 pay gap will drive understaffing and unequal care for New York's predominantly working-class Black and Brown communities," said State Senator Jessica Ramos, Chair of the Senate Labor Committee.
City Council Speaker Adrienne E. Adams said, "Nurses serve on the frontlines of our health care system and provide quality care to meet patients' needs," said Speaker Adrienne Adams. "Just as the exemplary nurses at our city's private hospitals deserve fair pay and safe workplaces, these essential healthcare workers in our public hospitals deserve the same. I support NYSNA in their call for pay parity and safe staffing ratios for our public sector nurses."
"Nurses who care for us each and every day, and tirelessly continued to do so throughout the pandemic deserve a new contract now," said Congressman Jerry Nadler.  "I stand in solidarity with public sector nurses and urge the NYC Health & Hospitals Corp. to come to an agreement for a fair contract, with safe staffing ratios and pay equity on par with private sector nurses."
"NYC H+H/Mayorals Nurses continue to be a lifeline in our City's fight against the COVID-19 pandemic. Our nurses deserve pay parity like their private sector counterparts in order to ensure that our public hospitals are staffed and able to retain their nurses," said Assemblymember Edward Gibbs. 
"The understaffing crisis facing our public healthcare system has become dire. Nurses across the city are overworked and underpaid, creating a dangerous situation for them and patients alike," said Assemblymember Linda B. Rosenthal, Chair of the Assembly Committee on Housing. "As we learned during the pandemic, nurses are essential workers and the backbone of our healthcare system, but today, nearly 9,000 nurses saw their contracts expire. It's past time they receive a fair contract that guarantees safe staffing levels and provides the pay equity they deserve."
"Nurses are the backbone of our health systems and provide lifesaving care. I stand in solidarity with these workers who deserve a fair contract and greater protections. I support the New York State Nurses Association in their continued fight for a contract and workplace improvements," said Council Member Carlina Rivera.
Mark Hannay, Executive Director, Metro New York Health Care for All said "New Yorkers are blessed to have a de-facto universal health care system in our city in the form of New York City Health and Hospitals, and our city leaders need to fully support it and the nurses who are its backbone," said Mark Hannay, Director of Metro New York Health Care for All.  "Our city's public hospital system has been the frontline resource to our city in combating the COVID-19 pandemic, and its nurses among its frontline caregivers.  They all have gone above and beyond the call of duty, some even giving their very lives.  We call on Mayor Adams and the City Council to negotiate a fair and just contract with the New York State Nurses Association that recognizes their members' extraordinary service, and puts them on par with their colleagues in the voluntary sector."
State Senator for Harlem Cordell Cleare said, "I continue to fervently believe that we must always put patients before profits; this statement is doubly true as applied to our beloved nurses, who are instrumental in ensuring that patients are cared for proactively—with dignity and compassion.  I support the principled movement of nurses all over the state, including the principled public servants at H + H to stand up for themselves, their patients and cour communities.  Health System Bureaucrats holding up contract talks and the timely implementation of Safe Staffing are further exacerbating the nursing shortage that they created—and this is unacceptable!  Nurses are the heart and soul of the healthcare system and we must treat them with the kindness, respect, remuneration and support they deserve!"     
State Senator Brad Hoylman-Sigal said, "Everyday, nurses put their patients' lives above their own. They sacrificed their safety for two years during the global pandemic, yet are currently met with atrociously low pay and high amounts of overtime. Our nurses are burned out and leaving the profession at astronomical rates. In order to keep patients safe with appropriate staffing ratios and protect our nurse population – many of whom are BIPOC women – New York must meet this need and offer our nurses competitive pay and better benefits. I stand with the 9,000 public hospital nurses rightfully demanding pay parity with the private sector to stop the flood of nurses leaving NYC's public hospitals."
Assemblymember Alex Bores said, "NYC H+H/Mayoral nurses are the backbone and the backstop of our entire NYC healthcare system. Between them, they take care of our first responders, the uninsured, the homeless, and many others. As we recover from the pandemic and tackle a mental health crisis, we need to invest in these nurses more than ever. We need to close the pay gap with private nurses and eliminate staffing shortages so we can invest in our city's health."
Assemblymember John Zaccaro, Jr. said, "As COVID-19 spread across our City, our State and our Country the nearly 9,000 NYC Health + Hospitals/Mayorals nurses worked tirelessly and around the clock to treat all those infected with this terrible virus. A fair contract for every single NYC Health + Hospitals/Mayorals nurse is essential to the retention of these highly-skilled professionals who are invested in our community. I am truly honored to stand in solidarity with these heroes who answered the call to serve when our community needed them most."
 "It is an outrage that nurses who put their lives on the line during the pandemic to administer quality, around the clock care are treated with such disrespect," said Council Member Shaun Abreu. "A strong contract with pay equity is a labor right — and certainly one that these public health heroes deserve. Let's get it done."
"Our City's public sector nurses need a fair contract that includes pay equity with the private sector to make sure that working New Yorkers who depend on our Health+Hospitals system aren't getting the short end of the stick when it comes to their critical healthcare needs." said NYC Central Labor Council, AFL-CIO President Vincent Alvarez. "Years of underinvestment have resulted in a crisis in understaffing that undermines quality of patient care and threatens public health. The NYC Labor Movement is committed to standing with NYSNA and our Health+Hospitals nurses to demand the contract they need in order to continue to provide exceptional care to the patients and communities they serve."
The New York State Nurses Association represents more than 42,000 members in New York State. We are New York's largest union and professional association for registered nurses. NYSNA is an affiliate of National Nurses United, AFL-CIO, the country's largest and fastest-growing union and professional association of registered nurses, with more than 225,000 members nationwide.
For more information, visit nysna.org.
Photo credit: Nurses at Public Hospitals Throughout NYC Held Day of Action As Union Contract Expires.
---