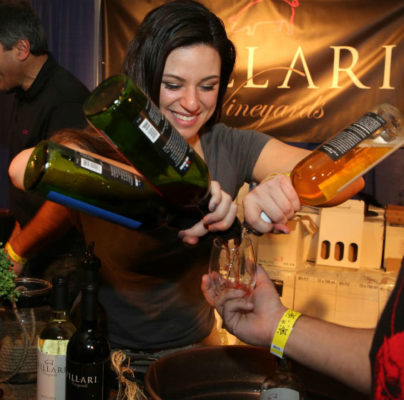 Whether you are planning a trip to wine country or just want to know a little be more about what you are drinking when you hit The Winery or a friends house, learning to appreciate wine is one of life's finer pleasures. If you long to walk through the vineyards and admire the grapevines and picturesque backdrop, wine glass in hand, you must first learn to appreciate the subtle beauty of wine one step at a time.
Seeing and Smelling the Wine
Fill a quarter of the glass with wine and hold it by the stem. Holding the glass by the bulb will heat up the wine and distort the flavor. The reason for the stems is to prevent adding excess heat, so hold the glass lightly by the thin stem.
Wine needs to "breathe," or rest in exposed air, after being opened to get the best flavor, so take your time examining the wine before starting to drink.
1. Make a small sniff of the wine right after opening. This is a good time to catch a preliminary sniff of the wine so you can compare its fragrance after swirling. This will also allow you to check for any off odors that might indicate spoiled (corked) wine or some other biological or chemical imperfection, which will smell stale or rotten. Smells to note include:
A musty, wet, attic-like smell means the wine was improperly bottled and cannot be salvaged.
The smell of burnt matches is a product of bottling, but it should fade after exposure to air.
Nail polish or vinegar-esque smells indicate a wine that is too acidic.
Brettanomyces, or "Brett," causes a yeasty smell that is natural in red wines. Too much of this yeast smell can, however, ruin the other flavors of the wine and point to a mistake in the wine-making process.
2. Look at the edges of the wine and note the colors. Tilting the glass can make it easier to see the way the color changes from the center to the edges. Hold the glass in front of a white background, such as a napkin, tablecloth, or sheet of paper, to make out the wine's true color. For the wine professional, this is the first clue to how old the wine may be and how well it is holding up. Look for the color of the color and clarity of the wine. Intensity, depth, and saturation of color are not necessarily consistent with quality.
The wine should not be murky or cloudy in color.
White wines get naturally darker with age, but should not be brown.
Red wines to lose their color with time, turning brownish, and have a small amount of harmless, dark red sediment in the bottom of the bottle or glass.
3. Know that red wines have natural sediment at the bottom. Sediment formation, which looks like dirt at the bottom of the glass, is a naturally occurring process in which polymerization causes the precipitation of colloids of pigmentation, among other things, to fall out of solution and form small grainy sediment. Long story short: this is not a fault in the wine, it this is a natural part of wine making.
Swirl the wine in your glass. This is to increase the surface area of the wine by spreading it over the inside of the glass allowing them to escape from solution and reach your nose. It also allows some oxygen into the wine, which will help its aromas open up.
Lightly twirl the stem of the glass, keeping the bottom of the glass on the table if you are worried about spilling.
Viscosity is how quickly the wine slides back down the glass. More viscous wines are said to have "legs," and are likely to be more alcoholic or contain more glycerol (for sweeter, dessert wines). Outside of looking pretty, this has no relation to a wine's quality, but more "legs" may indicate a full-bodied wine.
4. Sniff the wine. Initially, you should hold the glass a few inches from your nose. Then let your nose dive 1/2 inch or so into the glass. What do you smell? Keep gently swirling your wine if you can't smell much — swirling allows the evaporating alcohol to carry the aromatic molecules toward your olfactory sensors.f you don't think a wine smells good, it likely won't taste good. Great wine is enticing on the nose and gives you a hint of what is to come. Common scents include:
Fruits: berries, cherries, and richer fruits for reds and citrus for whites.
Floral or herb scents in whites and lighter reds, like Rhône region reds.
Earthy scents, like soils, minerals, or rocks, are possible in nicer whites.
Spices and unique smells like vanilla, toast, pepper, chocolate, and coffee come from the wooden barrels used to age the wine, usually oak.
Older wines often have nuanced, subtle smells that are hard to place, so don't worry if you can't pick out a smell.
Tasting the Wine
1.Take a sip of wine and let it linger in your mouth. One important difference between drinking and tasting is expectorating. Roll the wine around in your mouth, exposing it to all of your taste buds. Pay attention to the texture and other tactile sensations such as the sense of weight or body (the wine feels physical). What are the initial flavors that stand out? Most importantly, do you like it?
Spit the wine into a spittoon, provided on all wine-tours, if you are planning to taste lots of wine. Getting drunk will make it harder to taste complex wines later on. If you're driving, use the spittoon.
2. Aspirate the wine after your first taste. With your lips pursed as if you were to whistle, draw some air into your mouth and exhale through your nose. This liberates the aromas for the wine and allows them to reach your nose via the passageway at the back of your throat, known as the retro-nasal cavity. The nose is the only place where you can detect a wine's aromas. However, the enzymes and other compounds in your mouth and saliva alter some of a wine's aromatic compounds. You are looking for any new aromas liberated by the wine's interaction with the environment of your mouth.
3. Take another sip of wine, this time with air with it. In other words, slurp the wine (without making a loud slurping noise, of course). Note the subtle differences in flavor and texture. Flavors and scents come in successive waves in fine wines, they are revealed as your sensors adjust to the wine.
---
---
This is especially important with red wines.
Don't worry if this makes you feel out of place. It is an accepted step in wine tasting.
4. Look for balance in a good wine. Is there any one taste that overpowers the rest? Can you detect the same flavors you smelled now that you are tasting the wine? Great wines are balanced so that they don't attack your taste buds. You can taste 2-3 different fruits, a mixture of sweet and sour, and some earthy characteristics.
A little bitterness is natural, but it shouldn't ruin your palate.
All wines are different — whites and dessert wines, for example, are usually on the sweeter side. You are looking for balanced flavors, whatever they are, not one "perfect" balance.
5. Note the aftertaste of the wine. How long does the finish last? A good, 60 second or longer flavor in the aftertaste is a good sign of quality. At times, you will pick up things in the finish that was not detectable in the initial taste. Do you like the taste? Has it changed?
6. Write down what you think about the wine. You can use whatever terminology you feel comfortable with. The most important thing to write down is your impression of the wine and how much you liked it. The more specific or detailed you are the better your reference will be against a similar wine from another winery. Many wineries provide booklets and pens so that you can notes. This can be a great aide in helping you to pay attention to the subtleties of the wine and remember what you like.
Keep a booklet of your favorite bottles and what meal you ate them with for future reference.
Learning More About Wines
1. Match the glassware to the wine. Stemware/drinkware comes in a variety of shapes and sizes. The more experienced wine drinkers and connoisseurs often enjoy wines out of stemware or bulbs that are tailor-made for a specific varietal. When starting out, the basic rule of thumb is that you want larger glasses for reds and smaller glasses for whites.
2.Know how wines change with age. Wines have a myriad of components that can be generally categorized into aromatic or tactile. Aromatics relate to what you smell. Tactile elements include bitterness, saltiness, sweetness, tanginess/acidity, and savory elements.
Aging will soften tannins, which is the bitter taste in some wines.
Perceived Acidity will soften throughout the life of a wine as it undergoes chemical changes, including the breakdown of acids.
Flavor and aromatic intensity will rise and then fall throughout the life of a wine, going into a cocoon stage mid-life and reemerging.
Alcohol content will stay nearly the same. All of these factors contribute to knowing when to drink/decant a wine.
3. Remember some common flavors for different wines. There are some commonly found tastes for each of the most common varieties. However, remember that the growing region, harvesting decisions, and production choices have a great impact on a wine's flavor as well.
Cabernet – black currant, cherry other, black fruits, green spices.
Merlot – plum, red and black fruits, green spices, floral.
Zinfandel – black fruits (often jam-like) and black spices – often called "briary."
Syrah (or Shiraz, depending on vineyard location) – black fruits, black spices – especially white and black pepper.
Pinot Noir – red fruits, floral, herbs.
Chardonnay – cool climate: tropical fruit, citrus fruit in slightly warmer climes and melon in warm regions. With increasing proportion of malolactic fermentation, Chardonnay loses green apple and takes on creamy notes, Apple, pear, peach, and apricot.
Sauvignon Blanc – Grapefruit, white gooseberry, lime, melon.
4. Know how common wine flavors are produced. There are a lot of decisions a winemaker must make when designing a wine, and it would be impossible to explain them all. Some of the most common methods, and the taste they produce, include:
Malolactic fermentation (the natural or artificial introduction of a specific bacteria) will cause white wines to taste creamy or buttery
Aging in oak will cause wines to take on a vanilla, caramel, or nutty flavor.
The minerality and earthiness of a wine comes from the soil the wine was grown in.
"Tannins" refers to the astringent, bitter compounds found in grape skins, stems and seeds as well as the oak barrels in which the wine is aged. If you want to know what tannins taste like, bite into a grape stem or eat a cabernet grape off the vine. In young red wines, tannins taste bitter and drying, but they get silky with age.
5. Try pairing wines with new ingredients and note the how it enhances or diminishes the flavors of the wine. With red wines try different cheeses, good quality chocolate and berries. With white wines, try apples, pears, and citrus fruits.
Pairing wine with food is more complicated than "red with beef and white with fish." Feel free to drink whichever wine you want with whatever food you want, but remember a perfect pairing is a highly enjoyable experience
Via source
Related Articles
VIDEO
---
Harlem Cultural Archives is a donor and foundation-supported Historical Society, Its mission is to create, maintain and grow a remotely accessible, online, interactive repository of audio-visual materials documenting Harlem's remarkable and varied multicultural legacies, including its storied past as well as its continuing contributions to the City and State of New York, the nation, and the world.
Support Harlem Cultural Archives
and
click here to get more Harlem History
, Thank you.