---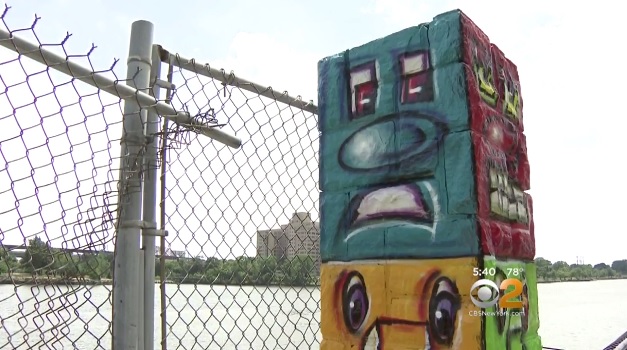 Is there an art thief on the loose in East Harlem? Some residents believe there is after a large banner designed to hang along the waterfront disappeared just days after it was installed.
The East River Esplanade is a diamond in the rough. People who visit said it can be just as beautiful and inviting as the city's other waterfront parks– it just needs more attention.
That's why a group called Friends of the East River Esplanade commissioned an internationally respected artist to transform a black pillar into a colorful totem pole and create a custom banner to hang on a fence, CBS2's Elise Finch reported.
"We want to make this even better than the other waterfronts in the city so as part of that we feel that public art is a way to bring the conversation and bring momentum to improving a spot," group member Jennifer Ratner said.
The artist donated his time and talent, but the conservancy paid nearly $4,000 to print the banner and have it installed. The abstract art piece was placed last week Wednesday. By Sunday morning, it was gone.
Read more about the stolen art work HERE.
Related Articles
---