---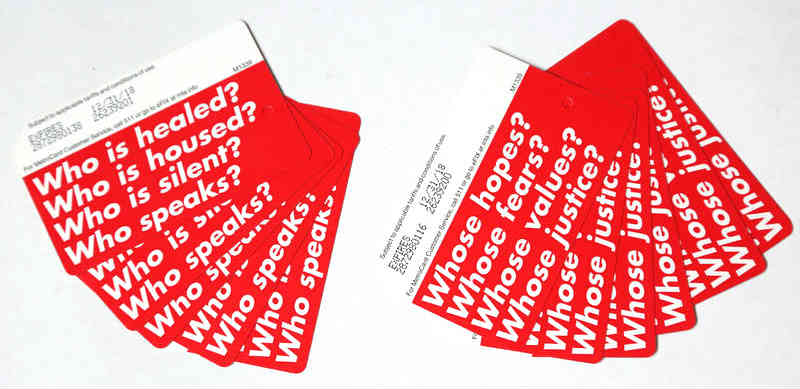 Patch reports that on Wednesday, November 1, 2017, four New York City subway stations (at 116th Street in Harlem) will be stocked with MetroCards designed public card by visual artist Barbara Kruger.
Fifty-thousands Kruger-designed Metrocards will be stocked in machines at Queensboro Plaza, Broadway-Lafayette Street, East Broadway and the B/C station at 116th Street, the New York Times first reported. The Metrocards will be "randomly distributed" from machines and will not be available at station kiosks, the Times reported.
The MetroCards will be released in conjunction with the beginning of the Performa Biennial, an art series that will feature Kruger-designed installations at the Lower East Side Skatepark and on a billboard at West 17th Street and 10th Avenue, the art series announced in a press release. The cards will feature Kruger's trademark red background with white lettering and phrases such as "Who is healed? Who is housed? Who is silent? Who speaks?" the Times reported.
MetroCard collectors may notice similarities between the cards released Wednesday and another batch of special-edition cards that were distributed in February by the apparel brand Supreme. The Supreme-branded cards caused a frenzy when they were released and fetched high prices on the resale market. Supreme's logo — which features the brand's name in white Futura typeface on a red background — has been accused of being a knock off of Kruger's designs.
Kruger told the Times that she's excited for the MetroCard release.
"I take the subway six times a day when I'm in the city," Kruger told the Times. "The level of dispersal and distribution of meaning is huge."
Read the original New York Times article here.
Photo courtesy Performa
Related Articles
---