---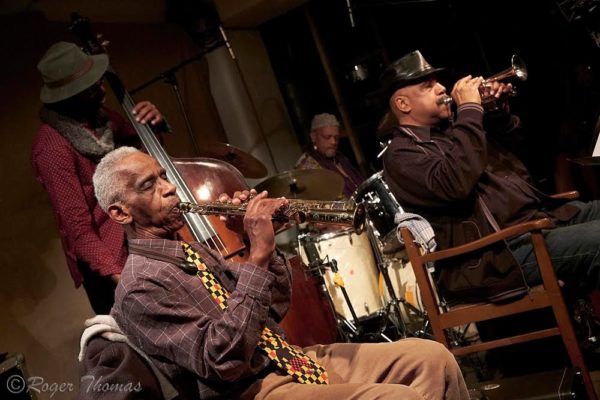 In one of the very first public performances at the Lenfest Center for the Arts, Columbia University School of the Arts, presents an unprecedented and rare opportunity to hear one of the most legendary bands of all time, the Art Ensemble of Chicago. Marking 50 years since they originally began to perform as the Roscoe Mitchell Art Ensemble, the group reemerged at Café OTO in London earlier this year to great acclaim. This performance will be their only New York City stop, one day ahead of their participation in October Revolution, a new jazz and contemporary music festival in Philadelphia. Joining the Art Ensemble for this concert will be original member Joseph Jarman, who will be performing his poetry, long an integral part of the band's shows.
The Lenfest Center for the Arts is a new venue designed for the presentation and creation of art across disciplines and dedicated to expanding the partnerships between Columbia University School of the Arts and the diverse, dynamic arts communities that have long defined Harlem's cultural legacy. From readings and installations to performances, screenings, and symposia, the vibrant array of activity produced by the School of the Arts at the Lenfest Center aims to strengthen local partnerships while highlighting contemporary scholarship, global perspectives, and compelling voices of our time.
The Art Ensemble of Chicago:
Roscoe Mitchell, flutes, saxophones
Famoudou Don Moye, drums, percussion
Hugh Ragin, trumpet
Tomeka Reid, cello
Junius Paul, double bass
With special guest Joseph Jarman, spoken word 
Performance followed by Q & A with the ensemble, hosted by Steve Smith.
Get your tickets for this performance here only after September 12, 2017
Friday, October 6, 2017, 7:00 p.m. (doors open at 6:30 p.m.)
Lenfest Center for the Arts, 615 West 129th Street, between Broadway and 12th Avenue, Harlem, New York, arts.columbia.edu
Photo credit: L to R: Junius Paul (bass); Roscoe Mitchell (saxophone);
Famoudou Don Moye (drums); Hugh Ragin (trumpet)
Related Articles
---