---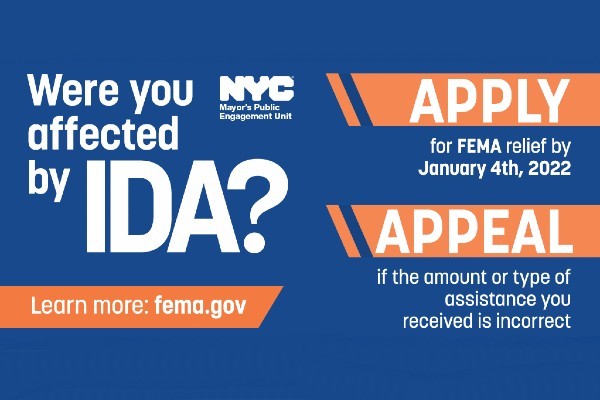 NYC Government wanted to follow up to let you know that the deadline to apply for Ida FEMA relief has just been extended!
As of today, New Yorkers from Harlem to Hollis will now have until January 4, 2021, to apply for FEMA relief.
Updated social media graphics in English, Spanish, and Simplified Chinese can be found here (we will update other languages on a rolling basis as soon as we are able to).
The FEMA press release on the deadline extension can be found here.
You can also help get the word out by sharing our post on Twitter, Facebook, and Instagram.
It is important to note, if a New Yorker feels that they did not receive the correct amount to cover their needed relief, or if they were denied relief, they have 60 days to appeal FEMA's decision.
For more information, go to: https://www.fema.gov/disaster/4615.
Thank you for helping to get the word out about this exciting news on the deadline extension for New Yorkers.
---