---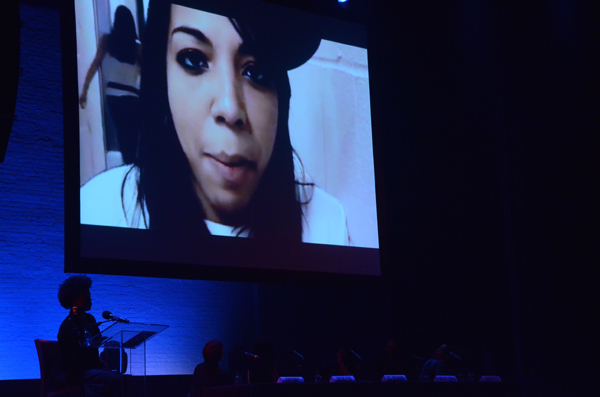 By Morgan A. Grain | Photographs by Trotfilms
Audience members witnessed something similar to a music, dance and arts reunion between college gal pals—most of the panelists had previously worked or collaborated together at least once—at the Behind the Scenes: Women in Hip Hop career panel presented by the Apollo Theater Education Program.
Except this event wasn't just a celebration of women's contributions to Hip Hop and the arts, but an affirmation of their worth and relevance within that realm of artistic expression.
Moderated by, Cali Green.  The panel included Tiffany Vega the general manager at Hi-Arts/Hip Hop Theater Festival and president and founder of La Vega Management; Kathleen Adams, co-founder of Momma's Hip Hop kitchen; DJ ReBorn, an internationally acclaimed DJ and instructor at Dubspot; Queen GodIs, an international poet and MC, artistic director and performance art therapist; Ana "Rokafella" Garcia, a Hip Hop dancer and choreographer and co-founder of Full Circle Productions.
The common misconception that women's voices are absent within Hip Hop is a myth and an insult to all of the female trailblazers involved in the development of the genre. As Queen GodIs so eloquently digressed during the audience Q&A portion of the evening, Sylvia Robinson remains one of the establishers of Hip Hop as a founder and former CEO of Hip Hop label Sugar Hill records, and Roxanne Shanté is arguably one of the creators of the rap battle genre whose participation in the Roxanne Wars created the most answer records in history.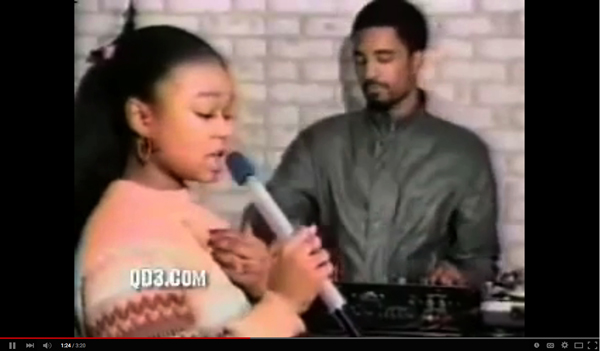 (Video) The Roxanne Battles https://www.youtube.com/watch?v=yu6nxP34EeI
"Your favorite rapper was raised by a woman," said Queen GodIs, after reciting a poem about her mother capturing the audience with her MC Lyte reminiscent voice and fine manipulation of her soulfully poetic lexicon. "Not trying to discredit fatherhood, because my father was instrumental in my love for the arts or forcing a feminist agenda on the crowd or the masses, but there is womanhood and motherhood all up in that [Hip Hop]."
Rhetoric surrounding the need for more women of color in powerful positions was present throughout the entire event, but the purpose of the panel was to showcase the women who are already breaking barriers making that idea a reality. Quoting one of her colleagues, Vega stated "the idea of doing something is abstract until you see someone like yourself doing it." This same mentality, along with the realization that Black and Hispanic theater projects weren't being produced because there was a lack of producers who are women of color, prompted her to pursue studies in producing at Columbia University.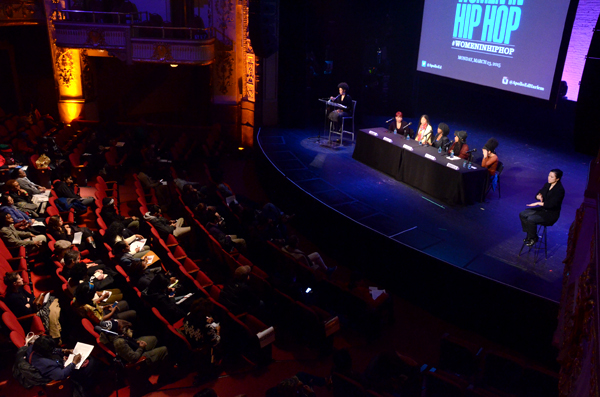 "I get to employ artists and pay artists," explained Vega. "Thinking right now I have employed most, if not all of these women here on stage at some point. It is important that we get to do this for a living, get paid and get paid well." To this day Vega continues to be involved with students at Columbia University as a professor in order to represent for a large demographic that unfortunately is not always present in that particular environment.
" It's our responsibility to keep this light on because it's so dark out here," commented Garcia. "When I first started out I just wanted to be rich and famous, but there was a lot of resistance to my progression." To the astonishment of the crowd, Garcia dished on her experiences of push back from both men and women who wanted to stunt her growth as a B-Girl. Men thought she wasn't strong enough and complained about her encroaching on a space they wanted to call their own while women thought she was raising the bar too high, making it difficult for them to go out and just have fun.
"I really had to educate myself about rappers and other dancers, and it wasn't until people started coming up to me telling me how much I inspired them that it became not just about me. I realized I was the missing link."
Without a doubt, there is an intense need for more women in powerful, decision-making and creative positions within media, music, arts and entertainment. Especially when it comes to mainstream music and media. However, in the year 2015, it is not that women have not snagged these positions of influence. The question arising now is what are these women doing with these positions of influence and power?
"We have had female producers in music, and we have our Mona Scotts," Queen GodIs confirmed. "But they don't always make the decisions that we think they would or should make, especially when there are millions of dollars walking out of the door."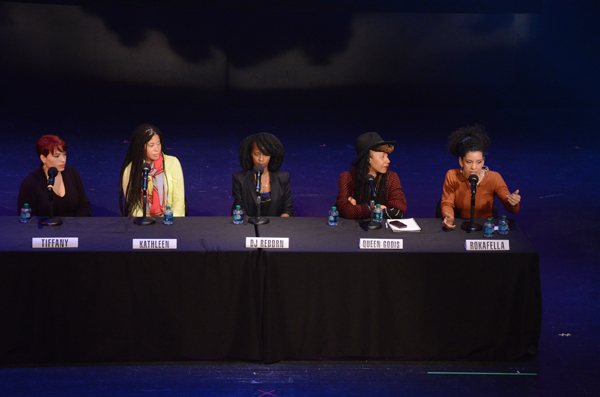 Adams' simple solution of "stop supporting ratchetness" is one that has been heard for years now, but is there a point of acquiescence women must reach when it comes to accepting the fact that not all people are willing to step away from the scripted drama? To watch or not to watch, is the common debate surrounding the hot topic of representations in media, especially those of women of color and their agency and relevancy in the arts. As women of color in power positions, there is a level of integrity that needs to be maintained if women want their voices to not just be heard, but also be relevant.
"I find myself balancing out party rocking and consciousness," explained Reborn. "It's not about playing hits, it's about making choices. If I have to play a GodIs a capella over [O.T. Genasis] Coco I'll do that. I give the crowd what they want while maintaining my integrity."
Want to find out how you can support these women and their dedication to uplifting women of color in the arts? Visit GoFundMe.com/hiphopfuture to learn about and donate to Queen GodIs' upcoming project The Book of Lyte, which is a collection of poems, prayers, prose and personal narratives inspired by women in Hip Hop. Also follow the panelists on Twitter to see what they all have coming up.
Tiffany Vega @HiARTSnyc
Kathleen Adams @kathleenadams56
DJ Reborn @RebornNYC
Queen Godis @QueenGodIs
Ana "Rokafella" Garcia @fullcirclesoul
Related Articles
---