---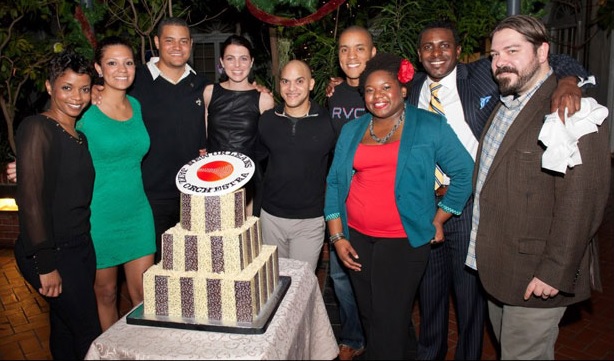 The Apollo Theater announced today its new artistic partnership with renowned jazz musician Irvin Mayfield and the New Orleans Jazz Orchestra, which will include a range of major contemporary annual themed events and programs that will celebrate the origins of jazz, the continued innovations within the genre and build a younger audience for the art form. Under the multi-year partnership Mayfield will serve as Jazz Artist-in-Residence actively overseeing multiple presentations on the Apollo's Mainstage, Soundstage space and in New Orleans at Irvin Mayfield and the New Orleans Jazz Orchestra's new home, The Peoples Health New Orleans Jazz Market. The partnership will include newly commissioned works by the Grammy Award–winning musician; a special New Orleans-themed concert in October 2015; an extension of the Apollo Music Café series with presentations in New York and New Orleans; a celebration of the city of New Orleans' tri-centennial in 2018; education and cultural activities; and a book signing.
The new partnership reflects the Apollo's continuing growth as a major cultural institution, as well as the Theater and Mayfield's commitment to showcasing and supporting emerging artists.
"The Apollo always seeks initiatives and programs that extend our commitment to supporting emerging and established artists and engaging its legacy to inform contemporary artistic expression," said Mikki Shepard, Apollo Executive Producer. "We are thrilled to welcome Irvin Mayfield as Jazz Artist in Residence and the New Orleans Jazz Orchestra to the Apollo family through this partnership that will lead to the creation of exciting new works and a deeper engagement with our artists and audiences.  Irvin's commitment to supporting emerging artists and creating events that attract a younger audience is in sync with the Apollo's goals and makes him the perfect artistic partner.
"The Apollo Theater is an American treasure, and Jazz is America's indigenous art form. To develop such a unique partnership with this iconic institution is a major step for NOJO and our new home, the Peoples Health New Orleans Jazz Market," said Irvin Mayfield. "I look forward to sharing more of New Orleans with Harlem, and more of Harlem with New Orleans."
This new partnership revitalizes the relationship between the Theater and the jazz musician, which began in October 2014. Mayfield was on hand to induct Louis Armstrong into the Apollo Walk of Fame, during the New Orleans to Harlem Jazz Weekend. The ceremony kicked off a weekend of multiple sold-out performances, curated by Mayfield and featuring contemporary jazz artists, such as Jonathan Batiste and Stefon Harris.
A native New Orleanian, Mayfield founded the New Orleans Jazz Orchestra (NOJO) in 2002 and today serves as its artistic director. Under his direction the 18-piece orchestra won the 2010 Grammy Award for Best Large Jazz Ensemble for its album Book One and recently completed construction on the first space built specifically for Jazz in the city that created the music – The Peoples Health New Orleans Jazz Market.
For more information, visit www.apollotheater.org .
For more information, please visit www.thenojo.com.
---