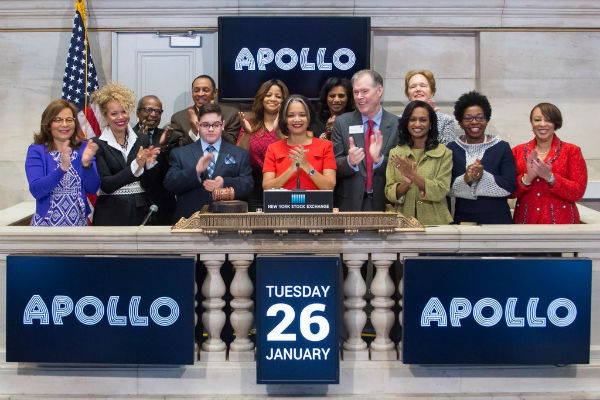 In celebration of the Apollo's 82 nd anniversary today, the Theater was invited to ring the Opening Bell at the New York Stock Exchange.
Apollo Theater President and CEO, Jonelle Procope, rang the NYSE Opening Bell this morning surrounded by Apollo Theater board members, supporters and staff.
Prior to the Opening Bell there was a rousing performance by the 2014 Amateur Night Child Star of Tomorrow winner, Chrisitan Guardino. This very special day represents 82 years of rich history, cultural achievements and artistic brilliance.
On this day January 26 in 1934, the Apollo Theater opened its doors, for the first time, presenting its inaugural show, Jazz à la Carte, featuring Ralph Cooper, Aida Ward, Benny Carter and his orchestra, and "16 Gorgeous Hot Steppers."
The legendary Apollo Theater—the soul of American culture—has always played a vital role in cultivating emerging talents and launching legends. Since its inception, the Apollo Theater has served as a center of innovation and a creative catalyst for Harlem, the city of New York, and the world.
Editor's Note: Harlem World Magazine congratulates our friends at the Apollo Theater for enriching the lives of Harlemites and people around the world. We look forward to the next 82 years.
Photo credit:  1) Representatives and guests of Apollo Theater visit the New York Stock Exchange. Jonelle Procope, President and CEO rings the NYSE Opening Bell in celebration of their 82 ndAnniversary. 2) (Podium: Jonelle Procope, Apollo President and CEO). 3. (Front – L to R: Marilyn Booker, Morgan Stanley Managing Director; Jacqueline Nickelberry, Owner of J Howell Holdings LLC; Christian Guardino, Former Amateur Night Child Stars of Tomorrow winner; John Merrell, NYSE Co-Head of Listings; Racquel Oden, Managing Director, Merrill Lynch; Patricia Zollar, Managing Director, Neuberger Berman and Daisey Holmes, President, BNY Mellon Foundation, and Managing Director, Corporate Affairs) (Back- L to R: Billy Mitchell, Apollo In-House Historian and Tour Director; Marion J. Caffey, Amateur Night Producer; Nina Flowers, Apollo Director of PR and Communications; Carolyn Minick-Mason, Owner and Creative Director Love Notes, Inc. and CM2 Signature Events and Joan Haffenreffer, Citi Global Public Affairs Managing Director) Photo Credit: NYSE/Amy Sims
Related Articles
---
VIDEO
---
"Dr. Harry Delany is a renowned Harlem born and raised surgeon, the son of the great jurist and civil rights leader, Hubert Delany...." This monthly post is made in partnership with Harlem Cultural Archives.