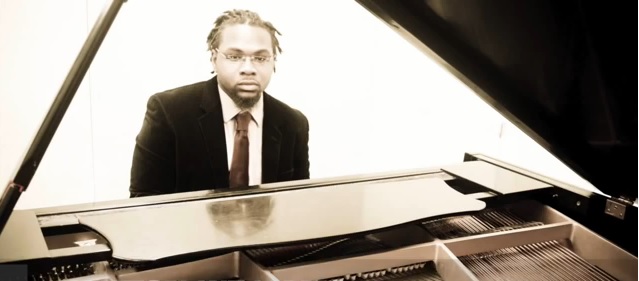 Amateur Night at the Apollo has a new theme song. The Apollo is pleased to announce that Clifton Williams, a senior at Berklee College of Music, has won the Amateur Night Song Competition. The final vote was cast by the Amateur Night audience during the April 30th show.  Williams' composition, "A Legacy Fulfilled: Welcome to the Apollo," will be the official Amateur Night theme song this season. Williams received a cash award of $5,000 to help support his artistic endeavors. Part of the evolution of the Apollo's signature program, and reflective of its enduring relevance as a catalyst for discovering and developing new talent, the institution launched the Amateur Night Song Competition earlier this year—challenging musicians from across the country to compose a song that captures the vitality of the show that has launched so many legendary artists over the past 80 years.
"Supporting and developing up-and-coming talent is absolutely central to our mission at the Apollo Theater," said Mikki Shepard, Executive Producer at the Apollo Theater.  "We are so proud of Clifton, and eager to hear his composition during Amateur Night every Wednesday for years to come."
The Apollo began accepting submissions for the competition via AmateurNight.org in late January.  Submissions were uploaded and fans casted over 10,000 votes for their favorite.  This voting period resulted in two finalists— Clifton Williams and Daryl Brown.
In March, Williams and Brown were flown to Harlem to record their compositions—the beginning of the young finalists' "first semester at Apollo University," as described by Amateur Night producer Marion J. Caffey. After another month of online voting, the songs were performed live at a special edition of Amateur Night. The famously boisterous audience cast their votes via a room full of cheers, crowning Clifton Williams the winner.
"I am very excited to be a part of the legacy of the Apollo," said Clifton Williams. "I feel like winning this competition, better yet winning at the Apollo really solidifies me as an artist, as a performer and as a song writer. Today in this moment I know that this is my calling, to be an artist."
"Amateur Night has always been about the connection between the audience and the artist, and about what's next. So we decided to let the audience be a part of this historical moment, in choosing the next Amateur Night theme song," said Marion J. Caffey, Amateur Night Producer. "I think Clifton's song is great and will complement Apollo traditions and add freshness to the show. Not to mention he's an exceptionally talented young man and we are proud to welcome him as part of the Apollo family."
Since the legendary theater opened in 1934, Amateur Night has been a definitive career making opportunity for new talent. Over the past 80 years, Apollo Amateur Night has launched the careers of countless legendary artists—from Ella Fitzgerald in its very first year to recent winners Machine Gun Kelly, NUMBERS, Matthew Hashimoto, Moses Harper, Matthew Whitaker, and Nathan Foley—and has occurred virtually every Wednesday night since the Theater opened. A place in the Amateur Night line-up is a highly coveted opportunity for up-and-coming artists hoping to be discovered. Amateur Night is sponsored by Coca-Cola.
For more information, visit www.apollotheater.org.
Related articles
Related Articles
---