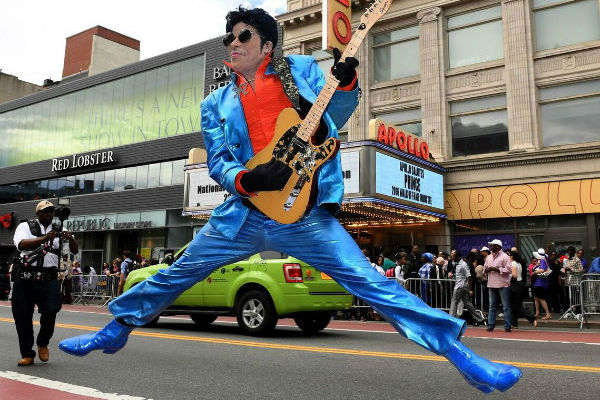 The Apollo Theater today announced details for its 2018 Apollo Spring Gala, the historic Theater's largest annual fundraising event, taking place on Monday, June 4 at 7 p.m. The star-studded benefit concert will be hosted by David Alan Grier and will feature performances by 90's R&B and Hip Hop superstars Tony Toni Tone, Bell Biv Devoe and Salt-N-Pepa, along with 4th Ave and Sarah Ikumu, of Fox's Showtime at the Apollo. All proceeds from the gala celebration will support the non-profit organization's year-round, world-class artistic, education, and community programming and collaborations.
"Now, more than ever, we recognize the importance of nurturing the next generation of community thought leaders. The Spring Gala gives us an opportunity to celebrate our legacy as an ever-present driving force in music, but it also gives us a chance to highlight the importance of our year-round community and education programs," said Jonelle Procope, President & CEO of The Apollo Theater. "Throughout its 84-year legacy, the Apollo has always nurtured young talent, musically and professionally, providing a springboard for countless careers. As we have all stood on the shoulders of others, it is very important that we give our young people the same opportunities and let them stand on ours."
Each year at the gala, the Apollo recognizes corporations for their outstanding contributions to the performing arts, community leadership, and philanthropic support of initiatives in the African-American community. This year, the Theater will present the Corporate Award to SiriusXM for their exceptional contributions to the performing arts and community leadership. Scott Greenstein, President and Chief Content Officer of SiriusXM, will accept the award on behalf of the company.
"We are thrilled to receive this recognition and extremely grateful to the Apollo Theater and its community. We feel a kinship for and share a credo with the Apollo: we believe in the power of diversity, and making available multi-layered programming that celebrates unfettered free speech and a chorus of diverse voices," said Scott Greenstein, President and Chief Content Officer of SiriusXM. "Our commitment to the Apollo and its community is strong and years deep as we have hosted multiple exclusive and landmark shows at the venue throughout the years. SiriusXM is honored to receive this award and looks forward to many continued successful collaborations between SiriusXM and the Apollo Theater."
The Apollo Spring Gala begins with red carpet arrivals at 6:00 PM followed by the gala concert and awards ceremony at 7:00 PM with Music Director Ray Chew. The evening will also include a post-performance party with a lounge created by celebrity event planner David Stark.
Gala Chairs: Robert K. Kraft and Karen and Charles Phillips
Honorary Chairs: Laura and Richard Parsons, and Ronald O. Perelman and Anna Chapman
Vice Chairs: American Airlines, Katherine Farley and Jerry I. Speyer, Debra and Leon Black
To purchase Gala tickets or to make a donation to the Apollo Theater, please call 212-531-5330. For more information, visit www.apollotheater.org. Proceeds from the Apollo Spring Gala support the Theater's year-round performing arts programming, innovative education initiatives, and community programs.
Tickets for the 2018 Spring Gala are now on sale. Please visit www.ticketmaster.com or www.apollotheater.org
Related Articles