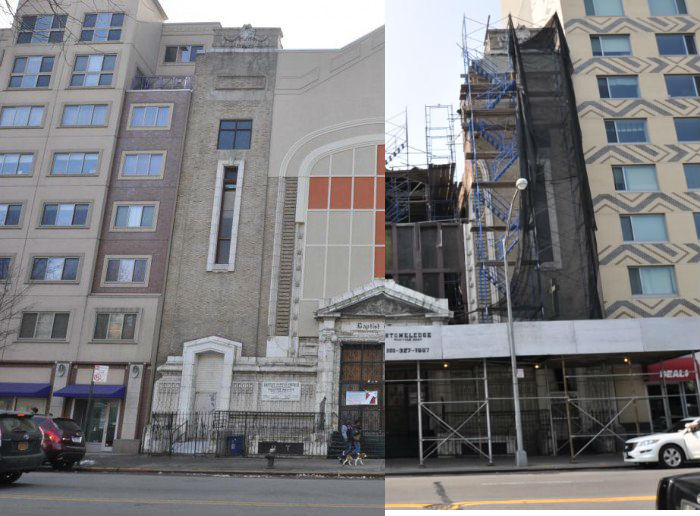 New York Yimby reports that when a New York City church can't afford to repair its own building, it's only a matter of time until it ends up in the hands of real estate developers. Such was the case with the Harlem Baptist Temple Church at 20 West 116th Street, which was partially demolished by the city in 2009. The house of worship spent nearly two years without a roof, but the church eventually pulled together the money to replace the roof and part of its facade, albeit with less historic pieces.
Now, plans have been filed to develop an 11-story apartment building on the church's property between Malcolm X Boulevard and Fifth Avenue. The church would return, taking up 5,800 square feet in the cellar and first floors of the new development. Twenty-eight apartments would be stacked on top, spread across 29,540 square feet of residential space.
Average units would measure 1,055 square feet, and most of the upper floors would host three to four units each. The 10th and 11th floors would include a penthouse duplex, shared recreation space, and a roof deck.
No parking is included (or required), but there will be bike storage in the cellar.
Demolition plans have not yet been filed for the church. It was originally built as a synagogue in 1906, to accommodate Harlem's then-burgeoning Jewish community. Congregation Ohab Zedek constructed the 9,700-square-foot building to accommodate a Hungarian congregation, who had moved uptown from the Lower East Side. The building once sported Star of David medallions along its roof line, according to the Times' David Dunlap, who chronicled the forgotten Jewish community of Harlem in 2002.
The Baptist church still appears to own the 7,000-square-foot lot. We suspect they've leased or sold the lot to a developer, but no lease agreements or deeds have hit the public records yet.
GF55 Partners will design the building.
Related Articles