---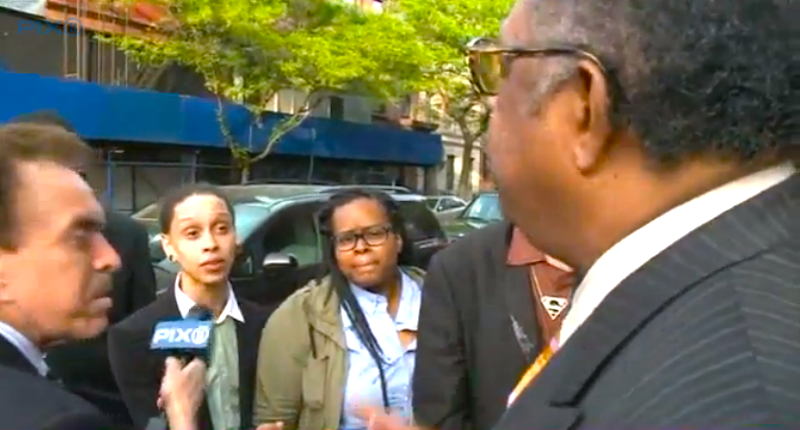 Angry neighbors confronted a flamboyantly anti-LGBT pastor over the hateful messages he posts outside his Harlem church.
Pastor James David Manning, an occasional Fox News guest and vehement critic of President Barack Obama, lashed out after neighbors called him out for his anti-gay slogans.
"I ended up walking across the street because it's so hurtful to hold my wife's hand and these words every time I pass by," said Sharifa Ferryman, a lesbian who lives in the neighborhood.
Manning replied by telling the woman she would go to hell for her "insidious and wicked lifestyle."
"It's a disgrace that you would stand here and confess that you have a relationship with another woman — it's a disgrace before God," Manning said.
A billboard outside his Atlah World Missionary Church, at 123rd Street and Lenox Avenue, has carried messages saying "Jesus would stone homos" and "all churches and members that support homos cursed be thou with cancer, HIV, syphilis, stroke, and madness."
Neighbors fed up with the messages said Manning and his church were disgraceful.
"This is clearly hate speech — you're inciting violence," one neighbor said.
Manning, who became a Christian during a prison stint as a young man and admits to suppressing previous homosexual urgings, insisted he had a right to post the graphic and salacious slogans.
"This is still America and we have freedom speech," he said.
One man told the pastor that his two children see the signs, which warn against "homo demons" who are "looking for some dark meat" and spreading sexually transmitted disease.
"I pray they see it every day," Manning told the father.
Watch this video report posted online by WPIX-TV:
What do you think?
Related Articles
---