---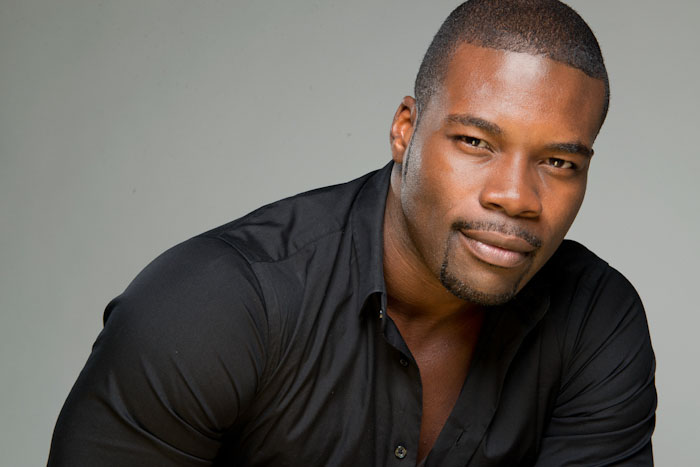 Today, Harlem man Amin Joseph sent us an interview he did with KaBookit.com. Amin Joseph is a protégé of the World Famous Apollo Theater in his hometown of Harlem, New York. He was featured in "The Expendables" and "Homefront," both Lionsgate action releases written by Sylvester Stallone. Amin is teamed with director Frank Darabont for their third project together, as recurring guest-star Booker Washington Smith on TNT's "Mob City." Amin Joseph's partial television credits include "Sons of Anarchy," "Southland," "Major Crimes," "The Protector," "N.C.I.S.," and "CSI: Miami."
In addition, Harlem World Magazine caught up with Amin on the run to ask him afew more questions as he works on his currently projects, filming "The Gambler" starring Mark Wahlberg and Jessica Lange, and executive producing and starring in the international action thriller "Call Me King." Amin can be seen in theaters in the comedy "Best Night Ever."
KaBookit: How long have you been on Actors Access and how has the service helped you?
AJ: I've been using the Actors Access service for about ten years. I'm from Harlem, New York so I started out by submitting myself for various jobs in the NY market. Initially, I found the self-submit tools useful as well as the email and downloadable profile features. As my career progressed, I realized the wealth of resources the site truly provides if you are willing to do the work. It's an invaluable service to inform and empower an actor. It keeps you ahead of the curve. That's if you know how to search!
KBI: How did you get into acting?
AJ: I started out doing commercials in New York City and local theater in my neighbor Harlem. I also studied theater at Howard University. I'm extremely proud of being an alumnus of hundreds of acting classes internationally.
KBI: What has been your experience on set as the recurring character Booker "Skeety" Washington on Frank Darabont's "Mob City?"
AJ: I've had the pleasure of working with Frank Darabont three times now. Once again, he has surrounded me with brilliant talent that I learn from while creating. I hope the show will be very successful and that I may be able to return if the miniseries goes to series. It's great playing an ethnic character in a 1940's period piece. The production is top notch. Thank you TNT.
KBI: What was the audition process for booking your role in the movie "Homefront" with James Franco and Jason Statham?
AJ: Much similar to "Mob City," I didn't end up playing the role I originally auditioned for in Homefront. This was a taped audition for director Gary Fleder. I have auditioned for several roles that were booked directly off tape so I consider it status quo now. It 's a pleasure to meet the director in person after the audition process and discuss the choices you made that stood out.
KBI: What has been your favorite experience as an actor?
AJ: You know what? As an actor, I'm so excited each time I get to work and play with other creative people. Each role is a piece of me and I put the best that's available of me in each project. Now as a producer "Call Me King" directed by R.L. Scott is my greatest and favorite endeavor, I also co-star in that film.
Check out the "Call Me King" video trailer:
KBI: What advice would you give your fellow actors just starting out?
AJ: Wow. Advice is tough because there are so many outcomes to each choice we make. However, I believe in the power of my decisions and actions. I like to write my goals and view them daily. I also suggest professional accountability. Actor's advocate www.DallasTravers.com is a good start in that direction.
The Harlem World Magazine questions:
Harlem World Magazine: Where did you grow-up in Harlem?
AJ: I am Harlem. I grew up on 131st between 7th and 8th, in a row of brownstones across the street from St. Nick Housing Projects. I later moved to 124th and Lenox in a brownstone right next to my former high school Rice.
HW: What is it like acting with Sylvester Stallone, Mark Walberg and Jessica Lange?
AJ: I really enjoyed working with Sylvester Stallone in The Expendables. The most memorable thing was the audition process. That opportunity allowed me one on one time with Sly. He explained his perception in regards to casting action stars and the individual code each character has. Stallone continued to give me priceless education while filming. With The Gambler, my particular story-line doesn't share camera time with Jessica Lange. However, Mark Wahlberg has been an amazing study for me. I'm currently filming, so I can't sum up the entire experience yet. It's great to work with an actor willing to discipline himself as a price to play a particular role. For The Gambler Mark has loss over 60 pounds. I also marvel at his preparedness each day.
HW: Has being born and raised in Harlem effected your career in acting in any way?

AJ: Harlem continues to be an astounding influence in my life. My first job was at the Apollo Theater. I worked there throughout high school, college, and as a young adult. I'm blessed that my family still lives in the neighbor. Harlem provided plenty of mentors, coaches, and community members that instilled core values that I take with me internationally. I love Harlem and will always give back and make the community proud.
Check out more Harlem World Magazine interviews and questionnaires here.
---