---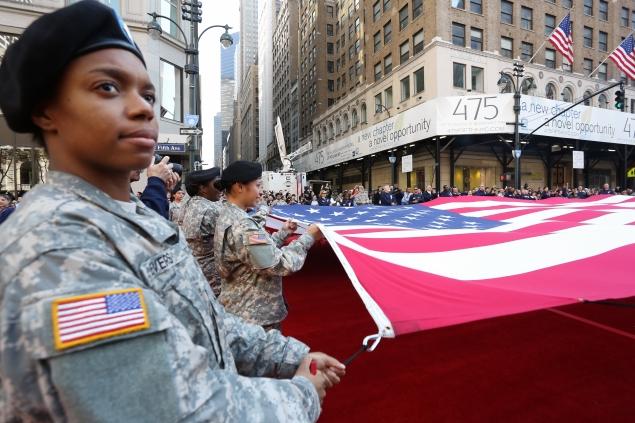 "America's Parade," the 96th annual New York City Veterans Day Parade, begins with a Memorial Ceremony featuring, Mayor Bill de Blasio and other dignitaries on Wednesday, November 11, 10 a.m. – 11 a.m. at Madison Square Park, 23 Street and Fifth Avenue.  Parade begins at 11:11 a.m.
Long-time Manhattan District Attorney Robert Morgenthau, a World War II Navy veteran who survived attacks by both German and Japanese aircraft, is the parade Grand Marshal.  He will be joined in the parade by two former shipmates.  Other special guests include:
Secretary of the Navy Ray Mabus.

Master Chief Petty Officer of the Navy Mike D. Stevens.

Capt. Kenneth Coleman and the crew of the USS New York
Norman Lear, who flew in B-17 bombers.
Dr. Roscoe Brown, who flew with the legendary Red Tails, a unit of black fighter pilots who escorted the B-17s.
Montel Williams, renowned talk show host and US Navy veteran.
Tony Lo Bianco, award-winning actor/director/writer/producer who has worked extensively on veterans' causes.
America's Parade — the largest celebration of service in the nation — steps off at 11:11 a.m. at 26th Street and Fifth Avenue and proceeds up Fifth Avenue to 53rd Street.
The parade features more than 25,000 participants, including veterans, active military units and high school bands from around the nation.
Wednesday, November 11th, 2015
10 A.M. — Memorial Ceremony, Madison Square Park, 23RD Streets and Fifth Avenue
11:11 A.M. — Parade Begins, Fifth Avenue, 26TH – 53RD Streets
Following the parade, veterans will gather for a Unity Reception, showing solidarity among veterans of all generations, at Gateway Arts Center, 4 West 43rd Street.
For more information and images, visit americasparade.org.
Related Articles
---