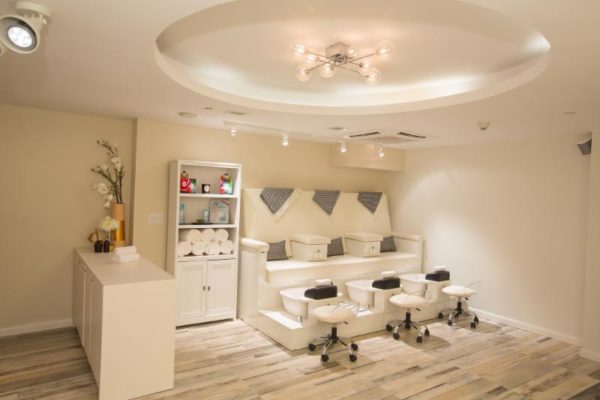 If you're ready for a Harlem winter vacation, then the luxury boutique Amber Spa at the four-star deluxe Warwick Paradise Island Bahamas celebrated its soft opening this past weekend is ready for you. Adults (18 years and older) are welcomed to a sanctuary of holistic healing with therapeutic massage techniques, exclusive Mila d'Opiz Swiss Beauty products, and the unrivaled service of a dedicated team trained to ensure a luxury experience enhanced by a restoration of soul, body and spirit.
"Amber Spa offers the quintessential setting for girls' getaway pampering, relaxing during a romantic getaway or simply treating yourself to a private escape while visiting Paradise Island," said Benjamin Davis, general manager of Warwick Paradise Island Bahamas.
As the exclusive Bahamas partner of Mila d'Opiz Swiss Beauty, Amber Spa harmonizes the world-renowned "high quality and optimal skin care" products with personalized service that leaves guests restored following indulgent treatments. Mila d'Opiz Swiss Beauty products contain Swiss natural plant extracts and glacier water and deliver outstanding anti-aging results of radiance and vitality in an unsurpassed spa experience. Mila d'Opiz Swiss Beauty products are carried in prestigious spas worldwide, predominantly in Europe as well as in Dubai.
The Amber Spa's extensive menu of options includes a full range of facials, body treatments and massage therapies, as well as make-up, hair and skin care. Pricing varies by service. Following are highlights of the Amber Spa services available.
Amber Spa's menu of Facial Options inspire holistic health with treatments that include deep pore cleansing, exfoliation, ampoules, soothing massages for the face, neck and shoulders and Keratin hand treatments. With 10 different facial options, ranging from 25 – 80 minutes, Amber Spa offers the perfect therapy for all skin types including the signature Amber Favorite which begins with a back treatment that involves exfoliation with a Swiss flower scrub followed by a relaxing message and the Mila d'Opiz custom facial.
Body Treatments bring complete relaxation with harmony of body, soul and spirit while promoting well-being and self-confidence. With five different 50-minute treatments to choose, a guest favorite is the Swiss Flower Body Polish, affording guests a gentle cleansing and Swiss flower scrub, followed by a deeply nourishing oil massage resulting in skin looking polished and smoothed to a glow.
Massages are among the most popular of all services offered to spa guests. Men and women alike will appreciate any of the nine massage options from a 25-minute Neck, Shoulder and Back quick rejuvenation to a 50-minute Hot Stone experience that encourages blood flow throughout the body and has a sedative effect that can help relieve chronic pain, reduce stress and promote deep relaxation.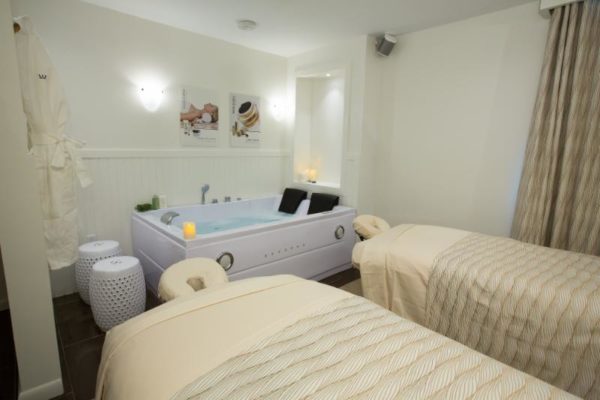 Two Couples Retreat options allow guests to share Amber Spa's most luxurious experiences alongside a loved one where they are pampered together from head to toe.
Amber Experience packaged treatments – Detox, Hydrate, Energy, and Glow – are each specially formulated to meet specific skin and body needs, each offering a different facial, body and massage element.
Six Nail Treatment options for hands and feet include soaking, reshaping, exfoliating, masking, massaging and polish. Other services are available including polish change, paraffin dip, Shellac and Shellac removal as well as UV Gel application.
Face, Bikini, Leg & Body Waxing are available using all natural wax that contains azulene oil which is recommend for all skin types. All procedures are followed by a pure Aloe Vera gel.
A Full Range of Hair Services are offered including haircuts, highlights and extensions.Basic and Special Occasion Make-Up Application are available as well as Lash Extension.
In addition to private treatment rooms, including a VIP section and exclusive couple's area, Amber Spa features manicure and pedicure stations, cosmetology, waxing and hair care areas and private men's and women's changing rooms featuring showers and lockers.
Amber Spa takes its name from the Amber stone which originated around 45 million years ago as resin from pine trees in the Baltic regions fossilized at the bottom of the sea. Amber is known to have powerful healing properties and gives the person who wears it a lovely sense of health and healing, helping to balance the emotions, clear the mind, and release tension. These healing properties are the foundation of the Amber Spa purpose.
Amber Spa is open to Warwick Paradise Island Bahamas guests as well as non-hotel guests looking for pampering in paradise.
---
---
Warwick Hotels and Resorts (WHR) has invested nearly US$50 million to create thefour-star deluxe Warwick Paradise Island Bahamas. Set along Nassau Harbour with views of Nassau and Paradise Island, the 12-floor, 250-room resort has been designed to provide adult guests (18 years and older) with an unpretentious all-inclusive vacation experience with service dedicated to pampering travelers.
The resort is a 30-minute drive from Nassau's Lynden Pindling International Airport.
World-famous Cabbage Beach is a 10-minute walk away with dining and shopping nearby.
For more information and to make reservations, www.warwickhotels.com/paradise-island-bahamas, email info.wpib@warwickhotels.com, or call 1-888-645-5550 (toll-free U.S. and Canada) or 242-363-2560 (elsewhere).
No related posts found...