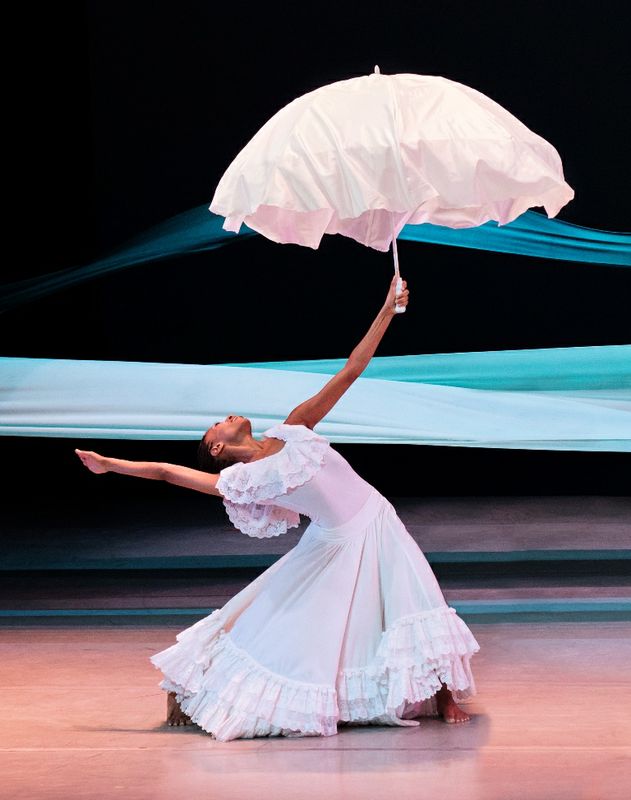 Alvin Ailey American Dance Theater, New York City Center's Principal Dance Company, returns to the New York City Center stage from November 30th – December 31st, 2016.  In his sixth season as Artistic Director, Robert Battle leads Ailey's 32 renowned dancers during this annual five-week engagement, which has become a joyous holiday tradition.  An expansive repertory of over two dozen works by some of the world's most celebrated dance-makers will feature world premieres by Kyle Abraham and Ailey dancer Hope Boykin, a Company premiere by Johan Inger, and new productions by Billy Wilson and Alvin Ailey.
The season will launch on November 30th with an Opening Night Gala Benefit performance at New York City Center and party at the New York Hilton Midtown Grand Ballroom to raise support for Ailey's extensive educational and training programs for young people.  "An Evening of Ailey and Jazz" will feature Robert Battle's Ella – a tribute to Ella Fitzgerald preceding the 100th anniversary of her birth – along with a variety of one-night-only performances set to jazz music and the uplifting finale of Revelations with live musicians and singers. 
On Wednesday, December 7th, MacArthur "Genius" Kyle Abraham will unveil the completed three-part suite Untitled America, which shines a light on the impact of the prison system on African-American families. Developed over three seasons, the haunting production features interviews by those impacted by incarceration and Abraham's signature avant-garde aesthetic.
Veteran company member Hope Boykin was inspired by the sermons and speeches of Dr. Martin Luther King, Jr. to create r-Evolution, Dream., following a visit to the National Center for Civil and Human Rights in Atlanta during Ailey's annual U.S. tour.  She is creating a large ensemble work to premiere on Friday, December 9th in which the Ailey dancers will be joined by members of Ailey II.  Boykin melds creative storytelling, new music composed by Ali Jackson (Jazz at Lincoln Center), and historic and original writings narrated by Tony Award winner Leslie Odom, Jr. (Hamilton).
The Friday, December 2nd company premiere of Walking Mad (2001) brings revered Swedish choreographer Johan Inger's daring contemporary take on Maurice Ravel's Bolero and his choreography to the Ailey repertory for the first time.  With additional music by minimalist master Arvo Pärt, the riveting work brings waves of emotion – first laughter, then tears – and employs a long, movable wall that can also be viewed as a symbol of the barriers people construct in their relationships.  
Returning to the Ailey stage this season are vibrant new productions of Billy Wilson's The Winter in Lisbon (Thursday, December 8th) and Alvin Ailey's Masekela Langage (Tuesday, December 13th).  The Winter in Lisbon (1992) pays tribute to consummate jazz musician Dizzy Gillespie, evoking an atmosphere in which the dancers challenge, tease and romance against a backdrop of rhythm, color and four decades of his brilliant music. Masekela Langage (1969) is Alvin Ailey's searing portrait of oppression that draws parallels between the era of South African apartheid and the race-induced violence in Chicago during the 1960s.  Trumpeter and composer Hugh Masekela's driving music propels the dancers through a string of theatrical tableaus, as the commanding choreography speaks of passivity, militancy, despair and defiance anywhere, at any time.
"Now more than ever, I'm proud to have a platform to share the power of dance with New Yorkers – inspiring and bringing them together while shining a spotlight on important issues," stated Artistic Director Robert Battle.  "This season, Ailey's passionate artists will transport audiences with over two dozen works, including timely and relevant premieres by Kyle Abraham and Hope Boykin that follow in the powerful footsteps of Alvin Ailey's Masekela Langage.   We will also revel in the marriage of America's two great art forms – modern dance and jazz – from the one-night-only opening to a variety of dances throughout the season that move to music by Duke Ellington, Dizzy Gillespie, and Arturo O'Farrill and the Afro-Latin Jazz Orchestra."
Among the over two dozen works showcased are 2015-16 season premieres: Awakening, Robert Battle's 2015 world premiere – his first since becoming Artistic Director; Open Door, Ronald K. Brown's Cuban-inspired work set to Grammy Award-winning music by Arturo O'Farrill and the Afro-Latin Jazz Orchestra; Italian choreographer Mauro Bigonzetti's soulful ensemble work Deep set to the music by rising global music stars Ibeyi; and Paul Taylor's sizzling Piazzolla Caldera.
Recent new productions coming to life onstage are Robert Battle's thrilling The Hunt for six men and Ulysses Dove's raw and dramatic Vespers for six women, as well as three of Alvin Ailey's most beloved classics: Cry, the signature female solo made famous by Judith Jamison and dedicated to "all black women everywhere;"Love Songs, set to music by Nina Simone and Donny Hathaway and often considered the male counterpart to Cry; and Blues Suite Ailey's original masterpiece that launched the Company during its first performance in 1958.  Conjuring Alvin Ailey's "blood memories" of the barrelhouses and fields of rural, Depression-era southern Texas, the work is danced to heartfelt blues music that will be performed with a live, on-stage band. 
Special season programs include a special performance on Wednesday, December 14th "Celebrating Ronald K. Brown," who first began choreographing for the Ailey organization 20 years ago; All Ailey performances comprised entirely of works by Alvin Ailey (December 3 mat, 10 eve, 13, 16, 18 eve, 21 mat, 28 mat, 31 mat); and All New programs containing season premieres (December 11 eve, 15, 17 eve, 21 eve, 30 eve).  
Other season highlights consist of Family Matinee Series performances presented each Saturday at 2pm with a question-and-answer session featuring Ailey's revered dancers following the finale of Alvin Ailey's Revelations, which is acclaimed as a must-see for all ages.  Revelations will bring an uplifting close to performances on Christmas Eve (December 24 mat and eve) and Christmas night (December 25 eve), as well as a Special Season Finale on New Year's Eve.  Live music performances of Alvin Ailey's signature Revelations will take place on November 30, December 2, and 3 (matinee and evening), and of Blues Suite on December 13, 16 and 18 (evening).  A detailed performance schedule is attached (subject to change).
Alvin Ailey American Dance Theater inspires all in a universal celebration of the human spirit using the African-American cultural experience and the American modern dance tradition. Nearly 60 years after its founding, Ailey continues to move forward under the leadership of Robert Battle, revealing once again why Alvin Ailey American Dance Theater is one of the world's most beloved dance companies.  
---
---
Tickets starting at $25 are on sale September 6 at the New York City Center Box Office, through CityTix® at (212) 581-1212 www.nycitycenter.org.
Discount tickets are available for Ailey Super Fans who purchase tickets for more than one performance, for students with an appropriate ID and for groups of 10 or more (discounts do not apply to $25 tickets).  
For group sales, call 212-405-9082 or e-mail groupsales@alvinailey.org.  
No related posts found...
---