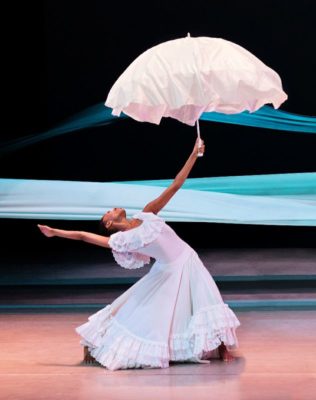 Alvin Ailey American Dance Theater, New York City Center's Principal Dance Company, returns to the theater's stage from November 29th – December 31st, 2017. Artistic Director Robert Battle leads Ailey's 32 extraordinary dancers during this annual five-week engagement, which has become a joyous holiday tradition. The repertory features more than two dozen diverse works by some of the world's preeminent dance-makers, including world premieres by Spanish choreographer Gustavo Ramírez Sansano and Ailey dancer Jamar Roberts, as well as new productions by Twyla Tharp, Jawole Willa Jo Zollar, and [easyazon_link identifier="B00NQJGGBE" locale="US" tag="harlemworld-20″]Talley Beatty[/easyazon_link].
The season launches on November 29th with an Opening Night Gala Benefit performance at New York City Center and party at the New York Hilton Midtown Grand Ballroom. The Gala honors Ailey Board President [easyazon_link identifier="149615472X" locale="US" tag="harlemworld-20″]Debra L. Lee[/easyazon_link] for her commitment to the advancement of arts and culture and her dedication to the organization, which has helped steer Ailey to success since she joined the Board in 2002. The evening raises funds to support the creation of new works and Ailey's extensive educational and training programs for young people. The one-night-only performance features excerpts of dynamic works set to music from the "Modern American Songbook," and culminates with an uplifting Revelations finale featuring live musicians and singers.
On Friday, December 1st, Spanish choreographer Gustavo Ramírez Sansano's work takes the Ailey stage for the first time with Victoria, a world premiere about the victory of good over evil. Set to an adaptation of Beethoven's Seventh Symphony by award-winning composer Michael Gordon, Victoria features Sansano's signature whimsy, theatricality, and physicality. His work – hailed for its originality and expressiveness – has appeared on companies around the world, including Nederlands Dans Theater, Compañía Nacional de Danza, Hubbard Street Dance Chicago, and Ballet Hispánico.
One week later, on Friday, December 8th, Ailey dancer Jamar Roberts will unveil his first work for the Company – Members Don't Get Weary. The recent "Bessie" Award-winner says the work is "a response to the current social landscape in America," and "takes an abstract look into the notion of one 'having the blues.'" Set to the powerful music of the legendary jazz saxophonist and composer [easyazon_link identifier="B000V698WE" locale="US" tag="harlemworld-20″]John Coltrane[/easyazon_link] 50 years after his death, the work uses movement to allow the audience to momentarily transcend their own personal blues.
In addition to world premieres, the season features new productions of works by three American dance innovators. Tony Award-winning choreographer [easyazon_link identifier="0743235274″ locale="US" tag="harlemworld-20″]Twyla Tharp[/easyazon_link]'s The Golden Section returns to the repertory on Wednesday, December 6th. This sizzling ensemble work is set to a propulsive score by David Byrne, and shatters the limits of human physicality with breathtaking leaps, finely-honed partnering, and explosive joy.
On Tuesday, December 12th, [easyazon_link identifier="0299235548″ locale="US" tag="harlemworld-20″]Urban Bush Women[/easyazon_link] founder[easyazon_link identifier="0819567337″ locale="US" tag="harlemworld-20″]Jawole Willa Jo Zollar[/easyazon_link]'s Shelter returns to the Ailey stage 25 years after first being performed by the Company. A passionate statement about the physical and emotional deprivation of the homeless, the work is set to an inventive score which incorporates drumming by Junior "Gabu" Wedderburn and poetry by Hattie Gossett and [easyazon_link identifier="B00DJ59JSC" locale="US" tag="harlemworld-20″]Laurie Carlos[/easyazon_link].
On Wednesday, December 13th, Ailey celebrates modern dance pioneer Talley Beatty on his upcoming centennial with the return of Stack-Up. Set to the background of vibrant 1970s beats (Earth, Wind and Fire, [easyazon_link identifier="B002FVRTVU" locale="US" tag="harlemworld-20″]Grover Washington Jr[/easyazon_link]., Fearless Four, and Alphonze Mouzon) and a graffiti landscape, patrons in a crowded disco dance with attitude, sass, and fierce despair. Inspired by Los Angeles' urban landscape and the lives of its disparate inhabitants, the work depicts the emotional "traffic" in a community that is stacked on top of each other.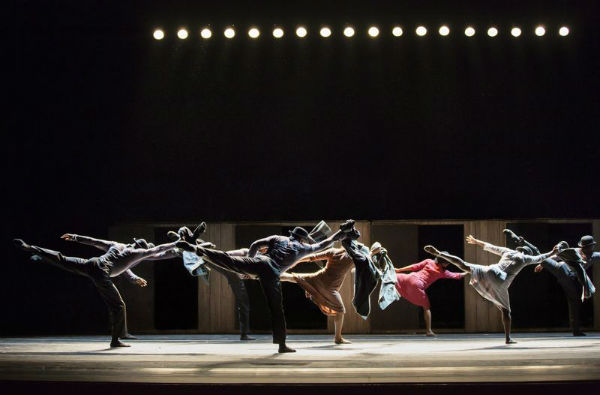 "The incomparable Ailey dancers are sure to astound audiences this season when they bring to life a wide array of works – old and new," stated Artistic Director [easyazon_link identifier="1481422219″ locale="US" tag="harlemworld-20″]Robert Battle[/easyazon_link]. "I'm thrilled for the Company choreographic debuts of Gustavo Ramírez Sansano and our very own Jamar Roberts, who has brought so much brilliance to the stage since joining Ailey 15 years ago. New productions highlight three of the most revered and unique choreographic voices in the history of American dance: Twyla Tharp's [easyazon_link identifier="0802715397″ locale="US" tag="harlemworld-20″]The Golden Section[/easyazon_link], Jawole Willa Jo Zollar's Shelter – for its 25th Ailey anniversary – and the legendary Talley Beatty's Stack-Up, as we approach his upcoming centennial. From our one-night-only opening saluting the "Modern American Songbook" to our New Year's Eve finale, this season's special performances and programs will prove once again why the holidays in New York aren't complete without Ailey."
Another exciting highlight to the season is the Sunday, December 17th evening performance Celebrating the [easyazon_link identifier="0807853674″ locale="US" tag="harlemworld-20″]Men of Ailey[/easyazon_link]. The program will showcase the strength, grace, and dynamism of the Company's male dancers in works by Alvin Ailey – the dazzling Night Creature, tour-de-force solo Love Songs, and the masterpiece Revelations – along with a variety of other special one-night-only performances to be announced.
In addition, the engagement showcases a variety of 2016-17 season premieres: Robert Battle's Mass, set to a score by his frequent collaborator [easyazon_link identifier="1478944919″ locale="US" tag="harlemworld-20″]John Mackey[/easyazon_link], and Ella, set to Ella Fitzgerald's virtuosic scatting in "Air Mail Special;" Ailey dancer Hope Boykin's r-Evolution, Dream., inspired by the speeches and sermons of Dr. Martin Luther King, Jr. that she encountered during a visit to the Center for Civil and Human Rights in Atlanta; Kyle Abraham's Untitled America, which highlights the impact of the prison system on African-American families; and Johan Inger's Walking Mad, a daring contemporary take on Maurice Ravel's Bolero that employs a long, movable wall, and brings waves of emotion – first laughter, then tears.
2016 new productions coming to life onstage include Billy Wilson's The Winter in Libson (1992), a rhythmic and colorful celebration of the great Dizzy Gillespie, and Masekela Langage (1969), Alvin Ailey's searing portrait of oppression – set to Hugh Masekela's driving music – that draws parallels between the era of South African apartheid and the race-induced violence in Chicago during the 1960s.
---
---
Special season programs include All Ailey performances comprised entirely of works by Alvin Ailey (December 10 mat and 30 eve), All Jazz performances celebrating the marriage of jazz music and modern dance (December 14 and 17 mat), and All New programs containing season premieres (December 16 eve, 22, 23 eve, and 31 mat).
The engagement also includes Family Matinee Series performances presented each Saturday at 2pm, with a Q&A session featuring Ailey's revered dancers following the finale of Alvin Ailey's Revelations, which is acclaimed as a must-see for all ages. Revelations will bring an inspiring close to the performance on Christmas Eve (December 24 matinee) as well as a Special Season Finale on New Year's Eve. Live music performances of Revelations will take place on November 29, and December 1-2 (matinee and evening). A detailed performance schedule is attached (subject to change).
Alvin Ailey American Dance Theater inspires all in a universal celebration of the human spirit using the African-American cultural experience and the American modern dance tradition. Nearly 60 years after its founding, Ailey continues to move forward under the leadership of Robert Battle, revealing once again why Alvin Ailey American Dance Theater is one of the world's most beloved dance companies.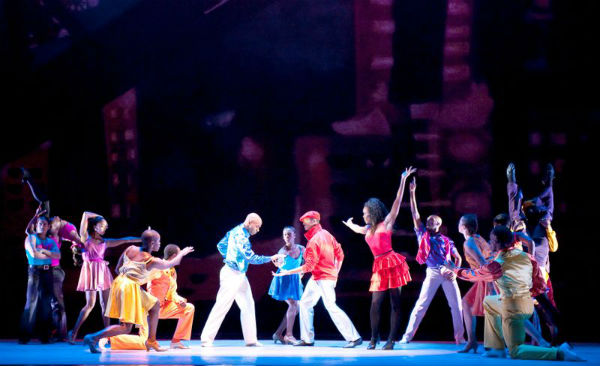 Tickets starting at $29 are on sale at the New York City Center Box Office, through CityTix® at (212) 581-1212, or online at www.alvinailey.org or www.nycitycenter.org. Discount tickets are available for Ailey Super Fans who purchase tickets for more than one performance, for students with an appropriate ID, and for groups of 10 or more (discounts do not apply to $29 tickets). For group sales, call 212-405-9082 or e-mail groupsales@alvinailey.org. For further information about Ailey's New York City Center season please visit www.alvinailey.org.
Photo credit: Credit Photo: 1) Alvin Ailey American Dance Theater's Jacqueline Green in Alvin Ailey's Revelations. Photo by Paul Kolnik. 2) Alvin Ailey American Dance Theater in Johan Inger's Walking Mad. Photo by Paul Kolnik.
Related articles
No related posts found...