---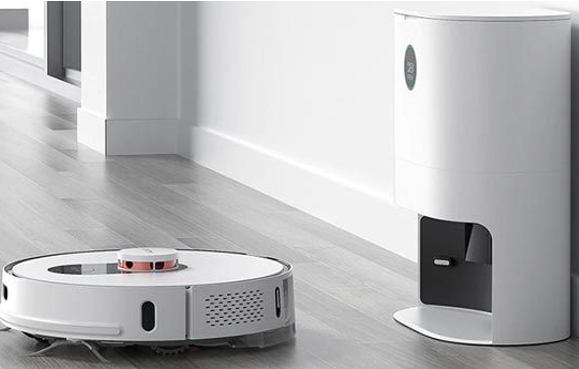 When it comes to robot vacuum cleaners, I have personally come across a number of them, but I have only reviewed one or two of them. I have to say that the Roidmi Eve Plus vacuum cleaner robot is just one of the best robot vacuums that I have come across so far. This is because of its ease of maintenance, ease of use, and price point alongside all of the features that it has to offer.
So, in this article, let's go through everything that this robot vacuum has to offer.
What is inside the package?
Roidmi Eve Plus vacuum cleaner robot comes in a humongous box. It's pretty heavy, and inside, you have the usual stuff like the charging station, the robot vacuum itself, and some accessories. These accessories are where things get interesting. We get a pack of disposable mobs, and there's also another cloth mob included if you don't want to use the disposable ones. An extra air filter for the robot vacuum and a few more bags for the charging station's dust collection is also present in the package.
Now it's nice to see Roidmi include all of these accessories in the box. So that we can try it out for ourselves to see whether or not we want to use these things, for example, the disposable mob maybe that's not your thing, but well since it's included in the box, might as well give it a try and if that's not your taste, pack it in the box and leave it for future use. If the disposable mop is your cup of tea, you can head into Roidmi's official shopping store and purchase more of these disposable mobs. The air filter, the sweeper, and other parts can also be bought at the official shopping store.
Key Features of Roidmi Eve Plus
The Roidmi Eve Plus vacuum cleaner robot comes with many useful features, but I think many people will buy the robot vacuum cleaner, plug it in, and start using it. Nearly everything that moves can be easily serviced; for example, the robot mentioned above, vacuum stuff spin can also be quickly taken out and have the filter literally washed. Remember to dry it before putting it back into the vacuum's dustbin compartment.
1. Smart Floor Detection
The Roidmi Eve Plus vacuum cleaner robot is equipped with carpet & hard floor detection and auto-adjust vacuum suction power. It can also detect the height of the sofa, chair, bed, etc., to pass under them.
2. Smart Battery Charging Feature
If the battery runs low during the task, it will return to the charging deck to recharge a certain amount of energy to complete the remaining task.
3. Smart Navigation and Mapping System
Roidmi Eve Plus has the functionality to scan every obstacle, room, walls, etc. & will give you a virtual map on your app. You can set a cleaning schedule on every room or even a no-go zone.
4. Easy Cleaning and Maintenance
Roidmi Eve Plus intelligent vacuum cleaning robot has quick access for easy cleaning & maintenance. Moreover, it has a dust & water chamber. You can press downward the gray tab to release the section and water refill to the HEPA filter. Just slide the gray tab. It comes with one free extra HEPA filter. Align one side first, then press downward. Suppose you remove the chamber press & hold the gray tab. When returning the chamber, or putting the mop adapter, slide it and pull two ​​gray tabs simultaneously when releasing the mop adapter.
After removal, the disinfecting framework of Robot begins to clean normal family parasites (such as residue vermin), organisms (such as Escherichia coli, Candida albicans, and Staphylococcus aureus), harmful synthetic substances (such as alkali, formaldehyde, benzene, and TVOC), and eliminate cigarette and aroma odours, among other things.
5. Smart Dust Collection and Mopping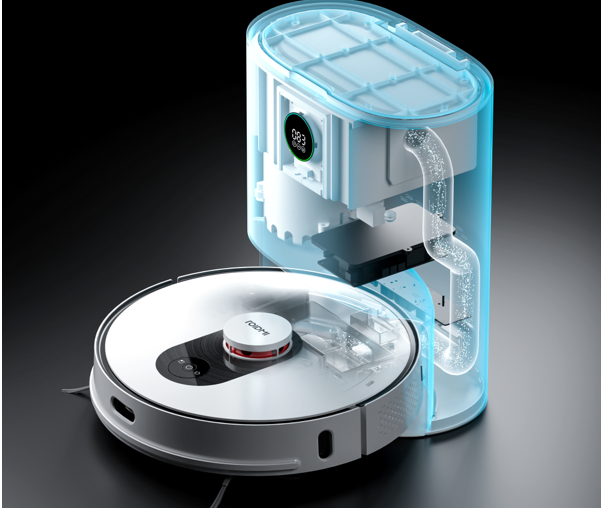 Mop function can be disabled via the app, or you can set auto-detect carpet & will auto-disable mopping every time it passes through a carpet. To remove the mop microfiber pad, start pulling on the curve side and slide it back. For putting back the microfiber mop pad, start by inserting both ends on the pocket like stitch on the mop pad power button, home button & the quick clean button/spot button. The dust collector is quite heavy also; you don't need to replace the bag frequently due to the large capacity dust bag.
6. Smart Screen Display
Roidmi Eve Plus intelligent vacuum cleaning robot has a great vacuum cleaning feature. It lessens your maintenance job due to the vacuum cleaner's screen display. It shows how much dust/dirt is already inside the bag & also shows the battery status of the vacuum cleaner robot.
7. Odorless cleaning, free of Bacteria
Another significant and worry-free feature that this Robot vacuum cleaner provides is that every time it sucks out the dust from the void, the air pressure that has been used is filtered from bacteria & also neutralizes the odor. It can quickly transfer all the dust & dirt from the vacuum in just 12 secs.
---