---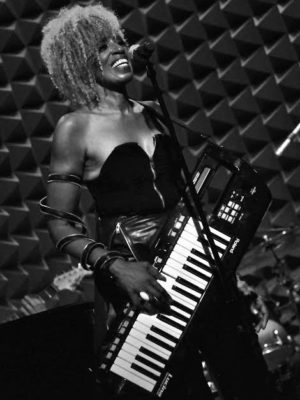 Aziza Miller is a masterful pianist who has carved out an amazing music career spanning some 40 years now. Her name you may not readily recognize, but for those avid music lovers, Aziza is a legendary music icon in the R&B and Jazz world.
Aziza is a former high school jazz chorus teacher and mentor to Harlem's Alicia Keys. Recipient of the Presidential Scholar Distinguished teacher award in 1997 in DC at the Kennedy Center from President Bill Clinton's administration.
Aziza was Natalie Coles's first female music director early on in their careers, from 1975-1980, and then they both went on to other music ventures, and reunited musically in 2005 where they continued their professional relationship right up until Natalie's Passing in December of 2015.
In fact, Natalie Cole's last performance was with Aziza on stage at the "Iridium" in New York where the two performed "La Costa", the beautiful classic jazz piece with music written by her and lyrics by Natalie.
Aziza's association with Natalie Cole allowed her to travel the world on tour and exposed her to music industry professionals and artists she may never have had the pleasure to meet or work with including Oprah Winfrey's Big Give, the Plymouth Jazz Festival, and at Sterling Castle in Scotland, to name a few.
Today, Aziza is close to Natalie's son, Robert "Robby" Yancy, a gifted drummer. They have performed together keeping the legacy of what Aziza and Natalie created, alive in song.
This Journey of Love, is a retrospective work from Aziza who pays homage to the great musician artists like Natalie, and to her music mentor, Horace Silver, who not only impacted her life, but that of people around the world musically.
Aziza says, 
"The inspiration to write the songs on This Journey of Love came after a dream I had where Natalie appeared to me and said, it's time to do music again."
Music Journalist for the Urban Music Scene publication says of Aziza's CD,
"This Journey of Love" is elegant, heartfelt and varied in its grooves, Aziza Miller's The Journey of Love is a filler-free winner that should be a primer for recording artists today. Six good songs are better than 14 or more bloated with fat. Less is most often more."
One thing is for sure, Aziza Miller has not just released a great record, but is herself a great musician, songwriter, and artist deserving of all of the accolades to come with the release of This Journey of Love.
Photo Credit: Craig Bailey of Perspective Photos
Related Articles
---