---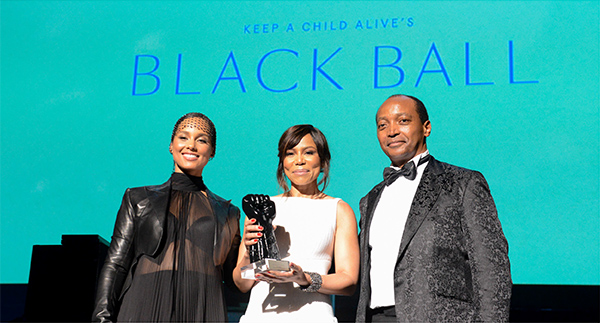 At last night's 12th Annual Black Ball, Keep A Child Alive CEO Peter Twyman (or as the night's Master of Ceremonies Chris Rock introduced him, "Peter Motherfucking Twyman") quoted the words of Martin Luther King, Jr. when he took the stage at the Hammerstein Ballroom. 
"Injustice anywhere is a threat to justice everywhere," Twyman said. "AIDS is the number one killer of African adolescents. This is why we do what we do."
Since 2003, KCA has raised global awareness about the urgent and unmet need for HIV treatment in sub-Saharan Africa. The organization provides financial and programmatic support to nine grassroots partners in Kenya, Rwanda, South Africa, Uganda, and India to fight the physical, social and economic impact of HIV on children, families and communities.
Co-founded by R&B superstar Alicia Keys, KCA has provided services to over 56,000 people in the past year, and its work has directly impacted the lives of over 300,000 people. And last night, the stars studding the seats of the Hammerstein Ballroom on 34th Street continued Keys and Twyman's ultimate goal: to end the AIDS epidemic by 2030.
From Nigel Barker to Carmelo Anthony, 750 attendees came out to support Keys and the cause.
"I am hoping people really recognize the power that we have to make a difference in people's lives," Keys told Billboard. "We don't have to do big things. We can do a series of very small things that change people's world. Together we can really make big differences in the world."
This sentiment was echoed throughout the night. Since 2013, last night's honorees Dr. Precious Moloi-Motsepe and Patrice Motsepe have been committing half of the proceeds of their family assets to charitable causes and sustainable development of the people of South Africa and the broader African continent.
"We believe in the world Alicia does," Patrice Motsepe said. "We believe in giving people means of learning to fish for themselves instead of giving them fish."
Even Chris Rock got serious about the night's focus (after taking full-advantage of the phrase "Black Ball," of course).
"Almost 37 million people worldwide are living with HIV, and a lot of them have no access to treatment. None at all. So everyone needs to come together, and we've gotta end this once and for all," he said.
To be sure, those attending the Black Ball suited up for a great cause — and a great time. After an epic on-site auction (a selfie with Rock went for $11,000 on the spot), the "Girl on Fire" lit up the night alongside incredible performers including Lion Babe, Wale, and even the legendary Lenny Kravitz.
"Tonight is about letting go and feeling good. I need you to just like be free for tonight," Keys said as she smoothly swayed alongside the delightfully boisterous band. "We don't know how may days we have. We can't count 'em. We have to live 'em. We have to make sure everyone has a chance at life."
Alicia Keys' energetic collaborations with Lion Babe and Wale got the crowd on their feet, while Key's solo rendition of her chart-topping "No One" got hands in the air.
And, of course, Kravitz and Keys joined forces for "Let Love Rule." Kravitz also treated the audience to "Are You Gonna Go My Way" and "American Woman." The night proceeded with an "Afterglow" party with Keys' hubby Swizz Beatz spinning sounds.
Raising $3.8 million, the 12th Annual Black Ball was a tremendous musical celebration, philanthropic success and a motivational reminder of the progress still to be made in the fight against AIDS.
"We will fight for the hundreds of thousands more that need our support," Twyman said. "We will fight until this epidemic is over. And that will be justice."
Video from the night:
---