---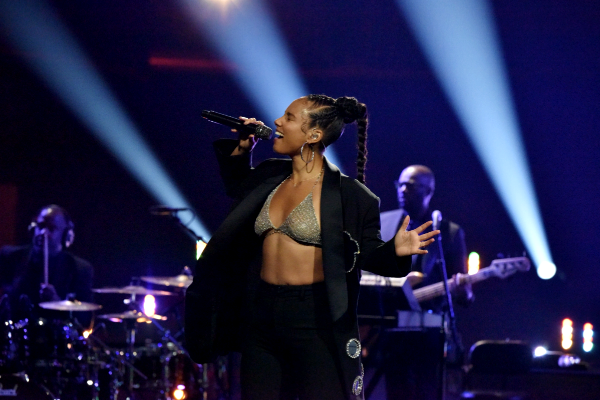 TV One celebrates Black Music Month with original programming and musical performances. Its original documentary, THE BEAT DON'T STOP, will kick off the month of greatness on Thursday, June 2 at 8 P.M. ET/7C, followed by UNSUNG: Dru Hill and UNSUNG: Xscape at 10 P.M. ET/9C.
Additionally, during Black Music Month, TV One will feature more highlights from its acclaimed signature series, UNSUNG, as well as musical performances such as Alicia Keys: Live in LA, Black Star Live At The Vienne Jazz Festival and Gregory Porter Live at Nice Jazz Festival.
The Beat Don't Stop
The original documentary pays homage to the unique contribution that Go-go music made to the musical landscape.
The documentary features a host of celebrities, artists, music historians, and community leaders including rapper Doug E. Fresh; band members from Junk Yard Band, Trouble Funk, E.U., Backyard Band, TOB, TCB and Maiesha and the Hip Huggers; the dance crew Beat Ya Feet Finest; music historians Dr. Natalie Hopkinson and Kato Hammond; music journalists Ericka Blount and Alona Wartofsky; Don't Mute DC organizer Ron Moten; talent promoter and former MCA Records executive Bo Sampson; music producer Tone P; Radio One Personality Angie Ange; DJ Flexx; hip hop artist DJ Kool; and many others.
Big Brother Konan who hosted the first daily radio show in the country dedicated to Go-go music, on Radio One station, WOL-AM, also lends his account to this comprehensive look at the social power and influence of this unique art form.
UNSUNG
The seven-time NAACP Image Award-winning series and one of the network's longest-running series', UNSUNG highlights the careers and explores the personal lives of some of the most talented, versatile, and influential black vocal artists.
UNSUNG is narrated by actor Gary Anthony Williams and is Executive Produced by Arthur Smith and Frank Sinton of A. Smith & Co. Productions.
Mark Rowland also serves as Executive Producer. For TV One, Jason Ryan is Executive in Charge of Production; Donyell Kennedy-McCullough is Senior Director of Talent & Casting; and Robyn Arrington Greene is Head of Original Programming and Production.
Gregory Porter Live at Nice Jazz Festival
Acclaimed jazz vocalist, songwriter, and Grammy award-winner Gregory Porter perform live at the Nice Jazz Festival in 2012. One of the most successful jazz artists of his day, Porter's velvety baritone voice is effortlessly displayed in a medley of ballads including "Be Good", "Water" and "On My Way to Harlem."
Black Star Live At The Vienne Jazz Festival
Also in the Jazz category, Black Star Live At The Vienne Jazz Festival will air on TV One on Sunday, June 6 at 8:00 p.m. ET.
The legendary Hip Hop duo Black Star featuring Mos Def (Yasiin Bey) and Talib Kweli reunite on the center stage of the Vienne Jazz Festival in 2018 to celebrate the 20th anniversary of their first album.
Joining in for the occasion are musicians of the Hypnotic Brass Ensemble, the eight-piece Chicago-based rap and instrumental group.
Alicia Keys: Live in LA
The electrifying singer who has sold 50 million albums and scooped 15 Grammy Awards, blending soul, gospel, R&B, and hip-hop, takes to the stage at Los Angeles' Ace Hotel Theatre for an unforgettable evening of music and storytelling.
Alicia Keys has crossed generations as well as genres. This is a very special celebration of a unique talent, with a dazzling array of greatest hits, and music from her seventh studio album, Alicia.
The special will coincide with the 20th anniversary of the singer's debut album "Songs In A Minor."
TV ONE'S Black Music Month Programming Overview:
Thursday, June 2, 2021
The Beat Don't Stop at 8:00 p.m. ET
Unsung: Dru Hill at 10:00 p.m. ET
Unsung: Xscape at 11:00 p.m. ET
Sunday, June 6, 2021
Gregory Porter Live at Nice Jazz Festival at 5:30 p.m. ET
Alicia Keys: Live in LA at 7:00 p.m. ET
Black Star Live Vienne Jazz Festival at 8:00 p.m. ET
Unsung: Shanice at 10:00 p.m. ET
Unsung: Lloyd at 11:00 p.m. ET
Sunday, JUNE 13, 2021
Unsung: Music in the Movement, ep. 1 at 4:00 p.m. ET
Unsung: Music in the Movement, ep. 2 at 5:00 p.m. ET
Wednesday, June 16, 2021
Unsung: Hezekiah Walker at 8:00 p.m. ET
Unsung: Marvin Sapp at 9:00 p.m. ET
Unsung: David Hollister at 10:00 p.m. ET
Wednesday, June 23, 2021
Unsung: Chante Moore at 8:00 p.m. ET
Unsung: Michel'le at 9:00 p.m. ET
Unsung: The Boys at 10:00 p.m. ET
Unsung: Jon B at 11:00 p.m. ET
For more information about TV One's Black Music Month, visit the network's www.tvone.tv. TV One viewers can also join the conversation by connecting via social media on Twitter, Instagram, and Facebook @tvonetv).
Launched in January 2004, TV One serves 59 million households, offering a broad range of real-life and entertainment-focused original programming, classic series, movies, and music designed to entertain and inform a diverse audience of adult black viewers.
The network represents the best in black culture and entertainment with fan favorite shows Unsung, Uncensored, ATL Homicide, Fatal Attraction, and Urban One Honors.
In addition, TV One is the cable home of original blockbuster films including When Love Kills: The Falicia Blakely Story, Love Under New Management: The Miki Howard Story, Bobbi Kristina, and The Bobby DeBarge Story.
TV One is solely owned by Urban One, Inc., formerly known as Radio One, Inc. [NASDAQ: UONE and UONEK, www.urban1.com], the largest African-American-owned multi-media company primarily targeting Black and urban audiences.
---