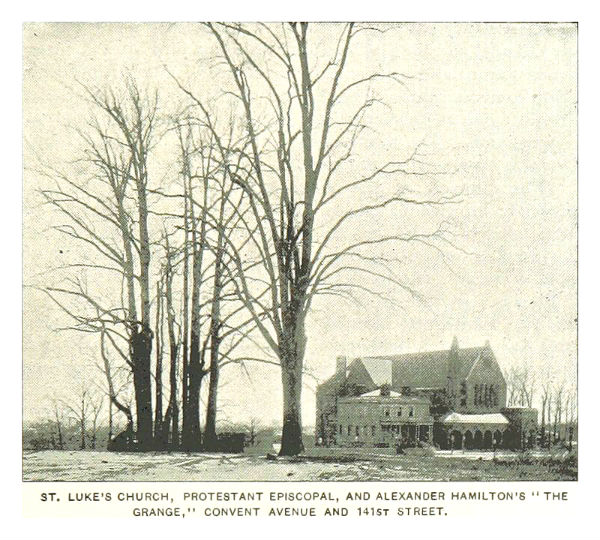 "The Grange" was commissioned by Alexander Hamilton who selected architect John McComb Jr. to design a country home on Hamilton's 32 acres estate in Hamilton Heights, New York, ca 1893.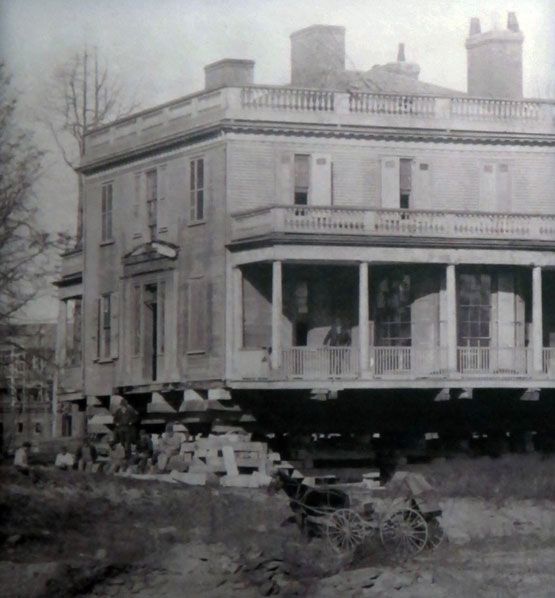 The two-story frame Federal style house was completed in 1802, just two years before Hamilton's death resulting from his duel with Aaron Burr on July 11, 1804. The house was named "The Grange" after Hamilton's grandfather's estate in Scotland. The Grange was the only home ever owned by Hamilton and it remained in his family for 30 years after his death.
By 1889, much of the congregation of St. Luke's Episcopal Church in Greenwich Village had moved uptown. The Grange was in foreclosure and had been condemned for destruction in order to allow for the implementation of the Manhattan street grid, then just reaching that area of Harlem. The church acquired the house and moved it a half-block east and about two blocks south, conforming to the new street pattern, to what became 287 Convent Avenue. The original porches and other features were removed for the move. The staircase was removed and retrofitted to accommodate a makeshift entrance on the side of the house that faced the street, and the original grand federal style entrance was boarded up.
St. Luke's used the house for services and subsequently erected a Richardsonian Romanesque building on the site between 1892 and 1895 that wrapped around the house slightly, thus when a six-story apartment building was built c. 1910 flush on the opposite side it was tightly enclosed and many of its features hidden. The American Scenic and Historic Preservation Society bought The Grange and turned it into a public museum in 1924. Furniture and decorative objects associated with the Hamilton family were displayed.
The Grange was designated a National Historic Landmark in December 1960. The private National Park Foundation purchased the house and property and transferred it to the National Park Service. Congress authorized the National Memorial on April 27, 1962, requiring that it be relocated and then the house restored to appear as Hamilton knew it in 1802–1804, which is considered its period of historic significance. It was at the time determined that the claustrophobic Convent Avenue setting was inappropriate and that the country house should be viewed as freestanding building. However, the house was not relocated earlier because of overwhelming local opposition to options offered that required moving it out of the neighborhood. The Grange was administratively listed on the National Register of Historic Places on October 15, 1966.
Via source
Related Articles
---