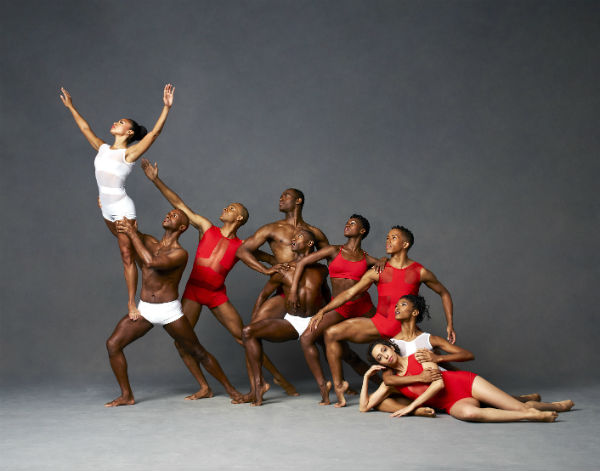 On Wednesday, November 30th at 7pm, Alvin Ailey American Dance Theater kicks off a five-week holiday season with a star-studded gala benefit, including a performance at New York City Center and party at the New York Hilton Midtown Grand Ballroom. The Gala honors Diageo, North America and benefits the creation of new works, scholarships to The Ailey School, and Ailey's educational programs for young people.
"An Evening of Ailey and Jazz" features a special one-night-only program celebrating the marriage of modern dance and jazz music, including excerpts of John Butler's Portrait of Billie, Talley Beatty's The Road of the Phoebe Snow, Billy Wilson's The Winter in Lisbon (a 2016 new production), and Alvin Ailey's For Bird – With Love and Pas de Duke.  A highlight of the evening will be Artistic Director Robert Battle's Ella, a tribute to Ella Fitzgerald performed for the centennial of her birth. The program culminates with Alvin Ailey's must-see masterpiece, Revelations, performed with live singers and musicians. Prominent figures in the worlds of entertainment, business, philanthropy and politics will join Artistic Director Robert Battle and dancers for dinner and dancing to live music in the New York Hilton Midtown's Grand Ballroom following the performance.
Emily & Len Blavatnik, Debra L. Lee, Karen & David Peetz, Almaz & Marc S. Strachan, Daria L. & Eric J. Wallach, and Joan & Sandy Weillserve as Co-Chairs for the Gala, which honors Diageo, North America. Call 212-405-9031 for tickets.
For more information on Ailey's holiday season of premieres, new productions, and returning favorites taking place November 30 – December 31, click here. Tickets for season performances start at $25, and are on sale at the New York City Center Box Office, through CityTix® at (212) 581-1212, or online at www.alvinailey.org or www.nycitycenter.org.
Related Articles