---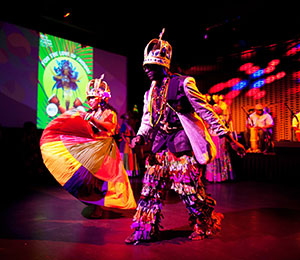 Join the Schomburg Center and the Afr@Latino Project in an enriching daylong event kicking off the 2016 Afro-Latino Festival, highlighted by the Afrolatin@Crowd Wikipedia Edit-a-thon and curated panels, a keynote luncheon, awards presentation, an exclusive film screening screening, a cocktail reception, and musical performances!
SCHEDULE OF EVENTS:
9a-9:15a
OPENING PLENARY SPEAKER: Ahmed Reid Springer
9:20a -10:25a
PANEL 1
Transnational, Migration, Immigration & Human Rights
9:30a-12:30p
AFROLATIN@ CROWD PART II, PRESENTED BY AFROCROWD.ORG
Featured speakers: Cassandre Theano, Esq Open Society Foundation, Carl Liscombe, Policy Director, Black Alliance for Just Immigration (BAJI), Mirtha Colón, Casa Yurumein. Moderator: Thanu Yakupitiyage, New York Immigration Coalition
10:35a-11:35a
PANEL 2
What Does A BlackLatinx Feminism Look Like? Featured speakers: Dash Harris, Director, Negro The Documentary, Uva Coles, VP, Institutional Advancement & Strategic Partnerships at Peirce College, DJ Bembona, Monica Carrillo, founder of LUNDU Peru. Moderator: Lissette Miller, DJ afroluna, One DC Member, Movement for Black Lives
1p-2p
DOCUMENTARY SCREENING
Nana Dijo: Irresolute Radiography of Black Radiography
2p -3p
PANEL 3
Afrolatin@S, ¡Presente!: Representation And Cultural Heritage Consciousness"
Director: Bocafloja & Cambiowashere, Producer: Quilomboarte / Sociedad Cimarrona, 2015, 40min + Q&A (15min). Featured speakers: Arianna Curtis, Latino Curator, Smithsonian Anacostia Community Museum, Ruben McCoy, Fareportal, Multicultural Lead/Multichannel Marketing Strategist, Manuel "Chaco" Garcia, Music Producer & Afro-Colombian Music Ethnographer, Geko Jones
3:10p-4:10p
PANEL 4
Afro-Colombian Participation in the Colombia Peace Process. Featured speakers: Marino Cordoba, Pres of AfroDes & Intl Coord, Afro-Colombian Peace Council.  Moderator: Gimena Sanchez, Senior Policy Director WOLA
4:20p-5:25p
PANEL 5
#BlackLivesMatter Beyond Borders: Race, Space & Consciousness in the International Decade of Afrodescendants Part II. Featured speakers: Dr. Arlene Davila, Professor NYU Anthropology, Janvie Comrie, Kleaver Cruz, Writer and Member of poetic duo, "The Delta", Frank Leon Roberts, NYU Lecturer-Professor. Moderator: Larnies Bowen, NYU MA Candidate
5:30p-5:40p
Closing Plenary Speaker: Moises Medrano
7p-8p
AWARD CEREMONY
Honorees
Danilo Perez (Grammy Award Winner Latin Jazz Pianist/Composer)
Moises Medrano (Director of Populations, Ministry of Culture, Colombia)
Aysha Schomburg (Board Member ,Schomburg Center for Research in Black Culture and Counsel NYC City Council)
Dr. Arianna Curtis, Latino Curator Smithsonian Anacostia Museum
LIVE PERFORMANCES
8:10p-8:50p Afrodisiaco
9p-9:20p Yurby
9:30p-10p Joshue Ashy and C3 Project
@SchomburgCenter #AfroLatinoFestNYC
For free events, we generally overbook to ensure a full house. All registered seats are released 15 to 30 minutes before start time, so we recommend that you arrive early.
Schomburg Center for Research in Black Culture, The New York Public Library
515 Malcolm X Boulevard, New York, NY 10037, www.schomburgcenter.org
Related Articles
---