---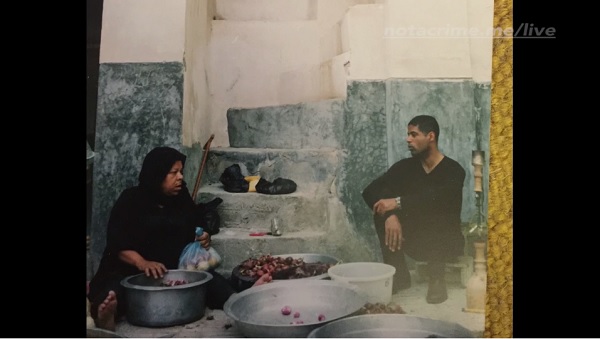 Not A Crime, a campaign that raises awareness of human rights abuses in Iran, today announced that renowned Afro-Iranian musical group the Shanbehzadeh Ensemble will make two U.S. appearances to culminate the movement's 2016 education equality campaign. The performances – Sept. 17 at San Francisco's Palace of Fine Arts and Sept. 23 at New York's Apollo Theater – will occur as Iranian President Hassan Rouhani visits New York for the 71st Session of the United Nations General Assembly.
Not A Crime uses art and creativity to shine a light on the mistreatment of the Baha'is, Iran's largest religious minority. The campaign was founded in 2015 by Maziar Bahari, a former Newsweek journalist who was jailed in Iran and became the subject of "Rosewater," a film directed by Emmy Award-winning host Jon Stewart of "The Daily Show." This year, Not A Crime has focused on creating 15 murals throughout Harlem, a community that has a rich history of using art to address discrimination. Local and global artists have made Harlem's walls their canvas this summer, creating art that provokes conversation about human rights violations, particularly education discrimination.
Formed in 1990 by legendary Afro-Iranian musician Saeid Shanbehzadeh in his native Bushehr, Iran, the group delivers a spellbinding experience of the traditional music and dance indigenous to southwestern Iran and the bordering Persian Gulf. Through ululation and movement, the ensemble celebrates their deep Afro-Iranian history by exploring complicated emotions shared by communities across the world: joy, oppression and pain. The Shanbehzadeh Ensemble creates a unique, energetic and uplifting infusion of Iranian folk music and dance using instruments that include the neyanbān (bagpipe), neydjofti (flute), dammam (drum), zarbetempo (percussion), traditional flute, senj (cymbal) and boogh (a goat's horn).
"As an artist, I have always suffered from the sword of censorship in music and dance," said Shanbehzadeh. "My struggle for freedom of expression and thought has been primarily aimed at liberating myself from the chains of the Iranian government and its censorship. Now I believe it is my duty to defend these freedoms for my fellow Iranians and everyone else around the world. Unfortunately, in my country there are many who cannot have access to an education because of their religious beliefs. I joined the Not A Crime campaign to support this basic human right for the Bahai's."
Adds Bahari, "We are truly honored to have the Shanbehzadeh Ensemble join Not A Crime's effort – speaking loudly and with a creative spirit – in heightening attention to human rights abuses in Iran. The ensemble, now based in Paris, has shared similar obstruction from Iranian leadership as that of the Baha'is. In lending their voice to Not A Crime's mission, they're helping demonstrate that creativity, artistry and education have a valuable place in modern Iranian culture."
Here's the video:
"Education Is Not A Crime"
The Baha'is, Iran's largest religious minority, are frequently jailed on false charges and denied access to higher education. There are 74 Baha'is currently imprisoned and more than 200 were executed in the early 1980s after the 1979 Islamic Revolution. Thousands of Baha'is are currently studying through an underground education system known as the Baha'i Institute for Higher Education (BIHE). Not A Crime is working to stop the human rights abuse of young people barred from studying because of their beliefs and is encouraging universities worldwide to admit Iranian Baha'i students. The education campaign started in 2015 with an Education Is Not A Crime Day (the last Friday of February 2015) and screenings of a film Bahari made called "To Light a Candle" – and now it has grown into a movement. Mark Ruffalo of "The Avengers," Rainn Wilson of "The Office," Desmond Tutu, the Nobel Peace Prize laureate and rights activist, and Shirin Ebadi, also a Nobel Peace Prize laureate, have spoken against the persecution of the Baha'is. Nearly 100 universities — including Stanford and Yale — currently accept the BIHE certificate.
The Shanbehzadeh Ensemble will make its first stop in San Francisco on Sept. 17 at 7 p.m., playing at the Palace of Fine Arts Theater. The group will take the historic Apollo stage Sept. 23 at 7:30 p.m. Tickets for both shows are now on sale.
Learn more about the Shanbehzadeh Ensemble performances in this short documentary.
Related Articles
---