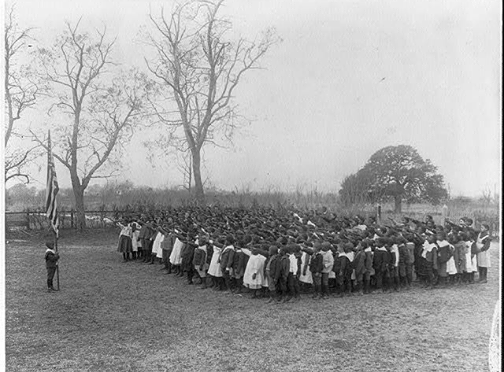 The first widely publicized observance of a Memorial Day-type observance after the Civil War was in Charleston, South Carolina, on May 1, 1865.
During the war, Union soldiers who were prisoners of war had been held at the Charleston Race Course; at least 257 Union prisoners died there and were hastily buried in unmarked graves.
Together with teachers and missionaries, black residents of Charleston organized a May Day ceremony in 1865, which was covered by the New York Tribune and other national papers.
The freedmen cleaned up and landscaped the burial ground, building an enclosure and an arch labeled, "Martyrs of the Race Course."
Nearly ten thousand people, mostly freedmen, gathered on May 1 to commemorate the war dead. Involved were about 3,000 school children newly enrolled in freedmen's schools, mutual aid societies, Union troops, black ministers, and white northern missionaries. Most brought flowers to lay on the burial field.
Today the site is used as Hampton Park.  Years later, the celebration would come to be called the "First Decoration Day" in the North.
David W. Blight described the day:
"This was the first Memorial Day. African Americans invented Memorial Day in Charleston, South Carolina. What you have there is black Americans recently freed from slavery announcing to the world with their flowers, their feet, and their songs what the war had been about. What they basically were creating was the Independence Day of a Second American Revolution."
via Memorial Day – Wikipedia, the free encyclopedia.
No related posts found...
---