---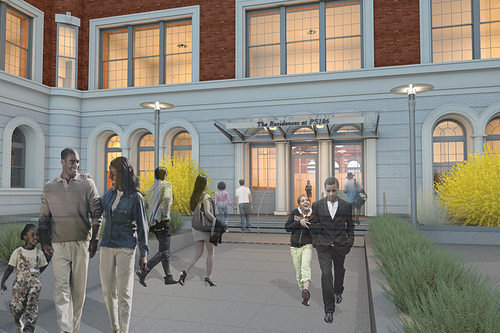 P.S. 186 in Harlem is in the midst of a transformation from dilapidated, abandoned building to a $48.6 million mixed-use development, with a focus on low- to middle-income housing. The city's Department of Housing Preservation and Development, along with Monadnock Development and Alembic Community Development, announced plans to revamp the building in 2014. And now, it looks as though the project is one step closer to welcoming residents: HPD will begin accepting applications (PDF!) for the development's 78 affordable apartments as of February 5, with some renting for as little as $508 per month.
There are four types of apartments available through the lottery: studios, deluxe studios, one-bedrooms, and two-bedrooms. Of those, there are 15 studios and 23 one-bedrooms, and then units are divided more or less equally among the other apartment layouts. The full breakdown of rents and how apartments are divided can be found on the NYC Housing Connect website, but in brief: Studios are renting from $508 to $802, for residents who make between $18,789 and $36,300 per year; deluxe studios and one-bedrooms rent for $547 to $2,312, for one to two residents making $20,160 to $114,000 per year; and two-bedrooms are available to families of two, three, or four making $24,240 to $142,400 a year, and the rents range from $665 to $2,783 per month. (Phew.)
P.S. 186 is owned by the Boys and Girls Club of Harlem, which is also a co-developer of the site. In addition to the affordable apartments, the redeveloped site will hold a new facility for that organization, along with residential amenities like a laundry room, bike storage, and a common space. Applications are due by April 8, and residents of Community Board 9 will get first dibs on half of the 78 apartments.
Photo credit Rendering via Dattner Architects. Via Curbed NY
No related posts found...
---