---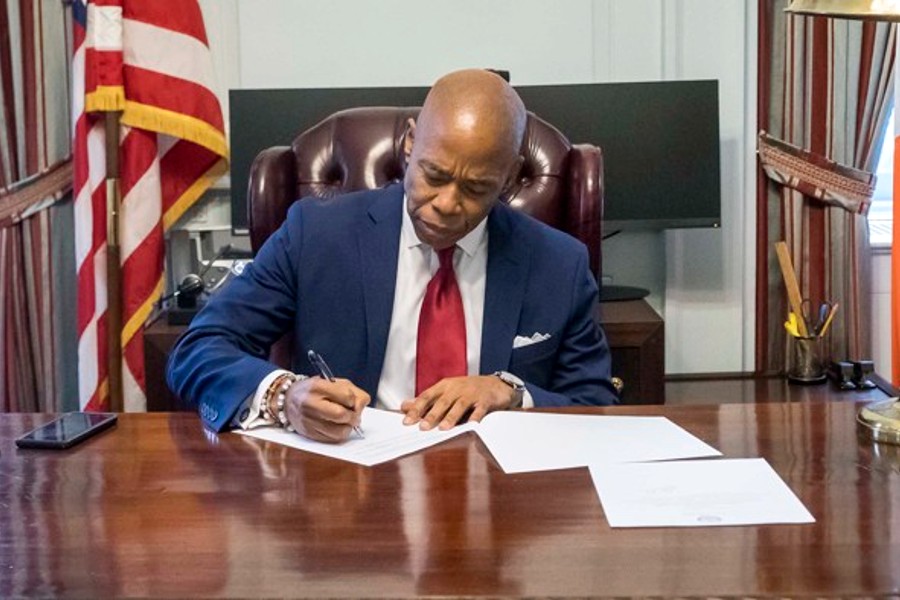 New York City Mayor Eric Adams and NYC Department of Consumer and Worker Protection (DCWP) Commissioner Vilda Vera Mayuga today announced that the City of New York has set a first-of-its-kind minimum pay rate for app-based restaurant delivery workers.
When fully implemented, the city's more than 60,000 delivery workers — who currently earn $7.09/hour on average — will earn at least $19.96/hour. Restaurant delivery apps will also have flexibility in how they pay delivery workers the new minimum rate.
"'Getting Stuff Done' for working people is what this administration is all about, and that includes some of the hardest working New Yorkers: our delivery workers," said Mayor Adams. "Our delivery workers have consistently delivered for us — now, we are delivering for them. This new minimum pay rate, up by almost $13.00/hour, will guarantee these workers and their families can earn a living, access greater economic stability, and help keep our city's legendary restaurant industry thriving."
"Delivery workers have kept New Yorkers nourished through the most perilous of conditions, delivering food right to our doors throughout the pandemic and unprecedented weather conditions in the past," said Deputy Mayor for Housing, Economic Development, and Workforce Maria Torres-Springer. "Thanks to the diligent work of the Adams administration and the Department of Consumer and Worker Protection, we are delivering on the mayor's working people's agenda and improving the lives and economic potential of more than 60,000 New Yorkers."
"Today is a historic win for New York City's delivery workers, who have done so much for all of us through rain, snow, and throughout the pandemic," said DCWP Commissioner Mayuga. "When the rate takes full effect, workers will make three times as much as they do now. I am proud that our city has fulfilled its promise to provide more stability and protections for 60,000 workers and get them a dignified pay rate."
"Today we're celebrating another major victory in our fight to deliver justice for the city's delivery workers: raising their minimum wage to at least $19.96/hour," said U.S. Senate Majority Leader Charles Schumer. "Deliveristas are the American dream, working hard to deliver for themselves and their families. Thank you to Ligia Guallpa and Gustavo Ache from Deliveristas Unidos, Mayor Adams, DCWP Commissioner Mayuga, and other elected officials who helped in this fight to organize. Si se puede!"
DCWP closely considered all comments submitted during the public comment period and established a final rate that will greatly increase workers' incomes, while also being responsive to industry and worker feedback. The final rate also takes into account that, as independent contractors, delivery workers pay out-of-pocket for their expenses and do not have access to workers' compensation insurance, or paid time off, and must pay more in Medicare and Social Security contributions.
The pay rate will be $17.96 when it takes effect on July 12, 2023, and will increase to $19.96 when it is fully phased-in on April 1, 2025. The rate will also be adjusted annually for inflation. Apps have the option to pay delivery workers per trip, per hour worked, or develop their own formulas, as long as their workers make the minimum pay rate of $19.96, on average. Apps that pay workers for all the time a worker is connected to the app (the time waiting for trip offers and trip time) must pay at least $17.96 per hour in 2023, which is approximately $0.30 per minute, not including tips. Apps that only pay for trip time (the time from accepting a delivery offer to dropping off the delivery) must pay at least approximately $0.50 per minute of trip time in 2023, not including tips.
DCWP found that workers spend approximately 60 percent of their working time engaged in trips and 40 percent on-call. For example, on a given day, a worker may be on-call awaiting trip offers for four hours and making deliveries for six hours. If that worker's app only pays for trip time, the worker would make $179.60 based on the trip time rate when the rate takes effect in 2023. If, instead, the worker's app pays for both trip time and on-call time, the worker will still make $179.60. These per-minute rates are approximate. Apps would have to calculate exact pay in accordance with the rule.
In September 2021, the New York City Council passed Local Law 115, requiring DCWP to study the pay and working conditions of app-based restaurant delivery workers and to establish a minimum pay rate for their work based on the study results. DCWP published its study last year, which drew from data obtained from restaurant delivery apps, including DoorDash, GrubHub, UberEats, and Relay; surveys distributed to delivery workers and restaurants; testimony; extensive discussions with stakeholders on all sides; and publicly available data. Members of the public, delivery workers, and restaurant delivery apps submitted thousands of comments on the proposed minimum pay rule, which DCWP carefully considered in developing the final rule.
DCWP will be conducting worker outreach and education about the new minimum pay rate and all rights under the city's delivery worker laws. Delivery workers, apps, restaurants, and consumers can visit DCWP's website for information about the minimum pay rate, multilingual resources, and information about the city's delivery worker laws. Workers can also call 311 and ask for "delivery worker" or visit DCWP's worker page to request more information or to file a complaint.
This minimum pay rate is just one part of the city's holistic approach to improving working conditions for delivery workers. Announced in 2022, the Adams administration is working with Los Deliveristas Unidos to convert vacant newsstands into hubs to provide a place for delivery workers to seek shelter from the elements, as well as charge electric bicycles and phones.
"The Deliveristas were our frontline heroes throughout the darkest days of the pandemic, and today, they continue to be the targets of street crimes and endure dangerous weather conditions to deliver millions of New Yorkers the food, supplies, and medicine we need," said New York State Senator Jessica Ramos. "Like most New Yorkers, they are feeling the pressure of our affordability crisis, and it would be irresponsible to leave them reliant on tips alone to cover their bills. I'm relieved to see their minimum pay standards implemented, and want to congratulate these workers on this victory. It has come not a moment too soon."
"Our 60,000 plus delivery workers make New York City run," said New York State Assemblymember Jenifer Rajkumar. "Whether a pandemic or a cloud of smoke, they are out in the streets braving dangerous traffic to bring New Yorkers whatever they need. Many of them are immigrants working day and night to achieve the American Dream. Just as they deliver for us, we will deliver for them. These workers deserve living wages, as opposed to the current average take home pay of $4.03 per hour without tips. This first-of-its-kind minimum pay rate of $19.96 per hour will ensure they can earn a decent living, stand on their own two feet, and receive the respect and dignity they earned. The guaranteed wages that Mayor Adams and Commissioner Mayuga are instituting speaks to our very humanity as a city."
"During the pandemic, restaurant and delivery workers jeopardized their lives so that others may eat. Now, it's time we ensure they can put food on their tables and earn livable wages," said New York State Assembly Member Brian A. Cunningham. "I applaud Mayor Adams and DCWP Commissioner Vilda Vera Mayuga for prioritizing delivery workers' rights by setting the nation's first minimum pay rate for app-based restaurants. Providing a fair and equitable minimum pay rate for delivery workers affords our essential workers an adequate income for them and their families."
"Delivery workers are an important part of our city's ecosystem and it's about time that we've corrected the mistake that allowed their employers to pay them below minimum wage," said New York City Council Deputy Speaker Diana Ayala.
"Today, New York City takes a bold step towards fair labor practices and economic justice," said New York City Councilmember Rita Joseph. "By establishing the nation's first minimum pay rate for app-based restaurant delivery workers, we are ensuring that hardworking individuals are not left behind in the gig economy. This groundbreaking policy recognizes the value of their contributions and upholds our commitment to creating an equitable future for all."
"Delivery workers work tirelessly to keep New York City fed and are an essential part of the city's economy," said New York City Councilmember Pierina Sanchez. "Our city's 65,000 deliversistas deserve a fair pay to provide for themselves, the way they provide for our city. It is high time we ensure, like any other workforce, deliversistas receive adequate pay and safe working conditions. I applaud the mayor's efforts in establishing a minimum pay rate for app-based restaurant delivery workers. The administration is delivering for our deliveristas and keeping New York City first in the nation in protecting app-based workers."
"New Yorkers have come to rely on deliveristas for food delivery and the number of app-based food delivery workers is on the rise," said New York City Councilmember Sandy Nurse. "I welcome the support of these essential workers by guaranteeing a much-needed minimum livable pay rate."
"Today, we are taking a significant step to ensure fair wages for app-based restaurant delivery workers in New York City," said New York City Councilmember Kamillah Hanks. "By setting a first-of-its-kind minimum pay rate of at least $19.96 per hour, we are ensuring that over 60,000 delivery workers will no longer struggle to make ends meet. This landmark initiative will uplift and empower our hardworking delivery workforce while granting restaurant delivery apps the necessary flexibility to implement this new minimum rate."
"The implementation of minimum pay requirements for app-based delivery workers in New York City is a historic moment for workers' rights in an era of new technology. I want to congratulate Los Deliveristas Unidos and the Workers Justice Project whose tireless organizing and advocacy in pursuit of justice has secured fair compensation and workplace protections for over 60,000 workers," said New York City Councilmember Carlina Rivera. "I commend Mayor Eric Adams and Commissioner Vilda Vera Mayuga for ensuring fair treatment and compensation for deliveristas who have been on the front lines of natural disasters, extreme weather, and the pandemic making sure New Yorkers have food, medicine, and basic necessities in our times of need."
"Deliveristas feed New Yorkers citywide, and it is essential that they have the ability to put food back on the table for their own families," said New York City Councilmember Amanda Farías. "Ensuring minimum pay is socioeconomic and immigrant justice to some of our hardest working New Yorkers who are majority working-class immigrants of color. That's why I am proud New York City is paving the way for workers' rights nationwide with this first of a kind minimum pay rate that expands what essential work with dignity looks like. I look forward to continuing to work with my colleagues in government and our deliveristas to ensure they have dignified wages and workplaces."
"Today marks a historic moment for New York City. The Worker's Justice Project is grateful to Mayor Adams and his administration for setting a minimum pay rate for our city's more than 60,000 app-based food delivery workers," said Ligia Guallpa, executive director, Worker's Justice Project. "This rule will set the pay floor for all the essential deliveristas who work tirelessly – whether through a pandemic, a snowstorm or wildfire smoke – and who have been denied a living wage for far too long. Now, these workers who keep millions of New Yorkers fed will know they can keep their own families fed, too. While there's still work to do, a minimum pay rate for food delivery workers will transform the lives of thousands of families across the city and deliver long overdue justice for deliveristas."
"Delivery workers put their bodies and their lives on the line to make sure New Yorkers are fed," said Kazi Fouzia, director of organizing, DRUM – Desis Rising Up & Moving. "We welcome this wage increase that many of our members organized for, so that this city begins to properly value the delivery workers' labor, their experiences, and risks. And we remain vigilant to ensure that delivery app corporations do not maneuver to undermine workers by cutting hours or orders or exploit other loopholes."
"The creation of the minimum pay rate, or rather a just pay, is a precedent for the whole nation," said Manny Ramirez, organizer, Movimiento de Repartidores de NYC. "We are once again leading the nation in labor standards. I couldn't be more excited for the future of this great city. With the efforts of brave men and women we can keep advancing toward greater labor justice. The lives of the many who do this work, and their families, will have the security of fair pair for one of the most dangerous jobs in this city."
---