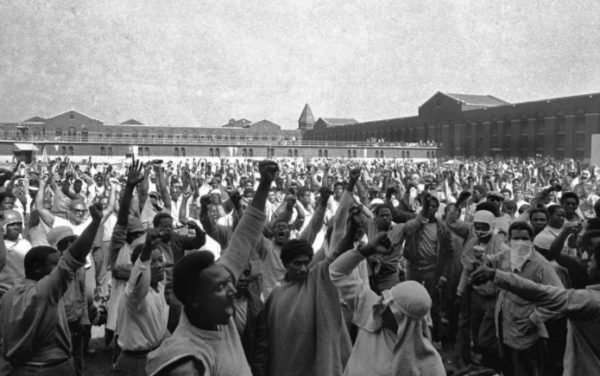 Today, September 13th, 2017, marks the 46th Anniversary of the Attica prison uprising, a group of prison reform advocates have completed a walk from Harlem to the State Capitol where they are urging a slate of changes including a renewed call to close the notorious western New York prison.
Harlem Woman Who Kills Boyfriend With Hot Oil Gets Prison TimeA Harlem woman who burned and stabbed her boyfriend to near-death following a domestic argument will…Aug 9 2017harlemworldmag.com
It's a blight. A blemish on New York," Soffiyah Elijah, organizer of the Alliance of Families for Justice, said as she led a small group of marchers up Central Avenue, more than two weeks after leaving New York City on August 26th, 2017.
Closure of Attica, which has been sought by some reform advocates for a while, may be the highlight of the Alliance's list of demands.
But the group is also calling for reductions in the use of solitary confinement and for measures to halt what they say is violence and abuse against inmates across the state, especially in the wake of the 2015 escape of two inmates from the maximum security Clinton Correctional Facility in Dannemora. One escapee, Richard Matt, was eventually shot and killed while David Sweat was shot, injured and captured.
"Released," A Compelling Prison Docu-Series By Oprah's OWN Set To Premiere 2017 (Video)OWN: Oprah Winfrey Network will premiere the eight-episode docu-series, "Released," which features i…Aug 15 2017harlemworldmag.com
As for Attica, Elijah believes it could be closed if prison officials focused more on downgrading the security ratings of inmates who stay out of trouble and work toward rehabilitation while serving their sentences.
She believes that could result in moving more people from maximum security prisons like Attica to lower-level facilities.
During their march, which took them through the Bronx, Yonkers and along Route 9 up the Hudson Valley into Rensselaer and then Albany, they met with a variety of supporters including church groups and other activists.
A Harlemite Tells The Story Of What Prison In Turkey Was LikeThe Advocate reports that for three months, writer Maisha Yearwood (above) was held in Bakırköy Pris…Sep 4 2017harlemworldmag.com
Not everyone was pleased to see the marchers, said Elijah who noted one man in the Westchester County village of Buchanan tried to spray them with a garden hose.
But there are lots of receptive people too, and they met with at least two state lawmakers, Westchester Democratic Assemblyman Tom Abinanti and Bronx Democratic Senator Gustavo Rivera who marched with the group for a while.
Many members of the group have loved ones who are incarcerated.
---
---
Related articles
Related Articles
---