---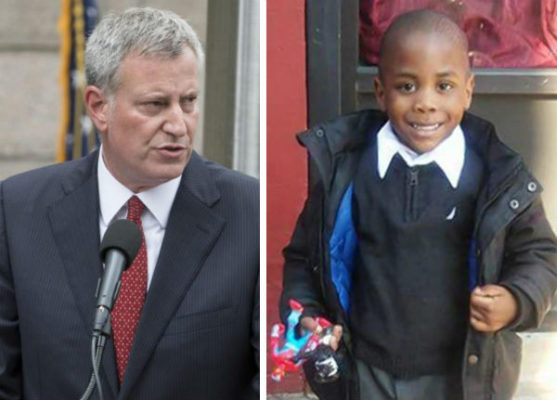 NY Daily News reports that a year ago, the city's child welfare agency was reeling. A string of brutal child deaths revealed serious flaws in the system where caseworkers weren't following up and the city's most vulnerable were left in the line of fire.
The Administration for Children's Services commissioner, Gladys Carrión, was forced to resign, and Mayor de Blasio promised a do-over.
Weeks later a new commissioner, David Hansell, arrived and launched data-driven reforms that have since reduced caseloads and increased oversight of cases.
But for all its gains, Hansell says his improvements now face a new obstacle: Gov. Cuomo.
In his proposed budget, the governor has proposed a cap to cut state reimbursement for New York City's child welfare costs from its current $449 million to $320 million. The cap only applies to the city.
And Cuomo wants to zero out all state funding to Close to Home, a program he himself created in 2012. That amounts to $41.5 million for the coming year.
Close to Home places teens charged with lower level crimes in homes run by nonprofits in their own neighborhoods instead of sending them upstate to detention facilities that have been criticized as poorly run with little focus on rehabilitation.
The program has been lauded nationally as a success story, but Cuomo has decided the city has more than enough to pay for his program going forward.
"For whatever reason, the governor chose to target children's services," Hansell said. "I don't know why. That was his decision, so that reflects apparently a priority of the state administration."
Calls to Cuomo's office about the program were directed to the state Division of Budget, whose spokesman, Morris Peters, said Close to Home was "a pilot program," and that the state contribution "is expiring under the law."
Peters said Cuomo's budget provides an overall increase of state aid to the city of $500 million, and he notes the city has $8 billion in reserves.
"They can use a small slice of that increase, they can tap into their billions of dollars of surpluses and reserves, or they can finally look for efficiencies within their budget," Peters said.
Peters also says the city is greatly exaggerating the amount the state should be reimbursing.
"The Close to Home program, which is run by the city, was always a five-year pilot and the only threat to its continuation is if the city on its own chooses to make such a disastrous decision," Cuomo spokeswoman Abbey Fashouer said late Saturday.
Hansell says there is not "contemporaneous evidence" that Close to Home was considered a pilot, and with both the cut to Close to Home and the cap on the reimbursement, Cuomo is not raising any issues about the programs themselves.
"There has been no programmatic justification," he said. "The only justification the governor has given is the city has the money."
Mayor de Blasio also slammed Cuomo, saying the move further endangers an already at-risk population.
"The governor's decision to cut funds designed to keep kids closer to their homes hurts some of the most vulnerable kids in our city," de Blasio spokeswoman Jaclyn Rothenberg said. "Kids in the juvenile justice system should not have tougher paths to progress based on where they live."
The timing, Hansell says, comes just as he's started turning the ship around.
Hansell arrived February 21, 2017, two weeks after a city Department of Investigation report revealed an alarming series of agency errors prior to the November 2016 beating death of 3-year-old Jaden Jordan.
At the time, the average caseworker caseload was on the rise, peaking at 15 that May. The total number of investigations opened that fiscal year would total 59,329 by that June, up from 55,337 the previous fiscal year.
Hansell, a former executive at auditor KPMG, launched a top-down examination of ACS, hired more caseworkers and added supervision to closely track individual cases.
Since then, the average caseload has dropped and now holds steady at the nationally recommended level of 12.
A significant roadblock to this progress, however, looms straight ahead in Albany.
Last week the Assembly passed a budget plan that rejected the governor's ACS funding cap, and made a point of fully funding Close to Home.
The Senate included the cap and the
Close to Home
cuts, but warned that it would fight to resume current funding for both."The Senate expresses concern over the impact these actions will have on New York City's ability to provide these services and urges the executive, in the strongest terms, to reconsider these misguided actions," the resolution states.
Close to Home — after a bumpy start — is now considered a success story.
Initial findings of a study by Columbia University's Justice Lab released Friday, for example, document evidence of "positive youth development and public safety improvements since the advent of" Close to Home.
That included a 53% drop in the number of youth arrests in New York City between 2012 and 2016, compared to 41% for the rest of the state.
The program had its problems at first. In March 2016, the city castigated security failures by Boys Town, the nonprofit running a Close to Home facility in Brooklyn after three youth snuck out undetected and allegedly raped an intoxicated woman.
But the Columbia Study found the number of AWOL cases has since dropped by 41%.
Photo credit: Mayor Bill de Blasio and Zymere Perkins died after being found covered in bruises in Harlem, New York on Sept. 26, 2016. (FACEBOOK)
Related Articles
---