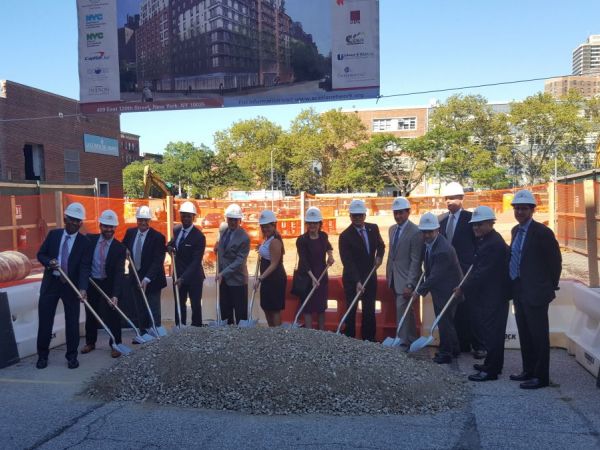 A decades-old dream to build an affordable housing development in East Harlem is finally coming to fruition. The Acacia Network broke ground Thursday morning on its 100 percent affordable mixed-use development at 413 E. 120th St., that will contain 179 units.
The development, called Acacia Gardens, will be the first building entirely developed by the Acacia Network, said the network's CEO Raul Russi. The Acacia Network is an organization "committed to preserving Latino community-based organizations," since the 1960s, according to its website.
"It's so important to us that a Latino developer would do such a project," Russi said during the ceremony. "We need to have heroes too."
The 12-story building will be constructed in accordance with the city Department of Housing Preservation and Development's Extremely Low & Low-Income Affordability program. All 179 units will be offered at affordable rates.
Raul Rodriguez, of the East Harlem Council for Community Improvement, stressed that the Acacia Gardens development will be truly affordable for area residents.
"This facility is being developed for the people who really need it — affordability is a relative term," Rodriguez said. "We're helping people that are truly in need — forgotten, homeless — and saying, 'We're building this building for you, not anyone else.'"
The $73 million development was supported by local politicians such as State Assemblyman Robert Rodriguez and Harlem City Council Speaker Melissa Mark-Viverito, who were in attendance Thursday. Mark-Viverito's office allocated $2 million of discretionary funding to the project.
"[The project was] many years in the making and incredibly important for this community and communities around the city who are fighting for affordable housing every day."
The Acacia Gardens development will be mixed-use, which means that portions of the building will be zoned for commercial and community facilities. Residents of the building will have access to amenities such as a roof garden on the building's second floor, laundry rooms and a gym.
Via souce
Related Articles